The Wyegate Trial History
Want to see what happened in previous Years? Then go to the Past Winners List and click on the year number.
One of the events that helped influence us to start the Wyegate was Jules Bish & Len Ore's Border 100 in 1980.
Some History of the event
The event has been going since 1983 and even then it was only a recreation of early events held around the area. Inspired by tales from older riders, there has been a long history of motorcycling around the unclassified county roads either side of the lower Wye valley and out into Usk Vale. Thanks to help from Characters like the late Jack Clarke from The Cwm (Near the Argoed Road section. And, incidentally, was Welsh '3' Day winner in 1963, 65 and 66.), who was still riding Sidecar Trials in the late seventies and John Cadogan plus others like Barbara & Jim Cullimore who helped, not only with organisational information and legal requirements, but they also observed for many years. We located some of the regular lanes used 30 years prior to the inaugural event and they were difficult enough to still be sections now, even for modern bikes. A route was mapped out joining the lanes together for a good days ride. The rest, as they say, is history.
What could be more difficult than riding a Wyegate? The Wyegate Backwards with NO ENGINE!...
The event has changed over the years from 70 miles of dead easy sections that any pre-65 bike would be capable of passing through, to one where you may do 90 miles and spend all day in the saddle, plus loose many marks unless you have a specialised bike with ability to match. Nevertheless, many riders can bring along totally unsuitable machines and still get around enjoying the experience despite the marks dropped by the end of the day.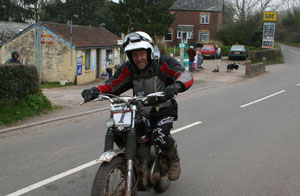 We don't need to tell riders how good it is as entries fill up within the first few weeks of them being released so you need to be on the ball!
The Wyegate is not just a trial, it is: a pleasant ride with like minded knowing riders. A planning exercise involving map/route card reading, mental preparation and bike preparation. A trial of riding skill. A trial of determination and concentration over a long day, A chance to show what an ambassador for our sport you are. An opportunity to show you can read and understand regulations! A chance to test that new road book holder.
HELP! - Do you have results or a programme from any of the events that are missing from the list? Please take a digital photo and send or let us scan them. admin@wgdfmcc.org.uk
---
Past Winners
For a report/more info on each year, Click on the year in the left hand column.
Year
CofC
Wyegate Cup
Bush Shield/Pre65
John Price Cup
2020 TBC
-
-
-
-
2019 TBC
Rod Jones
Chris Koch
Matt Welch
TBC
2018 TBC
Rod Jones
Jason Bendall
Steve Allen
TBC
2017 TBC
Ian Wixon
Chris Koch
Ian Thompson
Jason Bendall
2016
Ian Wixon
Chris Koch
Steve Grindle
Ben Falconer
2015
Huw Watkins
Chris Koch
Ben Bowkett
?
2014
Huw Watkins
Henry Bendall
Ben Bowkett
Ian Wixon (I think)
2013
Huw Watkins
Joe Bendall
Steve Grindle
Ben (I think)
2012
Matt Neale
Rob Breakwell
Steve Grindle
Ben Falconer
2011
Rod Jones
Gavin Moore
Ben Bowkett
Ben Falconer
2010
Ian Vessey
Gavin Moore
Steve Grindle
Ben Falconer
2009
Matt Neale
Gavin Moore
Steve Grindle
Ben Falconer
2008
(2Day)
Matt Neale
Henry Bendall
Sam King
Ben Falconer
2007
Rod Jones
Yoshi Adams
Paul Farley
Goff Hannam
2006
Matt Neale
Gordon Brown
Sam King
Neil Hannam
2005
Matt Neale
Julian Page
Steve Grindle
Ben Falconer
2004
Matt Neale
Steve Grindle
Steve Allen
Neil Hannam
2003
Matt Neale
David Eeles
Steve Allen
Frank Luther
2002
Matt Neale
Chris Berry
Steve Allen
Neil Hannam
2001
---
Foot & Mouth
---
Foot & Mouth
2000
?
Chris Berry
Dan Bishop
Paul James
1999
?
Steve Venn
Steve Allen
Bryan Grindle
| Year | CofC | Wyegate Cup | Bush Shield | John Price Cup | Sidecar Cup |
| --- | --- | --- | --- | --- | --- |
| 1998 | ? | Jon Bliss | M Nicholson | Stan Howitt/Lucy Davis (S/C) | ? |
| 1997 | Paul James | Nibbs Adams | Steve Allen | Steve Grindle | John/Julian Uphill |
| 1996 | John Lewis | Maurice Arden | Roy Enticknap | Tony Falconer | Doug/Sue Sherbourne |
| 1995 | Richard Cooper | Lee Burton | Steve Allen | | John/Julian Uphill |
| 1994 | Stan Howitt | Nibbs Adams | Colin Hedges | | Adrian Moss/Mike Wathen |
| 1993 | Stan Howitt | Nibbs Adams | Steve Allen | | John Young/Lee Witcombe |
| 1992 | Stan Howitt | Mark Kemp | Brian Newbury | | Adrian Moss/Mike Wathen |
| 1991 | Stan Howitt | Chris Page | Arthur Dovey | | Adrian Moss/Mike Wathen |
| 1990 | Stan Howitt | Carl Bancroft | Ken Morton | | Gerald Dyer/Alan Male |
| 1989 | Malcolm Harvey | Tony Davis | Arthur Dovey | | Adrian Moss/Mike Wathen |
| 1988 | Malcolm Harvey | Chris Scott | Ken Morton | | John Young/Nick Jones |
| 1987 | Colin Jones | Tie: Chris Scott/Dave Holley | Jim Delahay | | Trevor Miles/Ian Hannam |
| 1986 | Colin Jones | Adrian Moss | ? | | Trevor Miles/Rick Ferrier |
| 1985 | Colin Jones | Allan Whittington | Stan Howitt | | Roger Tuck/Bill Bennett |
| 1983 | Colin Jones | Jim Delahay | Jim? | | Julian Bishop/Ben Bishop |
---
Wyegate Awards
The Wyegate Cup - more info and pic to come...
Bush Shield - More to come...
The Eddlestone-Dike Cup - This award was donated by this sports photographer who used to enjoy their day out with us for a number of years. They're very much into motorsports racing in all forms as you will see EDP Photo News. Their trophy was originally for the best Over 45 rider but has evolved into the best Over 60 and we are fortunate to have such a safe sport that we have a number of very capable contenders.
John Price Cup - John used to run the Bikerdean Bike shop in Coleford and was a good friend to many of us. A talented rider who could perform many stunts on his bikes. This cup is awarded to the best 'working' club member. ie those who perform many supporting tasks throughout the year.