Wyegate Trial 2020
Round 1 of the ACU Trail Bike Championship 26th Apr 2020
Update 17 Mar: You've guessed it, the Wyegate is officially cancelled for only the second time in its 37 year history. All current entries will be refunded. We hope you are all well and continue to remain so. Look after yourselves and your families. Ian Wixon and the Wyegate team.
In case you haven't already seen an email, the ACU have said "ACU are suspending all competition and social activity until at least the 31st May 2020, but this will be constantly reviewed."
Update 04 Mar: Regs and Entries are now available on the right. Ian has also said we can allow requests to ride near. There is a box shown on the entry system asking you.
Update 12 Feb: A first meeting of the Wyegate Team is planned for Thursday 13th Feb 7:30pm 'ish at our usual venue of the King's head at Monmouth (Wetherspoons). Those that should go are anyone who is willing to put effort into the running of this event before the date rather than just on the day. Ian Wixon is authorised as a National CofC for that date and has bravely taken on the role. Good Man. If you can't go but would like to get involved then contact our secretary, Ian on secretary@wgdfmcc.org.uk
Update 15 Jan: No News other than we've asked for a date from ACU of 26th April 2020. We are still trying to get a team together.
We notice in the new handbook that there is a new class to suit the new breed of modded trials bikes as opposed to the road bikes modified to trail. This is the Hybrid class. Chances are that our CofC (which looks like being Ian Wixon again) will be changing the regulations again.
---
Sadly only 3 rounds were booked in for this year and now we are down to 2 with a big question mark hanging over them too. Events of this type take a lot of forward planning so the Rist will probably need to decide prety soon whether to even start the process.
Interestingly, the more specialist class of modded Trials bikes are now catered for with a Hybrid class.
1 The Wyegate: Cancelled 26 April 2020. You are already on the West Glos's webpage.
2 The Fred Rist: 05 July 2020. The Neath Motor Club. Get your entries in Now. Enter here:
3 The Moor Two Sea: 20 September 2020. West of England Motor Club. Details.
---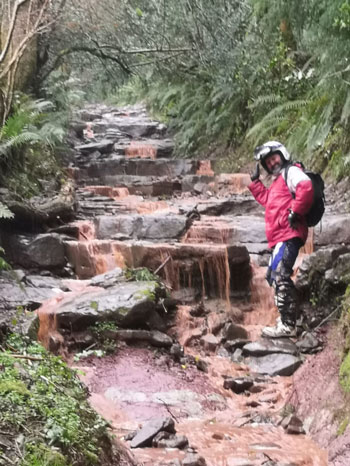 28th Feb 2020 and PG Steps are giving themselves a wash off ready for you!
Wyegate entries will be open soon. In the meantime here's what Pant-Glas looked like today.
Ian Wixon
---
Here's the official wording from the ACU Handbook for the suggested new class: Hybrid Trail Class (championship Route eligible but not an official championship 2020). Machines with a minimum seat height of 700mm using trials bike type running gear with larger tank and seat units, Trials Spec Tyres as per TSR8 and must be silenced to comply with TSR 14. How and if the team are going to word that for this year's regs remains to be seen.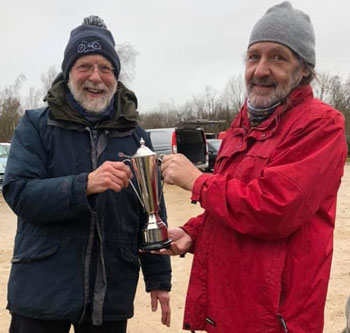 Awards were given out from the 2019 event at our annual do. Some that weren't able to make it have either been sent their award or had it presented elsewhere. Our press officer Ben managed to snap a unique event where the EDP trophy for best Over 60 rider was presented to the latest holder by the first ever holder, Tony Falconer. Tony won it way back in 1993 which was Tony's 9th ride of the Wyegate. (Admittedly, for the first 26 years the award was for the best Over 45!)
---
Surname Order or Route/Class Order
Last Updated: 16Mar2020 22:58 (68/120)
| No. | Name | Club | Route | Class | Bike |
| --- | --- | --- | --- | --- | --- |
| - | John ADAMS | MCC | TB on Std Rte | >60 | Honda TL 250 |
| - | Steve BALDOCK | EDMCC | Others on Std Rte | | Beta 300 |
| - | Ivan BALL | TRF | TB on Std Rte | | Husqvarna TE 300 |
| - | Richard BEALE | TRF | TB on Std Rte | | Scorpa T Ride 280 |
| - | Kim BEENY | NDYM | TB on Champ' Rte | >60 | Gas Gas Pampera 250 |
| - | Ben BISHOP | WG | P65 on Champ' Rte | | Royal Enfield Bullet 350 |
| - | John BRENNAN | WG | TB on Std Rte | >60 | KTM Freeride 250 |
| - | Adrian CAIRNS | Barn | TB on Std Rte | | KTM Freeride 350 |
| - | Nigel CAUSLEY | Somer | TB on Std Rte | | Honda CRF 230 |
| - | Peter COLLINS | EDMCC | Others on Std Rte | | KTM Freeride 250 |
| - | Kevan CORNWALL | EDMCC | Others on Std Rte | >60 | KTM Freeride 250 |
| - | Stephen CRAIG | Bar | TB on Champ' Rte | | Beta X Trainer 300 |
| - | Gavin DERRIMAN | TRF | Others on Std Rte | | Montesa 4Ride 260 |
| - | Simon DOBBS | WoEMC | TB on Std Rte | | Beta X Trainer 300 |
| - | Ben FALCONER | CHG | TB on Champ' Rte | | Gas Gas Pampera 250 |
| - | Simon FILLAN | WoEMC | TB on Std Rte | >60 | AJP Ultrapassar PR3 240 |
| - | Andy FOOT | Macc | TB on Champ' Rte | >60 | team6t9.com - Gas Gas Pampera 250 |
| - | Stephen FOX | Sshrop | TB on Std Rte | >60 | Gas Gas EC 250 |
| - | Chris FREESTONE | LemVic | TB on Champ' Rte | | KTM EXC 200 |
| - | Andrew FROST | NSMSC | TB on Champ' Rte | | Scorpa T Ride 250 |
| - | Martin GILBERT | DDMCC | TB on Champ' Rte | | Gas Gas Pampera 320 |
| - | Kevin GREENING | RRND | Others on Std Rte | | Montesa 4Ride 260 |
| - | Steve GRINTER | Taunt | TB on Std Rte | | Honda XL 185 |
| - | Chris HARVEY | CHG | P65 on Champ' Rte | | Triumph T90 350 |
| - | Max HAWKINS | GC | TB on Std Rte | >60 | Beta Alp 200 |
| - | Giles HIXON | Strat | Others on Champ' Rte | | Montesa 4Ride 260 |
| - | Jon HUSTWAYTE | WoEMC | TB on Std Rte | | Gas Gas Pampera 250 |
| - | Neil JARVIS | GestTC | Others on Std Rte | | Gas Gas TX Randonne 200 |
| - | Peter JOSEPH | Nth | TB on Champ' Rte | >60 | Gas Gas Pampera 250 |
| - | Graham KEMP | Nth | TB on Champ' Rte | >60 | Beta X Trainer 300 |
| - | Stephen KENNY | Path | TB on Champ' Rte | | KTM Freeride 250 |
| - | Martin LILLYWHITE | Somer | TB on Std Rte | | Sherco X-Ride 290 |
| - | James LINDRIDGE | EDMCC | TB on Std Rte | | Beta X Trainer 300 |
| - | Alan MARCH | YVMCC | TB on Champ' Rte | >60 | Sherco X-Ride 290 |
| - | David MARSH | Walth | TB on Std Rte | | KTM Freeride 250 |
| - | Ross MASON | EarlS | TB on Champ' Rte | | Sherco X-Ride 290 |
| - | Steve MASTERS | EDMCC | TB on Std Rte | | KTM Freeride 250 |
| - | Robert MATHEW | BSSA | TB on Std Rte | | KTM EXC 250 |
| - | Kevin MILLER | SDMCC | TB on Champ' Rte | >60 | Sherco X-Ride 290 |
| - | Chris MORRIS | GC | TB on Champ' Rte | | Husqvarna TE 300 |
| - | Glyn MOSES | Nth | TB on Champ' Rte | >60 | Scorpa T Ride 280 |
| - | Richard MUMFORD | WoEMC | Others on Std Rte | | Montesa 4Ride 260 |
| - | Julian PAGE | DVMC | TB on Champ' Rte | | Beta Alp 200 |
| - | Alan PATON | EDMCC | TB on Std Rte | | KTM Freeride 250 |
| - | Alan PEACH | EDMCC | TB on Champ' Rte | | Beta X Trainer 300 |
| - | Stephen PEARCE | Wyc | TB on Std Rte | | Gas Gas Pampera 250 |
| - | Mark RAYNER | NDYM | TB on Std Rte | | Sherco X-Ride 290 |
| - | Paul ROGERS | NDYM | TB on Champ' Rte | >60 | KTM Freeride 350 |
| - | Ray SAMWAYS | Bridp | TB on Champ' Rte | | Sherco X-Ride 290 |
| - | Glyn SMITH | GC | TB on Std Rte | >60 | Gas Gas Pampera 250 |
| - | Graham SMITH | TRF | TB on Std Rte | >60 | Gas Gas Pampera 250 |
| - | Sean SMITH | Taunt | TB on Std Rte | | KTM EXC 300 |
| - | Alan SPENCER | YVMCC | TB on Std Rte | | Honda CRF 250 |
| - | Kevin STANNARD | NDYM | TB on Champ' Rte | >60 | Gas Gas Pampera 250 |
| - | Nick STOTT | NDYM | TB on Std Rte | >60 | Beta X Trainer 300 |
| - | Ian THOMPSON | MCC | Others on Std Rte | | Montesa 4Ride 260 |
| - | Kelvin VARNEY | TRF | Others on Std Rte | >60 | Beta X Trainer 300 |
| - | Steve WALLWIN | WG | TB on Std Rte | | KTM Freeride 250 |
| - | Miles WATSON-CORT | NGRRC | TB on Std Rte | | KTM Freeride 250 |
| - | Matthew WELCH | GC | P65 on Champ' Rte | | Thunder Road - Royal Enfield Crusader 250 |
| - | Simon WELCH | GC | P65 on Champ' Rte | | Royal Enfield Turbo Twin 250 |
| - | Paul WHITEHOUSE | KW | Others on Std Rte | | Honda TLR 200 |
| - | Byron WILLIAMS | NDYM | TB on Std Rte | | KTM Freeride 350 |
| - | Mark WOODWARD | SV | TB on Std Rte | | Honda CRF 250 |
| - | Ryan WOODWARD | SV | TB on Std Rte | | KTM EXC 250 |
| - | Martin WORGAN | WG | TB on Std Rte | | AJP Ultrapassar PR3 240 |
| - | Nicholas WORGAN | WG | TB on Std Rte | | KTM EXC 300 |
| - | Ian WORRALL | LemVic | TB on Champ' Rte | | KTM EXC 250 |
Route/Class Order or Surname Order
Last Updated: 16Mar2020 22:58 (68/120)
| No. | Name | Club | Route | Class | Bike |
| --- | --- | --- | --- | --- | --- |
| - | Stephen CRAIG | Bar | TB on Champ' Rte | | Beta X Trainer 300 |
| - | Ben FALCONER | CHG | TB on Champ' Rte | | Gas Gas Pampera 250 |
| - | Chris FREESTONE | LemVic | TB on Champ' Rte | | KTM EXC 200 |
| - | Andrew FROST | NSMSC | TB on Champ' Rte | | Scorpa T Ride 250 |
| - | Martin GILBERT | DDMCC | TB on Champ' Rte | | Gas Gas Pampera 320 |
| - | Stephen KENNY | Path | TB on Champ' Rte | | KTM Freeride 250 |
| - | Ross MASON | EarlS | TB on Champ' Rte | | Sherco X-Ride 290 |
| - | Chris MORRIS | GC | TB on Champ' Rte | | Husqvarna TE 300 |
| - | Julian PAGE | DVMC | TB on Champ' Rte | | Beta Alp 200 |
| - | Alan PEACH | EDMCC | TB on Champ' Rte | | Beta X Trainer 300 |
| - | Ray SAMWAYS | Bridp | TB on Champ' Rte | | Sherco X-Ride 290 |
| - | Ian WORRALL | LemVic | TB on Champ' Rte | | KTM EXC 250 |
| - | Kim BEENY | NDYM | TB on Champ' Rte | >60 | Gas Gas Pampera 250 |
| - | Andy FOOT | Macc | TB on Champ' Rte | >60 | team6t9.com - Gas Gas Pampera 250 |
| - | Peter JOSEPH | Nth | TB on Champ' Rte | >60 | Gas Gas Pampera 250 |
| - | Graham KEMP | Nth | TB on Champ' Rte | >60 | Beta X Trainer 300 |
| - | Alan MARCH | YVMCC | TB on Champ' Rte | >60 | Sherco X-Ride 290 |
| - | Kevin MILLER | SDMCC | TB on Champ' Rte | >60 | Sherco X-Ride 290 |
| - | Glyn MOSES | Nth | TB on Champ' Rte | >60 | Scorpa T Ride 280 |
| - | Paul ROGERS | NDYM | TB on Champ' Rte | >60 | KTM Freeride 350 |
| - | Kevin STANNARD | NDYM | TB on Champ' Rte | >60 | Gas Gas Pampera 250 |
| - | Giles HIXON | Strat | Others on Champ' Rte | | Montesa 4Ride 260 |
| - | Ben BISHOP | WG | P65 on Champ' Rte | | Royal Enfield Bullet 350 |
| - | Chris HARVEY | CHG | P65 on Champ' Rte | | Triumph T90 350 |
| - | Matthew WELCH | GC | P65 on Champ' Rte | | Thunder Road - Royal Enfield Crusader 250 |
| - | Simon WELCH | GC | P65 on Champ' Rte | | Royal Enfield Turbo Twin 250 |
| - | Ivan BALL | TRF | TB on Std Rte | | Husqvarna TE 300 |
| - | Richard BEALE | TRF | TB on Std Rte | | Scorpa T Ride 280 |
| - | Adrian CAIRNS | Barn | TB on Std Rte | | KTM Freeride 350 |
| - | Nigel CAUSLEY | Somer | TB on Std Rte | | Honda CRF 230 |
| - | Simon DOBBS | WoEMC | TB on Std Rte | | Beta X Trainer 300 |
| - | Steve GRINTER | Taunt | TB on Std Rte | | Honda XL 185 |
| - | Jon HUSTWAYTE | WoEMC | TB on Std Rte | | Gas Gas Pampera 250 |
| - | Martin LILLYWHITE | Somer | TB on Std Rte | | Sherco X-Ride 290 |
| - | James LINDRIDGE | EDMCC | TB on Std Rte | | Beta X Trainer 300 |
| - | David MARSH | Walth | TB on Std Rte | | KTM Freeride 250 |
| - | Steve MASTERS | EDMCC | TB on Std Rte | | KTM Freeride 250 |
| - | Robert MATHEW | BSSA | TB on Std Rte | | KTM EXC 250 |
| - | Alan PATON | EDMCC | TB on Std Rte | | KTM Freeride 250 |
| - | Stephen PEARCE | Wyc | TB on Std Rte | | Gas Gas Pampera 250 |
| - | Mark RAYNER | NDYM | TB on Std Rte | | Sherco X-Ride 290 |
| - | Sean SMITH | Taunt | TB on Std Rte | | KTM EXC 300 |
| - | Alan SPENCER | YVMCC | TB on Std Rte | | Honda CRF 250 |
| - | Steve WALLWIN | WG | TB on Std Rte | | KTM Freeride 250 |
| - | Miles WATSON-CORT | NGRRC | TB on Std Rte | | KTM Freeride 250 |
| - | Byron WILLIAMS | NDYM | TB on Std Rte | | KTM Freeride 350 |
| - | Mark WOODWARD | SV | TB on Std Rte | | Honda CRF 250 |
| - | Ryan WOODWARD | SV | TB on Std Rte | | KTM EXC 250 |
| - | Martin WORGAN | WG | TB on Std Rte | | AJP Ultrapassar PR3 240 |
| - | Nicholas WORGAN | WG | TB on Std Rte | | KTM EXC 300 |
| - | John ADAMS | MCC | TB on Std Rte | >60 | Honda TL 250 |
| - | John BRENNAN | WG | TB on Std Rte | >60 | KTM Freeride 250 |
| - | Simon FILLAN | WoEMC | TB on Std Rte | >60 | AJP Ultrapassar PR3 240 |
| - | Stephen FOX | Sshrop | TB on Std Rte | >60 | Gas Gas EC 250 |
| - | Max HAWKINS | GC | TB on Std Rte | >60 | Beta Alp 200 |
| - | Glyn SMITH | GC | TB on Std Rte | >60 | Gas Gas Pampera 250 |
| - | Graham SMITH | TRF | TB on Std Rte | >60 | Gas Gas Pampera 250 |
| - | Nick STOTT | NDYM | TB on Std Rte | >60 | Beta X Trainer 300 |
| - | Steve BALDOCK | EDMCC | Others on Std Rte | | Beta 300 |
| - | Peter COLLINS | EDMCC | Others on Std Rte | | KTM Freeride 250 |
| - | Gavin DERRIMAN | TRF | Others on Std Rte | | Montesa 4Ride 260 |
| - | Kevin GREENING | RRND | Others on Std Rte | | Montesa 4Ride 260 |
| - | Neil JARVIS | GestTC | Others on Std Rte | | Gas Gas TX Randonne 200 |
| - | Richard MUMFORD | WoEMC | Others on Std Rte | | Montesa 4Ride 260 |
| - | Ian THOMPSON | MCC | Others on Std Rte | | Montesa 4Ride 260 |
| - | Paul WHITEHOUSE | KW | Others on Std Rte | | Honda TLR 200 |
| - | Kevan CORNWALL | EDMCC | Others on Std Rte | >60 | KTM Freeride 250 |
| - | Kelvin VARNEY | TRF | Others on Std Rte | >60 | Beta X Trainer 300 |
---
---