Wyegate Trial 2015
(This link really works now. Why didn't someone prod me? I don't bite!)
---
Want to see what happened in previous Years? (there are videos and photos.) Then go to the Past Winners List and click on the year number.
Also have a look at our Wyegate's Remembered Page
---
Video
Here's some of what happened. Part 1 is Lydart and Part 2 is some significant attempts at the Special Test. (At one of the club nights we'll show the full 45 minute un-edited version. We'll let you know when.)
Click HD or the Vimeo word to watch it in best quality HD.
---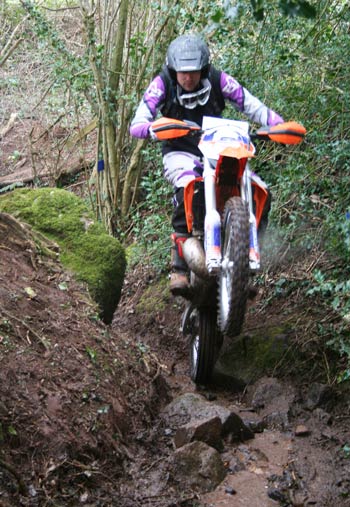 Info
What a day! Results on right.
Thanks for all the help and assistance from marshals, observers, landowners, Monmouthshire County Council and the RACMSA, and especially thanks to the Orepool Inn for looking after us.
---
Huw (CoC) says: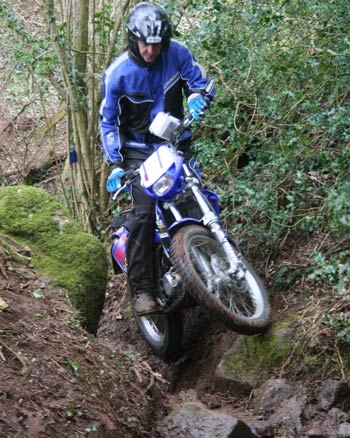 Wyegate 2015
The annual challenge that is the romp around the Wye Valley and Monmouthshire may be well into its 4th decade, but the WGDFMCC enjoy a huge level of support from landowners, residents and club members, many of whom, have ridden the event in the past on two or three wheels (and even pedalled round it!). This year was no different - entries opened just 4 weeks before the event - then almost sold out in 3.... The month before the event, riding the course was a hell of a challenge, with flooded and boggy conditions. This resulted in a set of sections planned for a day of rain that thankfully never materialised.
The day before the event, Super Saturday saw some excitement with the 6 nations rugby. The Wyegate went just as close! Our ever obliging hosts James and Becky at the Orepool contin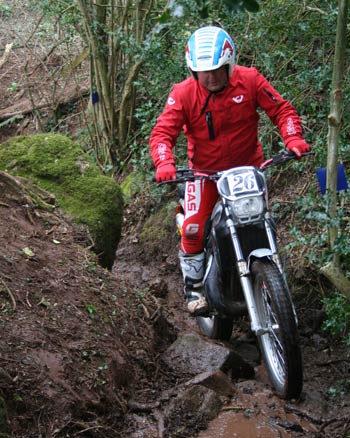 ue to balance a busy restaurant with a haven for bikers. We were also assisted this year with some new landowners and an ever enthusiastic club president, Roy Breakwell whose advice and anecdotes entertained the team setting up sections and a very unusual special test on his farm.
The route this year headed south, taking in the traditional first section at Mork before a new section in private land at Llandogo. From there, riders went south to Tintern, where Limekiln proved the usual challenge. A loop round Barbadoes Hill and a pleasant trail took riders up to Maryland. The killer section at Sunnyside was kinder this year, though still took some marks. The Devil's Staircase downhill is a 'deep breath' challenge - perhaps we should come up next year! The loop around Whitebrook had another section before a run across Barn lane down to the narrow path at Jacob's Ladder took some more marks. The three sections at Lydart and Wixon's took quite a few marks, including some off the man whose backyard is now for sale! (See the WGDFMCC For Sale!)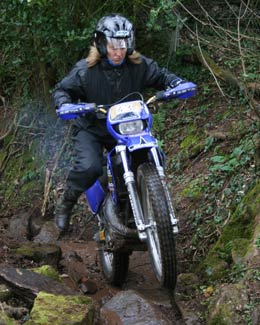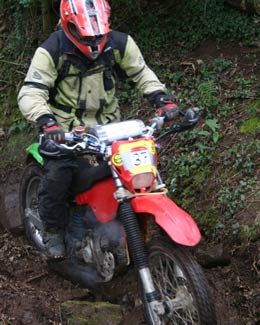 A new loop with a few junctions caused a few issues with the roadbook, indicating that GPS mileages are more accurate than speedo miles! Llwyna, and two sections at Pant-glas, with some additions by the West Glos Dry Stone Wall Club were less challenging than in some years. There were still a number of petrol caps visible above the rider's heads (as seen from the starts) which indicated some enthusiastic throwing of bikes at the steps.... A run round to Nannies, before a much deserved fuel stop at Raglan saw the riders at 5/9ths distance. A couple of sections at Tregare and Llanarth were followed by some lovely green lanes to Cross Ash. One green (or very brown) lane had to be cut after the Clerk of the Course went into a puddle almost up to his middle....
The Section - Wayne Green - that is the section, not the observer - managed to upset a few good looking score cards. The course openers arrived at the bottom of the valley, to find Matt Neale resting alongside the bridge over the stream.... We won't mention exactly who made the comment "What time are the 3 billy goats gruff coming through?" to poor Matt who is currently sporting a very healthy beard!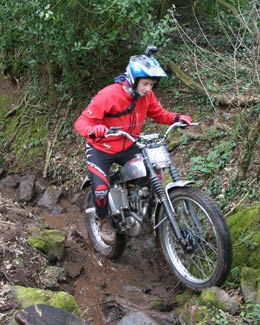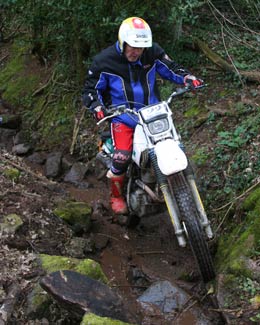 The run in from Lettravane took in sections at Roy's farm, and included a special test that was half of son Rob's self constructed pit bike SX track. Rob duly took the fastest test time on a bike that was at least twice as long as the pit bike! The fun and games with groups of riders trying to outdo their riding partners had a serious edge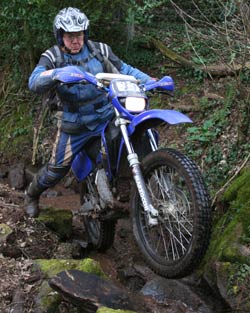 to it. At this point, three riders were clean on time, and a few more were on one or two. All of the leading lights put in sterling performances, and some of the elder statesmen managed some air over the jumps.
The final few sections at Lord's Grove, Forge Wood and Pingry (2 at each) tried the stamina of the riders, and some were put out at dropping marks at the end. Finally, the last section took a few marks to thin out the tied results, but back at the Orepool, where discussions went on at length, the concensus was "long day - 8 hours - £25 - bargain!" Great rides by the top three – Chris Koch, whose former enduro experience saw him nick the win from Henry Bendall and Martin Gilbert, all on clean sheets set the standard that others just failed to match. Class wins have yet to be confirmed, as do team results - watch this space....
---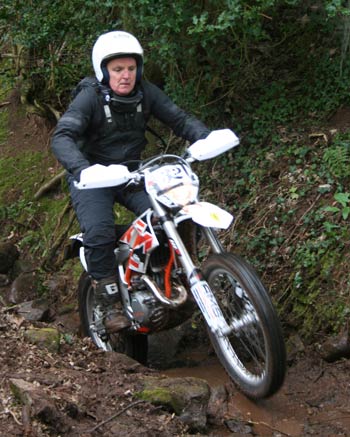 Is this the year Freerides push to outnumber the Pamps? 10 Freerides to 27 pamps so far. Ian Thompson, here, plans to test his in the Welsh 2 Day which would prove it was a better all-rounder than the Pamp - possibly!
Ben's Press Report
AFTER nine hours in the saddle, 85 miles on and off road, and 27 sections, just a few seconds and a couple of errors separated the best riders in the 31st annual Wyegate Long Distance Trial.
New winner Chris Koch took the coveted top spot thanks to a very fast timed special test, after cleaning every section. Also clean were former winner Henry Bendall, and Martin Gilbert, but they could not get around the Rob Breakwell's pitbike supercross track as quickly as AJP-mounted Koch.
Gilbert (Gas Gas Pampera 320) looked a relieved man as he carefully plotted a path through the final section at Pingry, under the watchful eye of observer Glen Thomas. A tight penultimate turn through a pair of trees was easier if riders approached it over a very narrow wall-top - any wobbles, and a five mark maximum was a given. He wriggled through, a
s did Breakwell with an incredible ride on his KTM EXC300 enduro bike. He had to take dabs at two more tight sections, the rocks of Lydart and the twists and turns of Wixon's 2, plus a slack one in Forge Wood, leaving him on three marks lost.
Another former winner, Gavin Moore - the only rider to win the event three times in a row - dropped a mark on the final section, and another on the trial's most legendary hazard. Pant-Glas steps has been conquered by lesser riders on less suitable machines for decades but it still has capacity to sting any one of the near-100 strong entry.
Best pre-65 rider, Ben Bowkett, also fell foul of the last section, plus Lydart, and the downhill sections at Wayne Green. Neil Varney put in a very creditable ride on his Yamaha DT200WR, to beat another former three-time winner, Nibbs Adams, by a mark.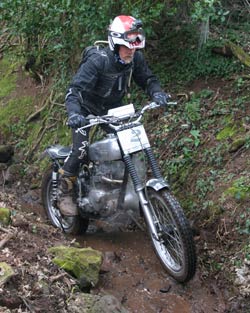 Further down the field there were more pressing distractions than losing a few marks for some riders. Cheltenham's Viv Jackson heroically piloted his DOT around, the bike surviving a dunking in deep water. So too Garrant Jones, whose Beta trials bike had to be emptied of water.
With 15 non finishers, the event maintained its reputation of a true long distance test of rider and machine but with 19 riders recording single figure scores, and 32 more riders scoring less than 60 marks, clerk of the course Huw Watkins and his team managed to put on an enjoyable test for all.
The club wishes to thank the landowners, and the observers - many who officiated twice for long periods - for their sterling efforts.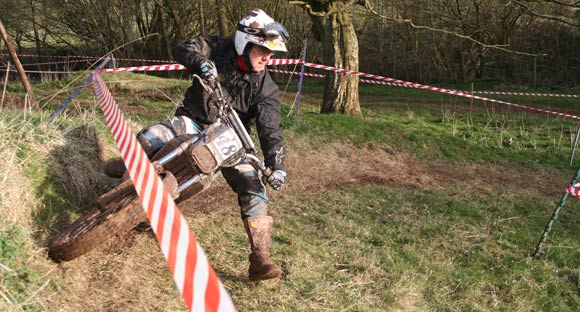 Report by this guy, who is clearly PRESSing on.