Wyegate Trial 2016

Final Results.
Thought we should keep the Regs linked here so you could see we did say about 'stopping in the box' and that the event was a navigation event. (Good job we had some spare routes at the start!)
---
Want to see what happened in previous Years? (there are videos and photos.) Then go to the Past Winners List and click on the year number.
Also have a look at our Wyegate's Remembered Page
---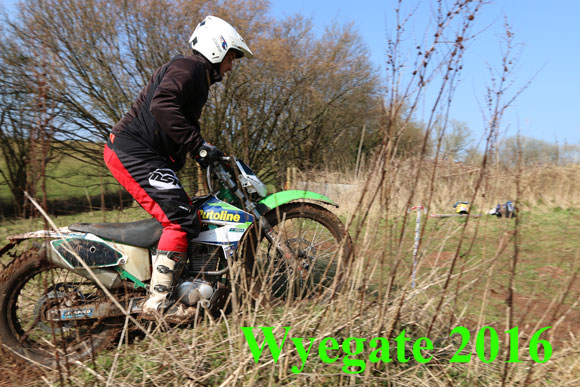 ---
Clerk of Course Says (after the event)
Team Results and Video are now available.
Well I'm sorry, I ordered rain but it came five days early, so if you suffered sun burn or de-hydration (Mike Wells, course opener, who forgot to get water at the lunch stop!) then blame me. As for the sections, when I said they would be easier this year I meant they wouldn't scare the crap out of you by being dangerous, not that you wouldn't loose marks. Looking at Colin's excellent section statistics, every section took a five off somebody! The first three warm up sections had fives in double figures! But then every section was cleaned, with the wonderful natural gully at Newhouse proving the most costly with only three cleans - harder than Pant-Glas, although I hear Stan did some construction work there! The hill climb in Forge Wood at the end caused a few problems (but was very entertaining) but again, nine cleans and sixteen paddling their way up and those who didn't make it had the joy of riding back through the mud!
Anyway most seemed to enjoy the day, which is what it's all about. Please let us know your thoughts, good or bad, we can only make the event what you want if you tell us what you want. Thanks to all who helped on the day and before the event and to the generous landowners.
Ian Wixon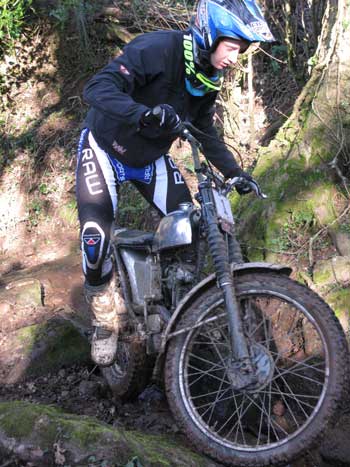 Ben cleans Village Farm 3 (I think) on the little Cub (pic: Maggie Smith)
This is what Clerk of Course said (before the event)
Firstly, thanks to Huw for the grand job he's done for the past three years.
Now the Wyegate started by using the many wonderful green lanes in and around the Wye Valley with sections on the harder parts. Sadly, we've lost many of the green lanes due to various government interventions and the ones we can still legally ride are consequently being overused. So this year I'm changing this a bit. While still using some of the green lanes, we will be using a lot of private land, certainly for the sections and this will take you to places where you would not normally be allowed to ride. Some will be places you've been before but we have already got three new landowners and I'm working on a fourth to give you all something new and interesting while still being a "Wyegate".
Talking to some of the riders the two things most wanted are: a shorter route and easier sections. Well it has always been a "long" distance trial, sometimes too long (particularly for riders like me on a pre'65). This year will be under 80 miles total with a fuel station at about 40miles. As for sections, well Pant-Glas Steps will be in (I'm told we can't have a Wyegate without them and I agree) but we won't be using "The Devil's Staircase" or my own "Wixon's Rocks". A previous C of C suggests "the sections should be suitable for someone who only rides an old XL250 once a year", Not sure about that. Bikes have got better but we're all getting older (Alf, Stan, still riding well). The aim is for everyone to have a good, safe, enjoyable day and if we get more than one clean sheet: so be it, that's what the special test is for. We have also had good weather since the two day Wyegate six or seven years ago so rain has been ordered, always a good leveler when it's wet!
---
Snippets
Hard luck stories abound: Rob Breakwell, Brian Higgins missed out due to misfortune but not as bad as the Leicester lads as one van breakdown took out 4 riders with Jez, Mick, Sam and Graham failing to make the start. However Brian's fellow Devonians in team 196yrs had a great ride around massively impressing much younger riders. Pictured right is John Luckett, who riders of a certain age will remember as a top contender in South West events. Others may know him from his Biker's Rest Trials Holidays base.
It was entertaining watching the Special test. placed just after section 13 there were 3 riders clean on observation at that point and the wisper among the riders was it could be won on clean again so the test really mattered. Chris Koch knew how to get the best out of a test time by smooth efficient riding stopping as quickly as possible and getting the wheels back on the ground after every jump meant power was applied again. You've got a chance to see this in action now I've finally edited the Video. Home of Stone rider Richard and Roger Holland, like Chris, ride Enduros and trials but were too determined to put Enduro bikes to the fore overshooting bends and ends so the expected floor wiping by Enduro bikes didn't happen. The 'alledgedly' slow Pamps and trials bikes took around a second off the fastest of the Enduros, Ian Worrall on 14.8. (Joint fastest with Russell Fisher on the 450KTM who we failed to film.)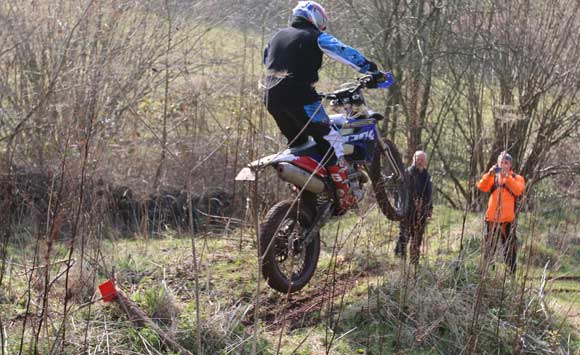 I have to 'fess up' here (Colin). It was my fault the first few riders around had a 10 minute wait at Roy's. Even with a super fast delivery by Roy with all the usual sideways action into all bends and on some of the straights too on his farm ATV. I know this is clutching at straws but it is usually the other way around you know, us observers waiting hours for you lot, Just ask the last 4 observers!
New Clerk of the Course Ian Wixon looks to have got things spot on with only a few retirements and single figure wins in all classes and all back in before dark, just! OK there were a number who missed sections either saving energy or brain fade just to get to the finish.
It has been great for us organisers doing the entries with the ACU's On-line system. We know it was a little stressful for a few of you but, as you all know how to do it now, it means we can run even our small Summer easy trials (Yes they will be announced soon.) with much less effort and at short notice, which means we can take advantage of changing ground conditions for parking and fitting in with crop cycles. It also means we can ask a wider range of helpers to manage the entries, spreading the work load. This system uses much less personal time - clicking a few buttons on the web every night then just one printout session using pre-formatted sign-on forms etc. Then hand over a spreadsheet entry list to our results system without having to re-enter rider names etc. Please form an orderly queue to be entry sec for the next event - What me, an optimist!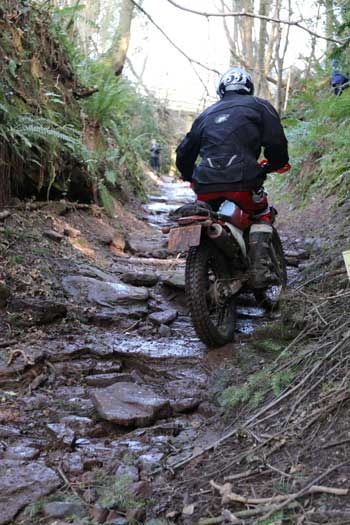 Sadly, On-line entries has still only cured one of the problems inherent with Trial Entries. Riders can enter quickly, after confirming you haven't trashed yourself or the bike the previous weekend, with no worry about envelopes, cheques or stamps. Now we just have to persuade you riders to enter long enough before the event to let the plotters know who and how many they are catering for and whether or not it is worth the work involved to run an event. Look out for persuasion methods in the future such as discounts for early bookings - Trains and Planes don't do this for no good reason you know!
Something else I noticed while checking your entry forms, which is most encouraging. The amount of riders we have that also hold 'Clerk of the Course' licences is pretty high. So, you are an educated, forward thinking, caring lot of riders.
Some of you may know we had a possibility of sending a West Glos Club team to the ISDE this year but decided to back out. A scan though our Wyegate entry shows we have 2 riders who have already represented the country at the ISDE (Brian Higgins and Chris Koch) And, if we're lucky, a future ISDE prospect in young Roger Holland too. Six years ago he won the Sportsman class as a teenager at the Chicken Farm H&H and has continued with many successes including an Expert win in this year's Snowrun.
When planning this event at the ACU Western Dates meeting we avoided a clash with one Centre Trials championship round on the intended date of 20th March and avoided Mother's day and Easter to first clash with Stroud Valley's Minchinhampton Cup trial on the 3rd April, but now have settled on yet another inevitable clash with Glos & Cots' Centre Championship round. Apologies to those whomight want to ride both and now have to make a decision. Thanks to Glos & Cots for agreeing. We hope that will inconvenience the least amount of people.
The bookies lost out this year. The Worgans were not first to enter!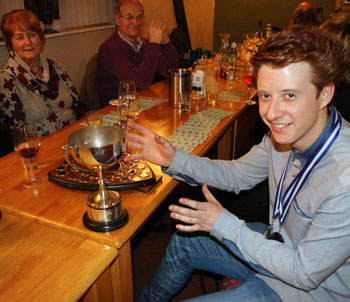 Ben Bowkett, picture right, had a rare opportunity to touch the Wyegate Cup at the Club's annual review and yes, he wanted to win it this year but had 2 prods more than uncle Steve. Chris Koch is the current holder and is coming back to retain it this year. The Cup has only been won by 4 other Pre-65 bikes over the years; Jim Delahay 1983, Adrian Moss 1986, Tony Davis 1989 and Steve Grindle in 2004. So is this the year a Tiger Cub gets it?
(If you are checking through the Past Winners List, we think Jon Bliss was on the italjet in 1998, not a Pre65. Let us know if we've missed anyone. Update: Ben didn't get the Cup (yet!) but gave it all to get up the big hill on the little cub but the changing down to first loosened the gearshift and gasping up in 2nd cost him a 5. Now, about those other dabs Benzo...Were you just letting Steve off?)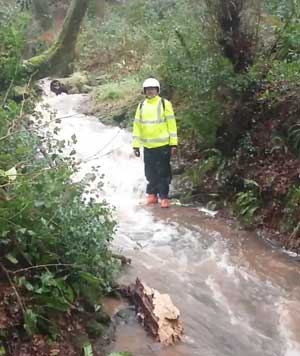 Just heard from Chris Harvey who was out sorting sections with IanW and Rod. He captured a short video clip of a torrent at a section that normally has only a slight damp patch, pictured right, with a very dapper CofC in boots that scream out 'buy me a CRM with matching colours!' With this current lot of rain we may see sections with no mud left in them on the day!... But, of course, if you rode in 2008 you've seen it all before. If only Chris had kept the camera rolling to catch Rod drowning his front end a bit later.
Mutterings have been heard about the Wyegate finally becoming a round of the ACU Trail Bike Championship (Update: Wyegate 2017 is confirmed as the 1st round of the championship.) in the future. For it to happen we have to persuade one of our Clerk of the Courses to upgrade to a National licence and the Trials and Enduro Committee to agree plus all the West Glos grafters to want it. If you want to ride it then please do your bit and persuade a friend to help out with observing. Or, we could all pull out our pipe and slippers and settle into a nice comfy chair... The championship was down to 4 rounds this year. Would the Wyegate help or hinder it?
---
Riders Say
Joe Morgan: Thank you very much for an awesome day! Enjoyed every second and can't wait for the next one!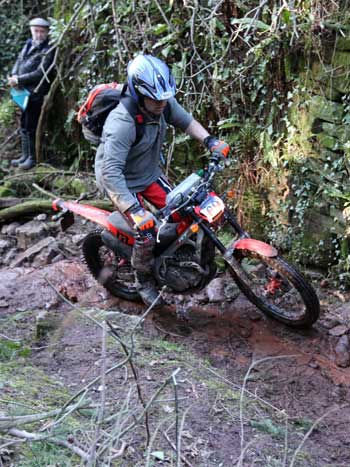 Bruce Bendall says: Just wanted to thank everybody for putting on yet another fantastic wyegate! The new sections and shorter roadwork were definitely a plus for us, we had more than enough fuel and managed to finish in daylight for once...and before the clocks changed as well!! My personal highlight was cleaning Pant-glas for the first time ever and making it up 'the hill' even tho' it wasn't pretty! Oh and cleaning Lord's Grove 1 when Jase 3'd it. Ha ha, he won't be allowed to forget that one anytime soon. His special test ride was spectacular tho!! looking forward to seeing that again on video!! Thanks again for a brilliant day, see you next year!
George Humphreys had written: thanks for putting this on. (before even taking his skid lid off!)
John Presland says: I would just like to say what a fantastic day your club put on, it was a hard day out for me, only my 2nd LDT, however, I learnt a lot. Thanks again. John.
George Atkins says: I would like to say a big thanks to all involved with the trial yesterday. One of the most challenging ltd's I've ridden for many a year but well organised with the route card spot on, as with the observing. A great full day on a bike. All the best George.
Graham Smith says: Many thanks to all involved for a cracking day out today. Obviously helped by the superb weather. I was a little saddened to find Limekiln not included, but I spoke to Ian W at 'the hillclimb' (section 28) and he explained that it had had to be left out to keep the mileage more reasonable. Having done the event probably around 10 times, I was extremely pleased to clean (I think) for the first time ever, Pant Glas 1. Though it did seem that the first step had been exceptionally generously 'prepared'. (I'm not complaining!) I was riding round with a couple of Surrey TRF mates who were doing it for the first time - they loved it. Until the next time, thanks again. (That 'preparation' saved observer Viv Jones from lifting about 20 heavy bikes off 20 knackered riders and then lifting them up the first step, and it still took marks from previous winners! Last year we had the Army manning the section for good reason! ed.)
Rob Rice says: Thanks for a great day, really enjoyed it.
---
Ben's Press Report
Reigning ACU British Trailbike Trials champion Chris Koch took his second win in one of the oldest and toughest long distance trials of them all.
The Wyegate Trial is not a championship round but is a very tough test of man and machine, and that the AJP Ultrapassar rider's three mark loss was the same as Montesa 4RT-mounted Jason Bendall's demonstrated just how good a performance he put in.
The tie was settled on furthest clean. What made the difference was that Bendall lost his first – and only – marks of the day on section nine across a tricky adverse camber in Lord's Grove. Whereas Koch's first marks were dropped very near to the end of the event, a hillclimb in Forge Wood which caught out many fancied runners including Henry and Joe Bendall, pre-65 winner Steve Grindle and team mate Ben Bowkett, Michael Hughes, Sam King and Glyn Moses.
Ian Worrall romped up that section on his KTM EXC250, watched by observer Darren Thomas and clerk of the course Ian Wixon. He put in one of the rides of the day to win a first class award on an enduro bike which is less suited to most of the sections.
The stiff climb posed no problems for second placed overall rider Tony Coleman, nor John Edmonds and Nick Worgan, and none of the award winners in the over 250 class. Jason Bendall's 260cc bike took the climb in its stride, as did the bigger bore two strokes of all the award winners in this class, plus Mike Husband on his 272cc Gas Gas Pampera.
A total of 31 sections plus a timed special test were set out mainly in groups rather than lanes but some old favourites which strike fear in to the hearts of many remained. Pant-Glas steps proved to be as much a challenge as ever, as did Llywna and Sunnyside, ensuring most riders spent around eight hours in the saddle.
The event was well supported by an entry of nearly 90 riders, and observers who often marked the score cards at two sections throughout the day. The club wishes to thank them and the landowners for making the trial such a success.
---
Gallery
For Pics by Susan Milsom scroll down.
Here is Jackie's Gallery (Special Test shots by Colin.) This Gallery is hosted on Photobox and Not meant as a commercial profit maker. Ask if you would like a full res digital version emailed for free. admin@wgdfmcc.org.uk
Here are some of Susan Milsom's Pics.
| | |
| --- | --- |
| Danny Bendall enjoys the sunshine at Bill Brown's section | Martin Gilbert grabs a 1st Class despite 2 surprising 5's. |
| Keith Worden had another of his 18 cleans here. | Josh Cook was 2nd in the under 25's. |
| John Edmonds wasn't puffing that hard, he had 2 silly 5's but cleaned the big hill. | Graham Smith thoroughly enjoyed his day and was first to thanks the organisers. |
---
Videos
Viv and Colin filmed at the Test and Pant-glas Steps. Here are just a few minutes worth.
---
Section Statistics
Section
Score Incidence
Tot
Sec. Name
No.
0
1
2
3
5
Marks
Sec. Name
1
43
7
4
9
16
122
Pingry 1
2
38
9
3
18
11
124
Pingry 2
3
27
12
6
24
10
146
Pingry 3
4
45
8
6
10
8
90
Pingry 4
5
45
10
4
14
5
85
Pingry 5
6
65
2
4
1
6
43
Pingry 6
7
64
6
1
3
3
32
Forge Wood 1
8
30
8
4
19
16
153
Forge Wood 2
9
16
9
2
18
33
232
Lords Grove 1
10
7
3
8
39
19
241
Lords Grove 2
11
27
9
10
26
5
132
Hayes Coppice 1
12
49
5
5
9
9
87
Hayes Coppice 2
13
50
9
6
7
5
67
Roy's
14
50
12
6
7
1
60
Hendre 1
15
52
7
1
6
10
87
Hendre 2
16
41
12
0
6
18
120
Village Farm 1
17
23
3
2
7
40
248
Village Farm 2
18
65
5
1
2
3
38
Village Farm 3
19
3
0
5
44
24
272
Newhouse 1
20
23
15
6
11
22
170
Penallt 1
21
29
8
4
8
27
185
Penallt 2
22
7
13
7
17
31
233
Tregagle
23
38
8
4
6
19
139
Sunnyside
24
51
6
4
7
6
75
Llywna
25
26
10
6
18
15
151
Pant-glas 1
26
23
17
4
23
8
134
Pant-glas 2
27
57
5
2
2
9
60
Mork
28
9
0
1
15
42
337
Forge Wood 3
29
25
3
1
8
32
249
Forge Wood 4
30
63
5
0
1
1
63
Forge Wood 5
31
17
18
7
23
6
171
Forge Wood 6
Rte Tot:
1108
244
124
408
460
4346
---
Team Results
No.
Teams
Once Weres
22 Joe BENDALL
13
23 Henry BENDALL
8
24 Mike HUGHES
16
37
The RAW Posse
1 Ben BOWKETT
10
2 Sam KING
24
3 Steve GRINDLE
8
42
Wye Bother
69 Bruce BENDALL
25
70 Daniel BENDALL
29
71 Jason BENDALL
3
57
Wilfred Anchor Brothers
25 Mike HUSBAND
22
42 Max HAWKINS
25
43 Glyn SMITH
42
89
Gilbert's Goons
10 Robin MILL
49
11 Keith WORDEN
30
9 Martin GILBERT
14
93
Neath Trio
51 Glyn MOSES
20
52 Mike MORTIMER
41
53 Micky ROOT
56
117
196yrs Young
76 John LUCKETT
35
77 George ATKINS
31
79 Michael WHITEHOUSE
63
129
The Muppet Show
75 Stephen WINSTANLEY
50
80 Jerry WALTERS
27
81 Julian HURLEY
129
206
Moto-Ward Yamaha
12 Richard GARNER
149
13 Neil VARNEY
43
14 Martin WARD
107
299
The Vikings
44 Jez BRAY
N/S
45 Mick THURMAN
N/S
46 Sam MANN
N/S
DNF
Mixed Nuts
33 Stephen PEARCE
46
34 Adrian CAIRNS
45
35 George HUMPHREYS
DNF
DNF
---