Steve Biddle's Archive Blog 2009
Previous Reports
Return to the Current Blog 2010
2009:
Long Mynd, Caio, Mercian - Llangrove, Foxwell, Exmoor HH - Rifton Barton, Midwest Rnd5 Blackdog Woods, Red Kite Enduro, GBXC Rnd5 Crickhowell, Mercian Rnd ? Pandy, Corinium, Snowrun, Mercian Rnd 1 Aberbeeg, Midwest Rnd1 Chavenage, GBXC Rnd1 Stourport, Haddon Woods, Hethfelton, ToughOne, Colstey
2008:
Midwest H&H Nov , Tough One's Brother - Nov , Muntjac BEC , Ceri H&H Nov , Whitley Mid-West H&H Oct , Mid-West H&H Sep , Mercian H&H Jul , Mercian H&H May , Colstey H&H Jan , Foxwell ,
2007:
Bwlchciliau H&H Nov , Ceri H&H Nov , Midwest H&H Oct , Mercian H&H Oct , Radnor Sep , Rockfield Enduro H&H Sep , Mercian H&H Aug , Abbeycwmhir H&H Jun , Pandy H&H Jun , Rhyd-Blawd H&H May , Cwmcynydd H&H - Mar , Colstey H&H Jan ,
2006:
Ceri Nov , Knighton H&H Sep , Rockfield Enduro Sep , Mercian H&H Aug , Dawn to Dusk ,
The Blog
2Dec09: Mercian Championship in the bag. (Results)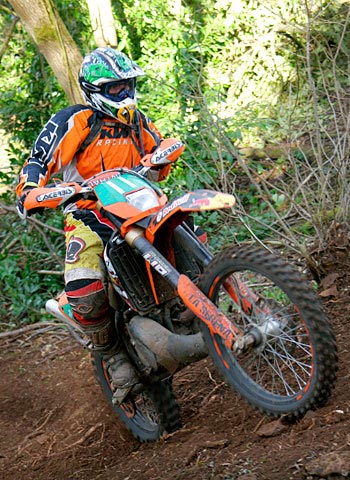 ed. says: Steve has just been confirmed as winning the 09 Mercian Hare & Hounds Championship. There is no 'just' about it, he was 27 points clear with 3 wins and a second counting. Rob Breakwell came in 3rd also in the Experts class. James Wilden came in 9th in the Clubman 2 stroke class, Gavin Bailey 3rd in Vets, Phill Gardner 2nd in Super Vets, you can scan through for Kingsley Bower, Craig Ruck, Martin Howitt etc. as not all placings have been identified yet.
---
19Oct09: Long Mynd HH (Results)
We were spoilt for choice last weekend with loads of events on, me Phill, James and the other Coleford boys all went and did the Long Mynd Hare and Hound at Church Stretton, Shropshire.
Phill has said to me for few years now to come and do it because its a real good one, but it's always clashed with the Midwest series and I've always missed it. But this year the Midwest was cancelled so we were all able to do it.
Met up with Phill in Hereford and it looked like the weather was going to be kind to us. We got there nice and early because Phill said it was fire road parking. James, Phill and I had a quick look at the track by the start and then back to sort out the pits. Rucky was pitting for 7 of us! so he had his work cut out.
We had a quick brief from the Clerk of the Course from the Manchester Extreme Club and he warned us all that its not easy going and can be a very tiring event but they had put in some more open going than last year and also some new bits and that the track is now 10 miles long, which is the longest hare and hound track I've done. I had a quick look at the entry list and soon noticed that there were some really good riders among us, like Lincoln Breswter, Martin Sanderford, Rob Reese, Lewis Belfield and Ian Barnett.
We started at 10 and I didn't have a very good start, 10th I think, but managed to pull past two riders throughout the race bringing me in at 8th, which I was pleased with considering the lineup.
Phill had a puncture on the last lap but managed a great result at 5th in the Vets. Phil is on a new bike now, a KTM 250 EXC and it seems to suit him.
James suffered from some cramp out on the moorland section but had a good result at 13th in the open clubman. You can find all the other's results at www.manchester17.org.uk and also some photos.
I spoke to Phill at the end and he asked me if i liked it, we both agreed it was the best event of the season. This Hare and Hound had everything you could ask for, it was better than some time cards I've done. Fair play, all the good ones are in Wales, I would advise anybody to do this event if they can, its excellent, everyone I spoke to enjoy it, even the boys from TBM were there so look out for a report in the next issue, this one is on my calendar for next year.
Next event is Hillclimb on the Saturday and the Builth Hare and Hound on the Sunday so I will be trying not to burn myself out too much at the hillclimb. If anybody is also doing the Builth me, Rucky, Phill, Mikey Wells and his boys are going up, should be good.
---
04Oct2009: Caio Enduro (Results)
After twenty years of not being used the Dyfed Dirt Bike Club re-opened the Caio Forest for a 20 mile lap enduro. I entered alone, but rucky came along to help in the pits and watch, he's started to get to know everybody now and he loves it.
On the morning they released how many laps we were to do and how many tests. It was 4 laps and 3 test with the first lap being a sighting lap. Check allowance didn't seem too bad, apart from check 2, which was quite tight, but after lap 2 I'd got it sussed and was clean all day.
The course was really good and because of the recent weather there was nothing that demanding. They said in the regs that it was a good old school event and it was, they are my favourite and no matter how many hare and hounds you do there's nothing like these (Time Card events, ed.) It was all in the woods with a special test you would find on one of the British Rounds, it was the best test I've done all season, it had everything, fast motocross track with two small quarries then fast flowing into the trees and then back through some fields to the finish, and the good thing about the Dyfed Club - their tests are done with transponder, so no stopping or slowing down at the end, they can pick up up to 100mph!
Good event and ran very well by the club who also run the mountain top enduro. Rucky got talking to one of the members and he said they are running 3 time cards next year so look out for them.
I was up against some tough competition on Sunday with Dylan Hughes, Neil Thomas and Rob Reese. Rob is one of the top W.O.R riders and has lots of podium finishes with some tough races under his belt including beating me at last year's 'tough ones little brother'. Rob was on the same minute as me and I managed to stay with him the whole day and we came in on the same times so I was really pleased with that he's a top rider and a top bloke, and he also talked me into doing the tough one next year at Nantmawr quarry, which is round one of the World Extreme Enduro Championship. My entry is off so I'm hoping to get in because there is only 100 entries. You've got to do the prologue, which is a 1.5hr hare scramble to qualify for the main race, if you don't, you do the morning race with clubman, so I've got to get practicing. I've just bought a trials bike and I'm out on it already, so if anybody else is interested in coming with me the details are on Enduro news and WOR website. Wayne, James and Rucky are coming to help out and if you fill a car its 20 quid to get in, awseome day I've watched it every year and always wanted to do it. I spoke to Rob Breakwell and I think he might be doing it as well.
My results for the caio was 3rd in e2, so not too bad. Two of my tests were not that good, I had one off and got slowed down by a very deep bog. Never mind, brillant day.
Next race is the Long Mynd which is meant to be quite hard, it's on the 18th. I'm at the Beach race next week spannering for a load of the motocross boys I know.
Here is a Video of what the test was like (courtesy of revord62):
---
Mercian's Hare and Hound at Llangrove had a good entry of 130. I was there along with the full team of James, Craig, Gary, Tim, Nick, Martin, and Steve on the spanners. James and I helped set up the track on the Saturday and all looked good, including the weather.
When the race started it all went down hill for all of us. I'll start with me first, I had a bad start 8th I think, battled past every rider apart from Rob Breakwell then Mark Perrott got past me so I was in 3rd, then I ploughed the bike straight into a very large tree stump and flattened the exhaust to the frame, the bike would hardly rev, but I carried on and then had 2 nasty offs.
Later in the race I did catch up with Rob again but could not hold on to him he was riding really well, glad to see him back strong. I then settled for 3rd which is good because all I needed was a finish really to help me for the championship.
James and Martin were riding together across the top field which was the fastest part of the track, both flat out in top gear and they somehow came together on the corner and Martin went down hard and had a hospital level off. He's in Hereford hospital now having a operation on his collar bone which I'm told he's broke very nasty. He also has some problems with his fingers which I don't know about at this moment. Me, James and the rest of us wish him all the best and a speedy recovery, hes a great bloke.
When James and I came in for fuel Rucky told us about what had happened we both felt like retiring then but we hate to give up so carried on. Then next lap disaster struck again, James' mousse gave up and he retired. Craig Ruck was going well until he had a nasty off sending him to St Johns with a suspected broken wrist but then did carry on to get a finish, just. Then Gary retired with dehydration and exhaustion. Nick Vaughn I think had bike problems. Tim finished. So not a good day for some, but the track was good and Mercian did well again. Results will be up soon. Next race is Long Mynd or Midwest, I will let you all know about Martin when I know more.
---
13Sep2009: Foxwell Enduro (Results on sdmcc.org.uk)
With all the events set for this date and then changed around, I had a choice between Foxwell, Mountain Top and Track and Trial. Well I've done the Mountain Top and the TNT one was in Dorchester so the Foxwell it was. And also being a fantastic venue I thought give it another go.
Dave and Glenn were also there all keen and ready to go. I was in E2 and Dave and Glenn in sportsman, me on 6 laps and them on 4.
As always the times looked to be quite slack apart from the last 2 laps but then found out that we were missing out the test all together on the last 2, which was on the other side of the road and that made the last 2 laps quite short.
I set off at 10.10 with Dave and Glenn not far behind me. The course was roughly the same as last year and was excellent. The weather had been good so it was dusty and hard, just as well because we were on trials tyres again. The test was all in the new woods over the road crossing and was about 6 miles. I had quite a good first test but did get held up a bit with slower riders, I came in on every lap with about 20 mins to spare so plenty of time to look around the bike and get some food.
My second test was even better, I rode as fast as I could but still got held behind some riders but thats what its all about. I came in clean all day and I loved the event as I always do with the Swindon club. I would just liked to thank Keith Wooster and Richard Peaker again for helping me at the Corinium when I broke my shoulder. When they saw me there they came over and asked how I was and shook my hand, not many clubs will do that.
Dave had a good result in 19th and Glenn did well at 40th. I had 1st in my class E2 and 2nd overall. I spoke to the guy who won it Glyn Thomas and he generously said that I deserved to win it really cause he was No.1 off the line and he had nobody in front of him to hold him up on the test. His test times showed that he was 8 secs faster than me over the 2 tests, but I was really pleased with my result and I will be back next year. I see that Ant and Pete did the Mountain Top - I've done that event 2 years on the trot and it is quite hard so well done to both of them, good result for Ant.
---
16Aug2009: Exmoor Hare and Hounds - results
James, Rucky and I went down to Xmoor's last enduro of the year at Rifton Barton near Tiverton.
Went down early as usual, to watch the morning race which started at 10 and ours at 12.15. When we signing on just after the start of the first race they told us to go and have a look at the extreme section that they had built and put in as a option for easy and hard route and also three other routes that were out in the forest. The extreme route looked really hard, 3 big logs on top of each other that stood about 3ft tall with a near vertical drop off. Then over an offset log then on to about 20 lorry tyres all laid down and strapped together. James said 'I'm going to miss this out', but you gained so much time using it I had no other option but to do it.
It was a 3hr race on a 8 mile track, 95% all woods, so sounded good. They also told us at the start that it was easy to get lost because there were limited arrows which James and I found out, he got lost and I cut course so we were both bit disapointed about that. When I came into the transponder I told them and they told me to carry on and sort it out at the end which they did and that put me from 1st position to 4th.
James was 11th but would have done better if he hadn't got lost, he reckoned he'd done half a lap more than he should have.
I've got to say the track was awesome and the extreme test was easier than I thought, I took it every time and loved it.
Out in the forest they had two loops and the loops crossed over and under each other using manmade bridges, really good idea.
On the second loop they had a river section which was half a mile long with fallen trees across which were just high enough to get under, mixed in with some good steep hillclimbs, this was one of the best this year.
The weather was kind as well, which was good because we were on trials tyres. James pulled in and let his down a bit and never suffered with grip but I never had time to stop and did suffer a bit. Next time instead of double tubing I'm going to get my mousse to fit if it kills me. There should be some pics of the extreme track on Jack Stringer's site check 'em out!
Definitely go back next year - good club. Next race our Chicken Run (If you haven't seen Steve riding then this is the one to go and see, it is local at Monmouth and all his local mates are riding too. And if you've never spectated before then ask Steve or one of our marshals for the best safety advice. Ed.)
---
26July2009: Midwest rnd5 - Blackdog Woods
Round 5 of the Midwest H&H Championship was at Blackdog Woods near Westbury Wiltshire. We rode there last year in really bad weather, so no different this year then!
Myself, James and Martin, brought along some local motocross talent with us for some 3 hr practice for the beach race, Martin and Tim Truman from Bream, who are doing very well in the AMCA Championship. Tim was riding his Suzuki 450 and Martin on a much tamer 250 Suzuki two stroke.
We were told by Simon Molter (Midwest's chairman) that the track was similar to last year, which is about 95% woods and quite tight and snotty. Mikey was there with Nath and Arran but only Nath riding, Arran had swine flu so he suffered some mickey taking - well deserved I think because he's usually the first to take it - 'tidy'.
I didn't have the best start but soon got stuck in and managed a good result. I caught up with James and Martin and they were having a really good battle and were both riding really well and both had good results. We seem to have James bike just right now with a flywheel weight fitted and suspension altered. I lapped Nathan and he seemed to be having a bit of trouble, I found out after that his petrol pipe had come off and he then used his breather pipe as a replacement, but then lost his cap and the petrol went all over his 'trouser tackle' and was burning his skin a bit, so he poured his camelback over it and carried on so he had some mick taken as well at the end.
Tim and Martin rode really well, just said that they found it hard because of all the tree work and the whole 3hrs thing. Tim texted me the next day and said it was the hardest thing he ever done on a bike and that it was harder than the beach race. But it all made up for a really good day and we all enjoyed it. Well done to every one, the team at Midwest kept everything going for us and so did Rucky and Mikey, they spotted a few new lines for us when the others were trashed and kept our spirits up with a bit of shouting and Arran messing about drawing gestures on our pit boards, but that's another story. Fair play we got a good team of lads together now and we all get on and have a laugh.
The results and pics are on there site www.mwmcc.co.uk I think Nath would have won his class if he hadn't had trouble but I think he will still win at the end of the season. He's a really good rider and next year will definitely be up in the Experts with me. I was pleased with my result because I did the same laps as Championship riders Rich Warner and Matt Ridgeway 15 laps.
Our results were:
Clubman 2s
Nath 8th on 12 laps
Gavin 12th on 11 laps
James 13th on 11 laps
Clubman 4s
Martin 5th on 11 laps
Expert
Me 4th on 15 laps
Tim 8th on 14 laps
Martin 9th on 13 laps
Next race: got to miss Cwmowen so it's either Minehead or Tiverton enduro then our Chicken Run.
---
19Jul2009: Red Kite Enduro - (Results)
Rucky, James and I went down early Sunday morning to get a good parking space because it was going to be held at a different place, it was held in the Halfway forest by the old quarry and we have never been there before. It was regularly used years ago,and was once used for the world round.
We got there about 8 o'clock and it was raining hard but the parc ferme and parking area were all on concrete which was the old staking plant, now taken down, which made for a great area. Went off for a walk round and bumped into Bob Perring and he said the track was really good but because of the rain its going to be real hard! and for him to say that, that means hard.
They had cut the laps by 1 already so that meant 6 for me 5 for clubman and vets 4 for James in sportsman - LUCKY SOD. Vess, Pete, Chris and Guy were all there. Spoke to Pete and Vess, I think they were in the vets, and pete was on his new bike for its second ride, the entries were down to 70 and only 1 championship rider and he was on the same laps as me, my times were 45 45 45 45 42 37 and I knew it was going to be tough towards the end with 15 mile laps with Special Tests on laps 2,3,4 and 5 and dropping 8mins at the end.
Started at 10:02, the track was good but I could tell that it was going to be cut up and turn out really hard, I rode really steady on the first lap and had a good look at the test, it was very slippery, offset cambers, very twisty virgin ground with some deadly holes hidden in the ferns. Came in with 5 mins to spare, so all okay for the next 3 laps. My tests were really bad I had 3 offs in one test, then got held up by a back marker on the second test and the third test was just no grip left at all so I was a bit disapointed with all my tests.
After you left the test and the other woods we went up on the ranges and over the vehicle testing ground which they use on the Red Kite Rally, and the tank ruts were full of water with tracks around the outside which I took on every lap, those who tried them were up to the handlebars and there were lots of them!
I enjoyed the ranges because it was nice and fast and loads of lines once you worked out where the shallow water was. After that it was straight into a plantation of what looked like low gorse bushy stuff with some hidden nasty ruts, but after a couple of laps there were some high lines and was really good. The hillclimbs in the woods just became one rut, hard slog paddling all the way. I found them okay but you were always behind slower riders so you just had to follow them.
I came in on my 5th lap dead on my time so no fuel or drink straight through, they then dropped another 5 mins for my next lap so I knew it was going to be tight, I pushed as hard as I could but the track was trashed and I was knackered, had 1 off and came in 5 mins late so had a 300 penalty and came 2nd in Expert, Neil Thomas was the winner who I usually beat but it just was not my day.
I enjoyed the whole day and the track was awesome, just the weather spoiled it a bit, hats off to the WTRA, they did a fantastic job of keeping it all going.
James was going well until he got his glasses covered in mud and then dropped them and couldn't find them and had to retire on the next lap, he said he couldn't see a thing and it would have been dodgy to carry on. I heard that Pete had problems with his handlebars and had to DNF. Vess, Chris, Guy DNF'd, so it must have been hard.
Next race is Midwest this Sunday at black dog woods Salisbury.
---
5Jul2009: GBXC Rnd 5 - Crickhowell (Results)
It was Round 5 of the WOR GBXC at Crickhowell last week. Arran, Nathan and Rucky and I all went down. Nathan and Arran went down on Saturday night so they could walk the course. Rucky and I went down early Sunday morning just too see some of the course and watch the morning race (Dave Smailes came 26th and was one lap down on the over 40 winner. ed.)
It was an excellent venue set in Glan Usk Park, good parking and plenty of room for everthing but was a fiver for spectators which is a new thing and a bit over the top I think. Mickey (Wells) rode the course because he was marshalling and came and told us that it was quite technical and all in the woods, very rooty and a few nasty climbs. I thought sounds good.
We watched the morning race and then got our bikes up on the line, had a quick look at Knighter's new bike and went and got ready. Spoke to Jerry Adams who was parked next to our van and he had a hole in his crankcase and told me to 'watch out, out there' that it was 'very rocky'. Steve Ireland did warn everybody on the start to take it steady on the first lap it was cut up quite bad.
The Pro's went off at 1:00 O'Clock dead for a 2.5hrs race and we left about 20 secs after. I could see straight away what everybody was on about so I just took it steady first lap. On the way round I saw Gavin Houson stood with his shoulder dropped and shouting his head off in pain and I thought straight away he's broke his collar bone and I tried to find a marshal but there were none about. When I came around second lap he was all sorted.
The track was quite hard in places but I loved every bit of it, I haven't been very keen on the last few GBXCs because they were a bit fast and not really hard and technical tracks, but this was awesome. Knighter lapped me at the half way point, he was bloody flying. When I came round to the pits to refuel Steve said that I was 8th and to try and keep that position if I could.
The track did get quite hard at the end and I did get tired but my shoulder did hold out again. The results were Nathan 7th in Clubman on 9 laps, Arran was 18th, I was 8th on 9 laps with only 2 mins overtime so nearly got 10 in. (Also look for Simon Ellway and Dan Bishop in Experts and is that CHG's Mark Kirby too? Also in Clubmen is Darren Vincent. ed.)
Good day all round! Next race James and I are doing the Red Kite Enduro at Halfway.
---
02July2009: MDR's Pandy (Results)
Photos from Michael Davies from same event - If anybody else is interested, he sells the images taken on CD at £10.00 plus PP (regardless of number of images). Second rider on the same CD is an extra £5.00. Its £5.00 for every extra rider included on the same CD.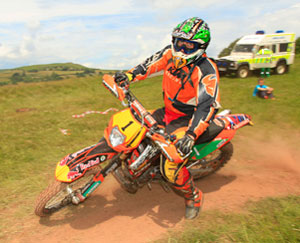 Me, James, Rucky, Martin and Craig all went down and rode rnd 3 on Sunday at Pandy. Got there nice and early and got all the low down about the track from Pinny and Glenn. Some minor changes to last time but nothing too hard.
After not racing for 10 weeks I was feeling pretty nervous and worried about my shoulder holding out. The weather was really warm even at ten o'cloc. Had a good chat with Phill and Gail and the rest of the team. Mickey Wells was there to tell me all about the Welsh which I had to miss out on of course.
By half ten we were all ready, loads of liquids and pain killers for me. then push the bike from parc ferme to the start. I had the best start I've ever had, in front for once. From then on I never stopped pushing and never saw another rider. I could feel that my pace was off a bit because I was thinking about my shoulder. I met some tailenders on my second lap all stuck on the first little stoney hillclimb, I had to push past and fight my way to the top, there was loads of bikes stopped on the hill but the marshals did a good job of getting it all moving again.
When I came round on my 3rd lap Rucky shouted to me "You've got a massive lead, ease off a bit", so I did until I went into refuel on 1 hour and 15 mins because we were on 2.5 hrs not 3.
I then found out that I was 7 mins clear of second place rider Mike Rees. Gail came and told me before I pulled out of the pits that I didn't have the fastest lap, I was not too worried about that as long as I was out front.
The track was awesome. They (the club) all did a great job with everthing. They had a new bit in the woods where they'd cut some gorse bush down and there were little stumps stuck out, which were quite slick after a couple of hrs.
I did have two near misses on the fast bit out of the pits, you jump through a hedge into another field and its really fast and you really take off, I came through there and a rider had stopped in the middle of the track to have a chat to his wife, how I missed him I don't know, he should be told if he wants to chat go to the holding area not on the track he was so nearly hurt and would have ended my race and seriously hurt me, I must have been doing 60mph when I passed him. Then, blow me down, I came into the next field and there was a 6yr old child in the track with the parents just standing there watching, I couldn't believe it I so nearly hit her.
I came round to the transponder at 1:14, so I knew it was going to be tight for another lap people were already in the holding area so the heat must have got to some off them. I thought 'right push hard now for another lap' and I made it by seconds. Then I pushed for the fastest lap time and beat that as well! So, my fitness must be good for my fastest lap to be my last one.
James never had a very good day he was still hung over, serve him right. Martin was 3rd in clubman, Craig 13th in Sporstman, Gavin 2nd in Vets, Phil Gardner 2nd in Super Vets, Dan Bishop 6th expert, Rob Breakwell 5th and me 1st Expert. Also riding were local lads Graig Jones, Tim Davies, ex rally driver Gary Standen who had a bad day with bike problems, Nick Vaughan, and they all rode well and enjoyed it. It was a great day, well done to all at Mercian Dirt Riders, it was good to see Rob Breakwell there and to ride with him I spoke to Rob at the end and we shook hands and he congratulated me. I missed out on rnd 2 at Aberbeeg so I've dropped my 1 round already but I have got max points, so I need to contest all the others.
Next race is GBXC at Crickhowell, then Red Kite Enduro at Halfway Forest, then Midwest rnd 4.
---
ed. says: We are hearing lots of comments about Steve's incredible comeback. Here is just one from ex Enduro and now Trials rider Wayne Hewitt:
I am so pleased for Steve on winning at Pandy. I have never met a more determined person who is so dedicated to the sport. He never let his injury get him down, he has not once moaned (much!!) and has carried on working on other people's bikes doing fork seals and engine rebuilds by the end of the second week of his injury. Whenever Steve goes racing or green laning he always includes other people and is always willing to help. I think he is a true sportman. Steve has put so much time into his training regime and it is now paying off. So well done Steve! you're a true asset to the sport. PS. And next time you come off your bike you can straighten it yourself!
---
Most of you will have read Vess's Corinium Report and know Steve had a hospital level off. So you we are pleased to get an update now he can get to a keyboard. Steve says: I fell off on the test, was going well too. I high-sided and landed on my shoulder. I haven't broke it but got grade 3 ligament damage so quite bad, (the bike is smashed up bad too.) It's already better after a week so should be ok. I'm probably resting it for 2 weeks and then back on bike in about 6 weeks and light riding and practising to build up strength. Will be having some physio too. I'm hoping to be fit for 3rd round of Mercian in June, but it's not going to be easy, separations can be nasty so I'll see how it goes. I'm hoping to be back better faster and fitter!
---
12Apr09: Snowrun Enduro (Results)
Six O'clock on the Sunday morning Rucky, James and I set off to do the Snowrun, which was cancelled back in February due to bad weather. But with recent weather and good forecast it was going to be our first ever dry Snowrun. Took the shortcut up over the ranges and the weather was lovely, got to the Crychan about 8:15 got a good parking space right next to the pits. Signed on and got times sorted out and the times were all the same they didn't change all day. My card in expert read like this 36 28 36 28 36 28 36 28. This could mean two things, really hard so times are left slack, or just made that bit easier because of complaints last year.
My start time was 10:04 right behind championship and I had Barry Furber, Mark Perrot and Neil Thomas on my minute, which was good really because they're all about as quick as me, so we all tried to keep each other going, but that all went out the window as soon as we started, the 'hare and hounds' came out of us and we were all flat out! When we got to the first check 15 mins early we thought 'ah! better slow down a bit then'. Got to check 2 early as well.
The track was snotty in places but quite open compared to last year. The test was all in the trees and was very rooty and rutty, one mistake would cost you the test. Our day read like this - 4 laps for expert with test on laps 2,3,4. My first test was bad, got stuck on very big tree stump and lost vital seconds, Test 2 the lighting system broke down and I got sent off too early and caught two slow riders and lost more seconds. Test 3 was better, I caught Neal Thomas and he let me by so I knew I was fast. If my two other tests were like that one I would have been top three on the results but never mind can't do well all the time. Just wasn't my day but still pleased with my result, 6th overall and 5th in E2.
The rest of the course was 1st class no complaints at all, excellent job, well done to everybody, a few people had complained about last years course. I'd like to see them do better. It was hard but you can't please everybody, 'just shut your mouth and get on with it', that's what Enduros are about, it's like Fast (Paul) Eddy said 'if you want it easy, p#%s off and do motocross!'
It was good to see Ant Moore there and Pete and Mike. Vess broke down on first lap I think so bad luck to him. Seen him at the end of my lap 3 and he seemed to be in good spirits.
I stayed early all day and so did James, don't know about others, have to check results but I think everybody enjoyed it. Frank Morgan was there with video and he got James and me in the quarry section so I might buy that. He's online if anybody else wants one. Frank's Details
At the end in the pits me Rucky and James were talking to Bob Mullins from EnduroNews.com and he congratulated me on my 2nd at Mercian and said I did well to stay with Gareth Hopkins for 3 laps because he was 4th fastest at the British rnd 1, he couldn't believe me when I said I had no sponsor, he said "you should have had one ages ago, I've seen a lot of your results". He took my picture and said "that's for future reference". So, who knows, might do some good. Somebody local better snap me up quick before KTM UK want me, ha ha!
Next race was going to be Mercian rnd 2 this weekend but is now cancelled, so I'm off to Somerset to do rnd 3 for the ORE club at Evercreech on Saturday evening, should be good. Then it's off to Corinium the following week can't wait, brillant event.
---
29Mar09: Mercian Dirt Riders Championship Rnd 1 (Results)

Several of us Forest members, too many to list, went down to the Mercian's rnd 1 at Aberbeeg on Sunday. I've ridden here many times before, usually in bad weather but on Sunday you couldn't ask for better. And as for the track, it was excellent, one of the best this season, puts the GBXC track at Stourport to shame. Fair play to Glenn, Dave, Gail, Phill and anybody else involved, they really now how to build a track it was first class, it had just about everthing, and also 7.8 miles long, not many clubs these days have them that long. The parc ferme and parking area was also very good.
We all got there early and had a chat and some of us walked the track. First impressions of the new parts looked quite rough but were fine. We were told that the woods were not in but they put a tight section in the fir trees which was very tight and a few of the novice riders struggled here. The new hillclimbs by the gulley were great and we had an easy and hard route here.
I had a good start and was fighting for 1st place with Gareth Hopkins who I knew was quick, he rides for Gas Gas UK. After 3 laps I gave up on Gareth, just couldn't catch him, but I pulled a massive lead over 3rd and 4th place. I had no problems the whole race and the track stayed rideable the whole 3 hrs, it just got better and better, I didn't want it to end and everybody said the same. I passed a few of the other forest riders who seemed all to be going really well. I followed Craig Jones for a little bit and he seems to ride well, I think he will come on well, Martin George seems to have found his feet again, me and him had a little tustle at the end when I lapped him and he kept me off for a bit, Martin and I used to ride in the Cotswold (series) together and we had some right old battles. He had a puncture at the end but managed to get a finish. Kingsley dnf'd with a puncture and everybody else finished.
I am very pleased with my 2nd because I get full points (for the championship) because Gareth is not a member and I pulled a good lead on Neal Thomas who always beat me in the past. And Mark Perrot was also there and Mark has beaten me quite a few times in the Welsh, GBXC, Colstey and things. The results show him as a dnf but he rode for 4 laps and said at the end that he couldn't catch me. Martin had a great result with 3rd in clubman 4 stroke. You will have to look for the others results on the link at the top, and also there is a write up on enduro news.
Many thanks to all at Mercian for another great event. Have a look at Colin's snaps taken while out marshalling. (If anyone wants a free digital copy emailed to them then contact Colin on admin@wgdfmcc.org.uk and quote the shot number.)
22Mar09: Chavenage HH (MidWest Website, Results)
Myself, James, Martin George, Arran and Nathan contested round 1 of the Midwest championship on Sunday the 22nd at Chavenage Farm Nailsworth. This event was due to run last month but was cancelled due to bad weather. James and I have ridden here many times before so knew what to expect, but it was first time for Nath and Arran and their first Midwest race. For Midwest events the rider ability is a bit higher, they both stayed in Clubman class and so did James and Martin, I was up in Expert.
It was a 3 hour race on about a 6 mile course with transponders for lap counting. This track can be quite demanding and very snotty and hard. With all the new pro riders in the expert line up with me, I knew the organisers would make the track more demanding than normal and they did not much let up at all. I emptied my camelback by 2 hrs.
After the first lap I knew it was going to be hard, all down to fitness really. On the second lap I found myself fighting with my usual rivals, Neil Thomas, Tyson Jones and Dave Nuttal. We swopped places a few times but all that practice must have payed off for me through the winter because I got in front and made a nice little gap. I went in for fuel at halfway and the others risked another lap. I had some catching to do now, but by half way on that lap I'd caught them and passed them again and they had to fuel, so I knew then that I could beat them and get a tidy result. I passed James and Martin and they seemed to be going really well. Arran had a nasty off and Nathan was going well.
The track did get rutted up a bit and some of the hillclimbs were getting blocked by back markers. There was a problem all day with back markers just not pulling over and getting stuck. I think the midwest have attracted a lot more novice riders now, which is all good, but it's getting that big now that maybe they need a morning and afternoon race. All the others had the same problem as me.
We all had some really good results. Nathan had a 1st, which I had a feeling he might, he seems to have that hunger for it. I know all the riders that moved up from clubman to expert and he is as quick as them so I knew he would be one of the quickest in clubman. Arran would have done well too if not for his accident. I tweeked both of their suspension (settings) for them, so that's why they're going so well, shouldn't be helping them really, they will be catching me soon! They might do!
James had a 25th on 9 laps, Martin 22nd on 9 laps, Arran 27th on 8 laps, Nathan 1st on 10 laps, Me 9th on 11 laps and those are all good results when you see who is riding and how many.
I would just like to say a couple of other things, Guy Mansfield-Smith was there on Sunday and I spoke to him before and after the race and he is suffering with a bad knee and collar bone which he is waiting to get sorted and I can tell that it's hurting him. Guy is much like me and James, we all like the hard ones and have got that never give up attitude, (which is why its called Enduros after all) his result to me is the best of the day, he came 13th on 10 laps in Vet Expert, fair play.
At the very end of the race I was battling with local rider and E3 champ Chris Tett who has full sponsorship with Honda and many riders behind me with full sponsors, so if anybody is interested in sponsoring me get in touch. (via ) I always try hard as I always have to do well. I would like to do all British rounds this year but cannot afford it.
Our next race is Mercian at Aberbeeg. Loads of us going, should be good, should get some good results. Nathan and Arran are up in Expert with me, James, Martin, Craig, Gary are in Clubman. Tim and Craig Ruck in Sportsman, come and watch, next after that are Snowrun and Corinium.
---
10Mar09: GBXC Round 1 Stourport (Results on gbxc.co.uk)
I went up to Stourport Sunday and rode in round 1 of the GBXC for the W.O.R club. The morning race was Sportsman and Over-40 and Novice,and started at 10 o'clock. Steve (Ruck) and I got there to watch. The start was very tight just to slow the riders down a bit, I think, then staight into the woods where there was some good hillclimbs and some deep ruts, looked quite good. As we walked on we saw a downhill that was quite steep and very muddy and riders where crashing everywhere. I picked what I thought was the best line to take for my race in the afternoon. We then walked other parts of the track and then met up with Mickey Wells, Arran and Nathan and had a chat about the track and things. I then saw Dave Smailes on his Yamaha, he was retiring with a blown clutch. I had a look at it for him but could do nothing for him, it was fried!
When the morning race finished we put our stuff in the pits and got ready, we were starting at 1 o'clock and the entry was very big. A lot of bikes on the line, Pro and pro lite on first line, expert then clubman, I was in expert, Nathan and Arran were right behind me in Clubman. I didn't have a bad start for a change but there was a bad accident on the first corner which I was able to avoid and get a good start into the woods. I was about 5th, but was then taken by some quicker riders later on, the rest of the track was heavily rutted and whooped out. I've ridden this track many times before but sort of expected Paul Eddy and (Steve) Ireland to set out a good track and use some new bits especially for 60 quid entry, but no they didn't the track was not that good, bit disapointed really, after riding those two events down south this seemed quite poor and quite expensive. Steve Ruck said after the race that there was a lot of retirements and people were a bit pissed off. Half way into the race we had a bit of rain and Steve Ireland annouced that it was to be cut by 30 mins bringing race time down to 2 hrs.
I had no real problems and pushed hard the whole race but could not get settled in because the track was changing all the time every lap the lines were different, there was some really quick riders there though and like Steve Ireland had said in rider's breifing, we have got all the best riders in the uk here today and I think he was right. Our results were very good on comparision when you see them, we all did really well, I think we brought home some good results for the club, I beat some of the Pro riders and a lot of sponsored riders too! Nathan and Arran beat a lot of expert riders and other quick riders. There where some other local riders there too, Paul Morgan, Simon Ellway and Dave Smailes.
Greg Evans was the first rider across but was disqualified for fueling up with engine running, WOR are really hot on this, this gave the lead to Tom Sagar.
Our results were: me 24th in expert on 9 laps, Nathan and Arran were 17th and 18th in clubman on 8 laps, Paul Morgan 5th in 4 stroke clubman on 8 laps and Simon Ellway 52th in expert on 8 laps. As you can see on the results on www.enduronews.co.uk we were all only 1 and 2 laps down on the top riders. I also managed to beat Andrew Edwards in Pro who was once the British E1 (125) Champ!
Pics and more info also on WOR website. Next race for us all is midwest Rnd 1 at Nailsworth on 22nd
---
28Feb09: ORE's Haddon HH (www.ORE-events.co.uk)
Myself, James and Martin George went down to Tiverton in Somerset to do the ORE Haydon Woods 2hr Hare and Hound event, (a Saturday). Martin has been off the scene for a while but has bought himself a new WR250 and is going to be riding with me and James for the season, competing in the Mercian, Midwest and other chosen events. Martin was riding in the clubman 4 stroke class and James in clubman 2 stroke, myself in expert.
We didn't have to be there till 12 because the quads were running 2 races in the morning. The Solos were to start at 1:30. I thought this race would be ideal for Martin to get back into it a bit, 2hrs and on a quad track, nice and open and not too tricky. When we got there though we were quite surprised how tough it looked. Some nice log jumps at the start area and some good steep hill climbs. Martin's face was a picture.
We got ourselves sorted with the pits and things and got down to the start area. I had a bad start as usual, 10th I think. The first few corners and straights were really rocky and shined up by the quads. There waere 3 riders off on the next bend so passed them a bit quick. Then to the first hillclimb. 2 routes, hard and easy, I took the hard route and overtook a load of bikes. I was now running 3rd and stayed behind the bike in second for a while and sussed him out, After half a lap I took him and the leader both at once on the next hillclimb. We all took the hard route but they both made mistakes so I went into the lead where I stayed for a further 5 laps pulling away all the time. I pulled in for fuel at 1.5 hrs and one rider got past me with a big tank. I carried on to try and catch him but never did.
I lapped James and Martin and they seemed to be enjoying it and doing well. Later on I was battling with a rider that came up from the pack, I made a small mistake and he got in front.
The track was excellent, quite fast and open but no let up at all, some really rocky parts on the fire roads that were deadly, I thought of Martin because I knew he wasn't on mousses. The going in the trees was slippery and quite rooty but plenty of grip. The course was well set up, fair play. James and I have done some really hard and wet events lately, mostly in Wales, it was nice to go to a different club in a different part of the country. I think you've got to try these events out. They're not as popular, but really good, same as the one I did in Weymouth. The ORE club run a 12 round quad championship with solos as well all around Somerset and Exeter sort of way and seem nice people.
My final result was 3rd overall on 11 laps and I picked up a nice trophy for it. James and Martin were 9th on 9 laps each the results are on there website (see above.)
I blew a clutch cover gasket and broke a knuckle fender, but apart from that a good day. My next event is GBXC in Stourport which is going to be tough, all the top riders in the country will be there, so worth going to watch. I don't think my result will be as good next week! I think Mikey and his boys are going so should be good, then it's first round off the Midwest.
---
Went down to Weymouth and rode the helfelton enduro as I'd got fed up with events getting cancelled for the last few weeks, (the Snowrun and 1st round of the Midwest) so managed to get a late entry with the Dorset Police Club.
This event has never been cancelled thanks to having sandy terrain, the track is on land next to Bovington Tank Museum and they are allowed to use some of their land as well as an old sand quarry at the far end.
The track was 6 miles in length and was for 3 hrs with double transponders just incase of any mistakes. The club run a championship, but because of my late entry, I had to go in Expert class, which was fine. The club were helped out by SCEC (Southern Counties Enduro Club), they set out the track and did lap scoring. They (DPMCC) did things a bit different to usual, instead of putting a flag up at 3hrs dead, they pulled you in when your 3hrs were up, then clubman, then sportsman. So when you pulled in, some riders were still going out - felt a bit weird but fairer I think. (Normally, a whole class goes off at the same time but a few minutes after each other, however they all stop at the same time, so each class may do less than 3 hours so you can't compare results across classes. ed.)
The start area was set out really well with a lot going on and quite a few stalls as well and they also carry a lot of sponsors, it was like being at a British Champs event.
We parked quite far away so Steve Ruck and I carried our kit down straight away then got back to the van and got some energy food and drink in and got ready. We had a quick briefing by one of our great police force and there was a few jokes shouted at him, like 'I hope there are no speed cameras out there'.
We didn't start in the pit area, they took us to a field right out the other side of the course, just before the transponder check, they had a log pile which was about as high as a 4x4 jeep but with a chicken run by the side of it, and i was told there were other log obstacles out on the track and 2 other easy/ hard routes . I didn't have a very good start again but did grab a few places back, pretty soon I was running about 5th and stayed like that most of the race apart from 2 championship riders I managed to pass.
I've got to say the track was absolutely brilliant, one of the best enduro tracks I've ever ridden, it had everything; loads of woods, sandy quarries, log piles, easy/hard routes, flat out fire roads, and some good tricky bits, but very tiring and no let-up. It did get cut up a bit but you had grip all day and we were on trials tyres only as well!
The easy/hard routes just consisted of either going over another log pile or going round through the trees, it was a bit quicker over the log piles, so I went that way. When I came round to the transponder check you had to flash the sensor twice then move on to the log pile or chicken run, but when I got there the chicken run was full of bikes stuck up to the seat, so straight over the logs it was then and I was quite surprised how easy it was so I went that way every lap. A lot of people were watching here just to see some accidents and Steve Ruck said there was a few too.
I kept the pace most of the day had one off and was real tired at the end. There was a lot of retirements according to Steve. Steve has been to quite a few events with me now and is a great help to me. I owe a lot to him. Hopefully, his boy Craig will come and do some more events this year so steve can help him as well.
I really enjoyed this event, it made a change from a real hard welsh event and they did a good job of running it, fair play to them, it was worth the journey down there.
Just seen results and I had a 6th in Expert and also beat two championship riders and right behind 3 fully sponsored riders, the entry was 150.
The results are on www.enduro.org.uk
My next race is the Haddon Woods Enduro at Somerset this Saturday then the 1st round of GBXC
---
26Jan09: The Tough One (EnduroNews.com for more pics and Results)
James and I went up to watch - I helped Rob (Breakwell) up one of the hill climbs which was really nasty, everybody got stuck there, then a bit later on he fell off heavily on one of the down hills. He'd hit a tree at the bottom and punctured his rad, smashed his exhaust and bent his brake arm into his crankcase. But his arm was fine, his dad and I helped him back to the pits. He was p'd right off, he was on his last lap. All that aside he did really well. We all had a good day, good to watch Lampkin on his first extreme enduro and to see Knighter on his BMW although it broke down on his 3rd lap. I've heard the venue for next year is going to be Wern Du Quarry at Corwen where I rode 'tough one's brother' so I'm quite familiar with the layout there so I will probably have a go. I think James may have some Video Clips online.
15Jan09: Colstey and Winter champs
James and I went up to the Colstey Enduro last week (4Jan) to do the 4 hr Ironman and round 3 of the winter championship. We did the Ceri back in November but missed round 1 in October. We knew the Colstey was going to be tough because of the frost that morning. It was -6°C on our way up there. Steve Ruck came with us to do the pits and we all walked part of the course, the ground was really hard and I decided there and then that I was going to be taking it easy, didn't want any problems at the start of season.
After lap 1 I was really worried about the frost, it was really bad and I nearly pulled in a few times to retire but didn't, just wanted to get to the finish. Two riders came off in front of me and one broke his collar bone and the other broke his elbow. The officials did cut it by half an hour though. James had a nasty off and decided to call it a day. I managed 9 laps and came 6th overall, I could have pushed harder but thought best not too. Tom Sagar won teamed up with his dad. Results on mwtra.co.uk
After doing two rounds out of 3 this put me 3rd overall in the winter champs so I'm really pleased with that result, good start for the season. We're going up to watch the Tough One on Sat then next event is the Snowrun, my first time in Expert (For Timecards that is. ed.)
---