Mercian's Pandy H&H June 07
Mercian Dirt Riders own Website
Other Mercian Events: Abergavenny H&H August 2006
Gallery: Full size copies are free if you have email, (4MB). admin@wgdfmcc.org.uk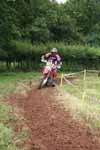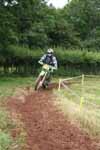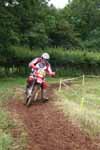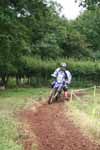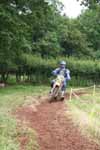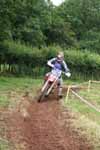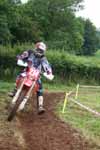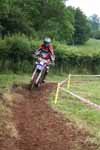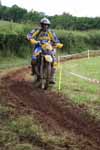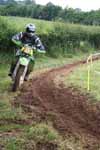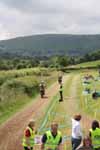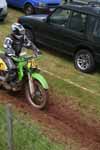 Steve Biddle tops our 9 club members riding the Mercian Dirt Rider's Hare and Hounds. He grabbed a 3rd being nearly 2 minutes down on the Winner. A lap down on 11 were Martin Kear and Dave Smailes. James Wilden and Wayne Hewitt were one less again, both loosing about 5 minutes on the first lap but picking up the pace after that.
Lee Hook and Tom Lee both had problems down on 8 laps. Tom had some major mechanicals with the engine sprocket trying to eat the casing of his Dunlop sponsored Husky. His first lap pace would have got him a 10th place as he followed Steve Biddle around, coming in just 3 seconds behind but by lap two something was sucking power. Lap three saw it jam up bad enough to call for spanner time. Well, you said you wanted practice for real Enduro's Tom - and Mechanical problems can hit even the most perfect preparation.
In the Veteran's class Glenn got off to a bad start, or rather didn't! His electrical gremlins held him in the holding paddock for 5 minutes. He eventually completed 6 laps which allowed Wyegate rider Sam Wilson to claim our best Vet on 10 laps and 8th in class.
Mercian were spot on with the weather having lots of rain in the preceding days with just a few spots on the day. I'm sure some of you will fill me in on the details as we couldn't walk it as we were taking the times. I saw Wayne signing to Viv about that steep downhill catching a few people out, and Tom said it was fast all around despite CofC Phill adding some nadgery sections.
Anyone got any excuses they'd like to air or snippets about their ride? (admin@wgdfmcc.org.uk)
Steve Biddle says: I'm afraid I have no excuses to give, everything went well for me on the day. I would like to say what a good event Mercian put on. The course was quite fast and flowing and was set out very good. Well done to Phill for that. I didn't have the best start but once I got past a few bikes and a few fallers in the trees I dug in and got on with it. I think I caught Tom about half way round the first lap but didn't realise he was 3 secs behind me on check in, I thought he had a problem 'cause I lapped him on about 8th lap then saw him in pits.
Wayne really enjoyed himself, he did have a few offs I think but he's a tough o'l boot. James had a good day, he said, with no problems. I used my XR 'cause the KX is still in bits, but it never missed a beat all day, it might be a bit heavy and under powered but it don't let me down. I'm glad they put some more technical bits in cause it did slow it down a bit and made it so much better. I didn't have any problems on the downhill apart from other bikes blocking the track.
I had a good battle with the guy who came second, we were neck and neck for ages. Me, James and Wayne didn't pit all day. I spoke to Phil Gardner after and he was first off the line and then got caught up in the trees, but still managed a brilliant result. I would like to do the two other rounds but one clashes with dawn 2 dusk, should make it to round 3 though.
Well done to Gail and the team good day. Next event for me is Fast Eddy round 5 next week at Bwlch-y-Sarnau in mid Wales.
Sam Wilson says: I'd just like to say that I thought this event was really enjoyable. Phil, Gail and the team did a great job with plotting a course which was challenging but still had room for passing and a good variety of going. I fell off on one of the downhill sections but luckily only damaged my self confidence. If it had rained more on the day then it would have been carnage but I guess they had a contingency plan for cutting sections out. I'll definitely try to ride more of these events in the future.