Chicken Run Hare & Hounds - 30th Aug 2009
Incorporating a Round of the Mercian Dirt Riders Championship.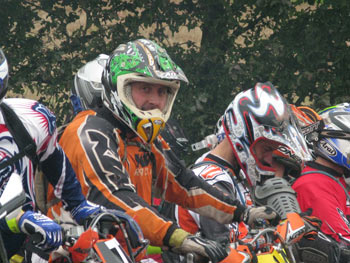 Bream's Steve Biddle held off strong opposition from two of Coleford's fastest in the form of Paul Morgan and Dan Bishop and were the only 3 Experts to manage 12 laps, but Rhys Davies in Clubman class kept up. And Nathan Etheridge, a new addition to the expert class together with Arran Wells, was there chasing hard all 3 hours.
Including a Super Vets class for Mercian's championship this year was a good decision showing that there are some very fast over 40's. Ross rider Phill Gardner proved again a 125 can hold off the marauders. And it was good to see Andrew Knapman out competing rather than in his usual organisational role. Also good to see Huw Watkins back on a sensible bike after his Welsh 2 day escapades.
Haines & Co's Boss Anthony Moore well and truly proved the bikes he sells are up to the job with a win in the Vets class. Of course not to be out done his bigger (Oops, I mean Older) brother Drew Moore also won his class riding a 230 Honda Trail bike and only one lap down.
I'm sure there are more tales and snippets to come, but I wasn't there so feel free to contribute.
Snippets
Just added Ian Cooper's Full Gallery of 240 shots. And being clever, he's also listed them by Riding Number, none of that squinting to see if it is you. And if you want a full size print then you can buy one direct.
Some of our riders were obviously brave enough to have a go at the hard routes. One of these was 'the Pipe'. Marshal Robert Brooks kept an eye out for problems while some, like Mike Allen, kept back a bit, laughed a lot and took photos. Have a look at his Pipe sequence on the right. Or watch the video Vess took of the track leading up to it plus a few attempts which didn't exactly go right!
Did you spot that gorgeous new Husaberg getting a good testing by the Moto X magazine guy? Mike Allen captured it (photo on right) while out marshalling and Ian Cooper has it in his gallery where you can have a better look.
A big thanks from our Entries sec to those who sussed out typing their details into the entry form on screen then printing out, and there were a quite a few of you. That saved no end of problems with reading email addresses and thanks to those of you using email we saved a ton of wasted paper and stamps. Now, why didn't you all pick up your unused envelopes?
Good to see one of our Pre65 Trials riders venturing out into a new world on a slightly newer XR400, Ian Wixon pulled off a creditable 8 laps. I'll bet there are some new muscles aching there he didn't know he had! You can read his account of what his first H&H was like down below in the Newbie section.
While it was easy to see the results on the day it would have helped if anyone spotting problems had said so. There is always a possibility that riders have brought a wrong transponder or not checked it was registered to their number.
Riders Say...
Helena Hunt says: Just to say a huge thanks to all the Team for a fantastic event... My partner Huw Watkins and my son Gareth Clarke thoroughly enjoyed it. It was my son's first Hare and Hounds Event (he's 17) and he's really pleased with his result.... I'm looking for a bike again myself and look forward to joining the ranks of riders...
Julian Challis says: Really enjoyed the event on Sunday - great track and good racing.
Newbie's View
My first Enduro by Ian Wixon aged forty nine and a half
I've been riding classic trials for the past twenty years and often thought about riding a speed event. I tried classic scrambles about ten years ago, but while this may sound like a gentlemen's sport for old gits on granddads bike, it's actually very competitive, ie. who can spend the most money engineering foreign parts into British castings and get away with it. So I thought I'd try Enduro, and where better than the Chicken Run.
First thing: what bike?
Having really enjoyed riding my Triumph Twin this year , I thought I'd build a Triumph special! However, this project still has some way to go as I still need a few parts. (If anyone has a T100 unit engine or knows where I can get one please let me know.)
I looked at 'modern' bikes but none filled me with enthusiasm. I don't care for two strokes and most second hand four strokes say 'recent engine rebuild,' which doesn't inspire confidence. So I looked a bit further back in time and the best all rounder to suit me seemed to be the Honda XR400: good suspension and disc brakes but a reliable air cooled four stroke engine.
One came up on Ebay in Newport so I went and had a look. It seemed to be just what I wanted so I got excited and put in a bid, but the b..... sold it before bidding ended. When another came up the following week I went to have a look with a pocket full of cash, and came home the proud owner of a tidy 2001 model, very well cared for, done a few Enduros, but ok.
Next: what to wear?
Trials gear wasn't going to be good enough, so I went to see Paul at LG Racing at Pontrilas who specializes in Motocross and Enduro goodies and got kitted out with a new helmet and full body armour. Note: all this, bike and kit, is the week before the event, so on the Saturday I have a quick dress rehearsal and looking like an American footballer, I spent ten minutes riding around the wood at home. All seems well, except I decide I'm going to have to wear my glasses as well as goggles if I'm going to see anything.
The Event:
Not only is this the first time I've ridden an Enduro, it's the fist time I've BEEN to an Enduro! I arrive early, sign on, get the bike scrutineered and then quiz other riders about tyre pressures and what we are supposed to do; I'm still not sure!
At the start I'm in the last group to go, having entered as a 'sportsman' which seemed to be the lowest class. It's a dead engine start after a brief engine warm up and I'm wondering if the bike will start as the XR400 does have a reputation for being hard to start and there's no electric start on this one! The flag drops and the bike roars into life first kick, much to my surprise, into gear and I'm away, surrounded by other riders we quickly sort ourselves out as we cross the stubble field, around a few bends and into the woods where it's single file and already there are some fallen riders in the first ditch.
The course is much narrower than I'd expected, barely a bikes width in places but then we're back out in the field and a wide track with plenty of room for overtaking. With two sections where there's an easy or hard route I take the easy route every time. The bike's going well and is easily keeping up with and passing other riders. About half way round, the course follows an old moto cross track, with no markers, just follow the track. It went around the outside of the field, then turned sharply for an inner circuit. I miss judged this bend, went over the berm, narrowly missed Glenn, who was sat on a quad, and almost went into the back of the St.Johns ambulance before getting back to the track. A quick glance over my shoulder saw several others do the same. Towards the end of the first lap I'm doing very well until I go wide on a bend before a steep drop, turn too sharp and loose the front end. I pick myself up and watch all those I'd passed go by. But the bike starts ok and I'm soon back to the chase.
The excuses.
Towards the end of the second lap and another off or two, my glasses have steamed up so much I can hardly see. I'd put plenty of soap on them to stop this and they were ok until things started to hot up. Plus some light rain on my goggles and it was getting impossible to see. I picked out Darren on the side of the track, pulled over and gave him my goggles and glasses deciding I was better off without them. Not such a good idea, I'm still trying to get the dust out of my eyes a week later.
In order to keep my lap times consistent, I managed to fall off or stall at least once every lap. Mostly this was because I'm not used to this type of bike.
I soon learnt that it's a long way down if you try to put your foot down and you over balance. But the biggest problem was remembering the gear change and rear brake are on the wrong sides, (compared to a British bike). Often I would lock up the rear wheel trying to change down with the rear brake or go into a bend too fast thinking the gear lever was the brake. And the brakes are so good (compared to drums that barely work on a dry day, forget it when they're wet ). On one occasion I put my weight forward going into a bend and inadvertently put my foot on the brake, sending me over the handlebars!
Apart from these minor difficulties, things were going quite well, but I was beginning to tire. The first 'easy' alternative was getting hard, a steep rutted climb after a stream crossing was causing hold ups as riders struggled. I'd managed to get through every time, but on what turned out to be my penultimate lap, the back end slipped sideways as I came off the bridge and I was across two ruts, lost momentum and was off. Nick helped me back on, I got lined up in one rut and got out.
As I got back to the start/finish it was 1:35. Time for two more laps, but I was knackered. My arms and shoulders were aching so bad and it was almost impossible to pull in the clutch lever.
I got back to the 'easy' bit again to find a bottleneck due to fallen riders. As this cleared I headed to the right, a route I'd used before. But now this had become steep and slippery too and I was off again. Matt was there and fed me maltesers and helped me get the bike up the bank. Thanks Matt.
I got out of the woods and pulled over to the side of the track. Now I had cramp in my legs to go with my aching upper body. I took off my helmet, drank the small bottle of water I was carrying and watched some other riders go by (and some falling off in the woods). I continued on at a leisurely pace, I couldn't manage another lap, As I got to the last corner before the open field to the finish there were six riders waiting. "Are you waiting for two o'clock?" I asked. They nodded, I joined them. A few minutes later we set off to cross the finish just after 2:00.
I got back to the van and ate and drank everything I could find, a physical wreck I could hardly get the bike in the van, (remember not to park facing uphill in future).
The result
Eight laps and mid field in my class.
The conclusion.
The bike behaved excellently with no trouble starting at all and I certainly had plenty of practice at that, I just need to learn to ride it. And the body armour also came through well after a good testing (I even managed to come off crossing the gravel road!)
So in the end a good day out, if I recover, I might do it again. Thanks to all involved in organising a great event.
Ben's Press report
Chicken Run winner Steve Biddle finally made it to the top spot of the podium of this event at the third attempt. The Lydney rider covered 12 laps in three hours, along with Paul Morgan, Dan Bishop, and clubman two stroke winner Rhys Davies.
Biddle is one of the few longstanding clubmen riders who have taken the big leap to expert status a little later in life, and his efforts on and off the bike are being rewarded. He broke his duck of two second places in past years, and extended his lead in the Mercian Dirt Riders Championship, as this event was a round of that series. He was pushed hard by Morgan and Bishop. None could break the 15 minute-a-lap barrier though - that honour fell to clubman Davies, who put in a first lap of 14 minutes 22 seconds.
Winner of the first Chicken Run, Phill Gardner, took the Super Vet class on 11 laps and recorded a fastest lap of 15:27. Aboard a 125 KTM, he fended off Brian Collins despite a significant power disadvantage against the latter's 300 Gas Gas.
The Chicken Run is based around a chicken farm near Monmouth and clerk of the course Dave Pinney and his team put together a lap of woodland, open fields, streams, and single track but most of all gave the 80-strong entry something to think about all the way round.
Anthony Moore covered 10 laps to take the Veterans class, on the Haines & Co Sherco 250 four stroke. The nimble machine kept Gareth Thomas's 450 Suzuki at bay to the finish line.
Rob Nicholls and Craig James both covered 11 laps to take second and third in the clubman two stroke class while Rhys Davies streaked off on the trail of the experts. Ryan Leary and Jeff Cripps battled it out for the win the in clubman four stroke class, and Leary edged it. Both covered 11 laps.
The top three in the sportsman four stroke class - Michael Nicholls, John Dene, and Kevin Wallace, and the sportsman two stroke winner, Mathew Timms, all put in 10 laps. But the ride of the day belonged to Drew Moore. Riding a 230 Honda he easily won the trail class, and covered nine laps at a pace that would have put him at the sharp end of the clubman class.
The club would like to thank the landowners and all officials for making the event possible.
Results
Premier and overall winner: Steve Biddle (12 laps).
Expert gold medals: Paul Morgan, Dan Bishop (12 laps), Nathan Etheridge, Alan Thomas (11 laps).
Super Veteran winner: Phill Gardner (11 laps).
Super Vet gold: Brian Collins, Andrew Knapman, Martin P Jones, Adrian Evans (11 laps), Rob Chivers (10 laps).
Veteran winner: Anthony Moore (10 laps).
Veteran gold: Gareth Thomas, Gavin Bailey, Peter Neale, Mike Wells (10 laps), Stuart Spalding (9 laps).
Clubman two stroke winner: Rhys Davies (12 laps).
No gold medals awarded.
Clubman four stroke winner: Ryan Leary (11 laps).
Clubman four stroke gold: Jeff Cripps (11 laps), George Martin (10 laps).
Sportsman two stroke winner: Mathew Timms (10 laps).
No gold medals awarded.
Sportsman four stroke winner: Michael Nicholls (10 laps).
Sportsman four stroke gold: John Dene, Kevin Wallace (10 laps), Mark Lewis (9 laps).
Twinshock award: Alan Gould (8 laps).
Trail winner: Drew Moore (9 laps).