News Topics: Congrats, Social, Rights of Way, Next Events, Previous Events, History, Articles.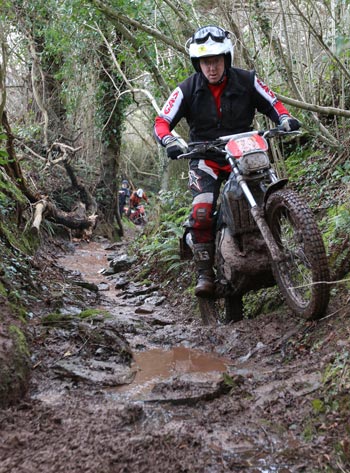 Headlines:
:: Enter Rockfield Nov+ Trial
:: Welsh 2 Day Enduro Entries
:: Wyegate Results v3 VIDEO!
:: NEW Club Championship
:: Centre level Get-Together
:: Major threat to UK Motorsport!
:: Boxing Day - Results VIDEO!
:: Green Roads Petition
:: 2017 Membership/Licences
:: Previous News Items...
---
Next Event: :: 1st Novice+ trial is being planned. Sat pm 29 April :: For more, check our 2017 Event Calendars ::
---
Congratulations: :: 4th for Jarrod, 8 and 13th for John Brennan and Steve Wallwin at WSW Championship :: Gold for Denver, Bronze for Mike Allen, down 1 min and Bronze for Ian Wixon and Gavin Bailey, loosing 3 each at a dry Corinium Enduro :: 4th for Benzo, Win for SteveG, Best Yth for OllieG, 18 and 19th for PhilG and Viv, 4th for Darren, Best >60 for Colin, 7, 10 and 13 th for Merv, BenF and Goff. 5th and 9th for Rich and Glyn. At CHG's Centre Championship rd. :: Now 15th for Mickey Wells and 39th for Mike Allen (But points for WG Championship!) at DDBC's Brechfa Rally :: Benzo 3rd Exp, SteveG 2nd C/ex, 7, 8 and 14th for Rob Maller, Phil Gardner and OllieG at tough GC Smith Trial :: 17 strong West Glos entry at Centre championship's Bill Peters Trial. - Benzo 4th Exp, Steve Grindle 3rd C/E, Phil Gardner 8th Club, 9th for Steve Wallwin in S+, 9 positions out of 10 for Conducted route with Fred and Henry Bishop at the top. :: Steve Wallwin 6 th in S+, 3 and 5th for Jarrod and John Brennan in Sports at Neath's opening championship round ::
---
Social Stuff: :: Annual Sporting Review of 2016 :: We should say that there are other things being organised that don't appear here but you will find out about them if you come to Club Meetings! :: Trail Ride reports can be found on our Articles page :: Some of our riders also help Local Charities whilst out riding some tough events. And some of our helpers organise cakes and teas for donations to some of our favourite charities too so please dig deep. (Of course, some of us have first hand experience of the good work they do.) :: More about Social Events on the Social Events page. ::
---
Rights of Way: You are all aware of the major changes that have happened, but making sense of it all is a bit daunting. The best bit of info on the web at present is at LARA's pages. Here is our own RoW Page.
---
Some of our previous events: We now have an index for previous events and other club's events we've been out to...
---
History: We've always had a good range of riders in the club capable of riding challenging Endurance events. Way back at the formation of this club Enduros were classed as Reliability Trials. Here is a shot of a founder member Wilf Parker at the Ultimate Reliability Trial - International Six Days Trial event of 1961. And now you can see the original programme for 1961 thanks to ex-Wyegate rider Bill Kershaw, who also rode that year, on the excellent SpeedTrackTales website. Bill sadly retired but our local hero Wilf Kept his 250 Greeves going for all 6 days earning a Bronze medal. Read the report and results in the Motor Cycle.
Our main History page will give more links to club history.

---
Articles: Articles We have Touring in Australia on a big trail bike by Clare Bishop. A series of Euro Tours from Bill and Liz. A mileage epic with an Africa To Alaska by Jason Bennett. An Epic Adventure to Morocco with Vess, Jules and Taff. Weston Beach Races, with Vess, World Championship Sidecar Racing with Ian Hannam. Also lots of Trail Ride Reports.
---