Grande Voyage 11 or Ferry trip round the Med (2012)
Words and Photos By Bill and Liz Brown
Back to Articles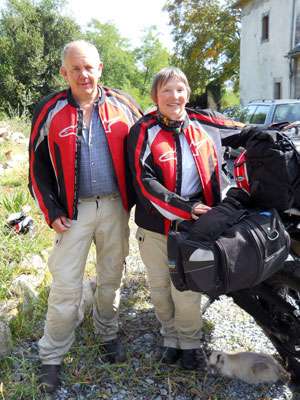 The idea was to travel down through France and Italy, look round Pompeii, Ferry to Sardinia for Three days, Ferry to Barcelona, do the Pyrenees for three days again and Ferry home from Bilbao. This is what happened :-
Day one.
6.45 started in fog all way to Chieveley. Gradually got warmer. Chunnel at 9.45. Had to slow down from 90 as bike was doing 35mpg! 115mls on a tank! Arrived ST Dizier hot and sweaty at about 5 30. 440 MLS
Day 2.
Started at 10. ish had converted bike to KM\hour on speedo v handy that, lovely morning poor area, very agricultural down to lakes near Troyes, lots of wooden framed buildings, whole areas could almost be a film set. Started at a lovely temperature till about midday then got hot. Went through a place called Nod, where the North and South Free French armies met and had a "coffee" where the locals had a marching band to celebrate the liberation. Good music though a bigger police presence than onlookers. It got very hot after that about up to 35deg and had trouble finding somewhere to eat till too late ie 215pm!!! Had To eat in a food chain place! (Short Straw) 375 very hot kilometers! Thank goodness for Air Hawk. Mama little disillusioned with France!!! We may not be moving after all. Residing in "chez lapin ce soir". Over the Alps tomorrow so it will be cooler at least for a while. Very long wait for dinner! In local traditional restaurant, Poulet du Bress huge and creme sauce but not great experience Bourg en Bress not impressive. Wont be returning.
Day 3.
MMM. Started OK. Left At 930 Till Coffee when. Mama decided she had contacts in wrong eyes? "No she had one missing'''. Bit of a problem what! Her being the navigator and all, Tom being banned anyway we soldiered on after quite a nice lunch of chicken and chips for me and sausage and chips for mama, lots of British bikers going past seeking Alpine thrills. We had a good trip up the mountain and it was pretty cool on the top but no snow we saw a family of pretty podgy Marmottes bouncing about well mama half saw! Better trip down I Got quite enthusiastic after the first few bends Triumph goes quicker down than up I think and we were chasing a few locals. Italian views and roads better than French, arrived East of Salvona at about 6. 30pm 480K. Italian mountains so full of tunnels they resemble Emantile cheese! Dinner in street after chef du Restaurant was persuade to take table outside Italian dinner very good if a little garlicky and reasonable price, old school family Hotel very nice breakfast and bread nice and very good value.
Day 4.
Started cloudy hot and muggy, drove along the coast for about 15K some fantastic houses and cliff side stairs and walkways rubbish houses too of course. Got on motorway just before Genoa then 90K of the most amazing motorway section of bridges and tunnels we have ever driven on. Been before on Tuscany, trip but still amazing no actual road on ground at all and pretty twisty too. The scenery was all mountain valleys and ravines with every possible place used to build on used. Italian drivers have no mercy though its very much dog eat dog and if you are not going fast enough you will have a Twingo up your exhaust or worse. Stopped off at Lucca for lunch, mercifully we asked for a small, it was in this case pasta and was lovely as well as affordable, staff very nice. Back on motorway for 15K then small roads for a while, mamas choice road.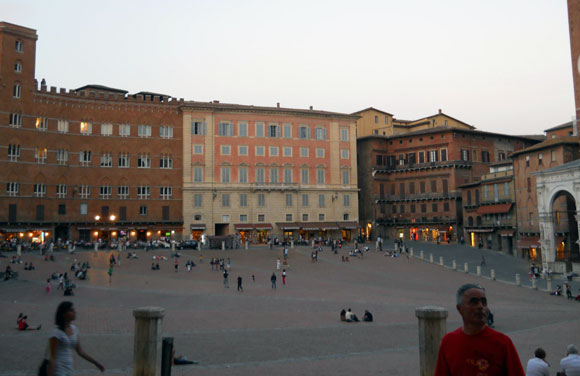 Became very small indeed for a while we were rewarded with beautiful countryside and a battle royal between two white vans in front one determined to do the speed limit in the middle of the road and the other determined to pass he had success in the middle of a village just before one of the many speed cameras Italians seem to love! Back on motorway for the last 20K as. Far too hot to sit in Queues. To Siena hotel very nice walked in old town in evening had really nice meal in IL Campo a wonderful 15th century brick built arena. 325 very hot Kilometers. A bit stressful finding Hotel. Tom is coming next time!!
Day 5.
Great breakfast. Fruit salad and creme fresh then bacon and eggs followed by a very Italian jam filled croissant. Siena to Pompei 460K on a hot and steamy motorway not much to report nice country below Siena. Some wonderful views of farm houses very Gladiator: and it seems god provided thousands of short sharp hills and volcano plugs to build villas and small towns on though much more rolling and agricultural than between Genoa and Siena. Naples from the motorway at least is dire and Pompeii the living city more third world than old world. Once we found Hotel Diana amidst the rubble we discovered it was a very modern pleasant family hotel. Again a bit stressful finding Hotel, (Tom) Went for a walk then back for a really nice meal.
Day 6.
Good breakfast in very funky cellar. Massive thunder and lightning storm torrential down pour prompted me to go on a shopping trip for umbrella and light weight waterproof jackets. Well I got an umbrella from a opportunist selling them on the street for 5 euros must have cost him all of 2euros still it worked and survived the day and I managed the lightweight jackets from a sports shop just not the waterproof bit! Rain abated a little and we set off for Pompeii disappointing start with mangy dogs running about and muddy puddles and nearly everything shut off, half the site remained shut off but even so what was left was extensive, some sections with several previously fantastically wealthy houses would have been fabulous now just add a kitchen and a working toilet. Superb experience not cleaned up and sterile like say the Roman baths in Bath but pretty much as good as the living breathing Pompeii and a whole lot better than Naples. Knackered we set of after lunch and found a family run city restaurant and had a simple but great and cheap lunch. Set off for ferry choosing the old road through city for the experience, rather that motorway as we had the time. The entry to Pompeii by motorway was not without incident so I thought it was 50/50. Proved an eventful journey as we and half of Naples got caught behind a walking funeral procession on the main road between that, truly manic Italian driving, a blocked off road with poor diversion signs and the heat it proved too much for our ''bonhomie'' and we ended the journey and day not speaking to one another. Boat crew surly, food might have been OK when hot but that was a couple of hours earlier and it was overpriced presumably to pay for all the grumpy crew it didn't need 'oh' and no red wine for the meal . Few passengers and those that there were didn't buy anything not that there was much to buy. Comfortable passage though despite rough sea awoke to find grey stormy sky, Sardinia does not seem so welcoming at the moment still its only a front not a British summer. About 15K in 2 hrs
Day 7.
Rough sea crossing grey cloudy and windy Le ceil et gris. Anticipating our arrival at 1130 we had a small breakfast and dressed to go, it slowly dawned in us however that Sardinia was not in sight nor did it become so for several hrs, 6 hours late we arrived in Cagliari starving and thirsty because we would not give the ferry line the satisfaction of receiving our money??!!! We arranged to meet our host in town and follow him to Cabras 96k away but he didn't turn up so we set off in the dark. Getting out of Cagliari was something of a nightmare necessitating back peddling down a couple of slip roads and a couple of U turns but we made it eventually getting to Orinano at about 10 30pm and giving up telephoned our host to come and get is which he did and after settling us in took me off to get some Pizza and beer at 1130 that was most welcome. I have to say that following a Italian on a super scooter at night on a fully laden bike two up was entertaining also we stumbled upon a local festival and had a grand stand view of the folk dancing which was amazingly similar to Greek and Breton dancing, Girls very pretty, pity we weren't in the mood to enjoy! A bad day on the whole but ended well. (Tom) about 100k
Day 8.
Went for a walk round the maze of one way streets in the village we had lunch and went for a ride in the mountains. Beautiful roads and countryside, tidy villages and towns well cared for such a change from the decay of Naples and Pompeii. We came across the hottest spring this side of New Zealand, too hot to put hands in for more than a few seconds. Great views and some of the oldest stone built structures in the world.(Towers lots of them) Having spent a whole day in Pompeii I had seen enough old stones to keep me going for a while. A very good day about 60K
Day9.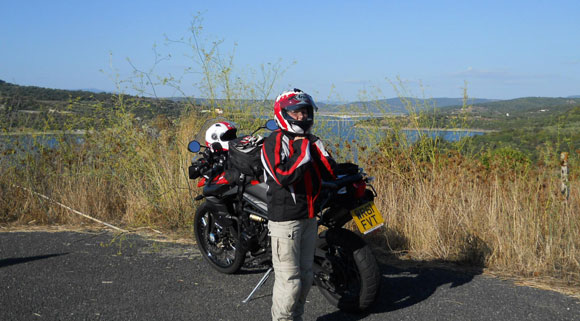 Inland Sardinia
Went out for a tour down the coast and to see the horror that is Mussolini Ville, now called Arborea it was built on a square grid fashion by the famous fascist actually it was very pretty with some lovely houses and buildings. Lovely views, and super twisty roads with good tarmac. Looking for a lunch stop we headed for a ''typical'' fishing village, well it was dirt roads and breeze block sheds not the sort of place you would normally choose to stop but we were curious and rode around till we spotted a building that looked promising, and people were arriving but hanging about outside. Inside there were about 200 places all set out like a wedding with wine, food and plates all being laid out. Anyway at 1 o clock the doors were opened and we all went in only one menu, we all had, raw mussels (I declined these because when I pushed my knife in the mussel tried to crawl out then went back in, (I drew the line at eating a live mussel!) giant anchovy, tiny rock crabs, slices of orange things, cold roasted fish, olives, bread and wine ready for starters, then we were given a huge plate full of mussels with clams, followed by pasta bead soup with fruit de mere, followed by three roasted fish each then a wonderful lemon sorbet and a cold rich coffee oh and a piece of somebody's wedding cake and as soon as the wine was finished the jug was taken away and re filled!! An amazing meal never to be forgotten fixed price as well at 33 euros each god knows how I managed to drive home. Fell off doing a U turn in a unexpected deep patch of sand no real damage except the clutch lever. Collapsed on sofa for rest of day PS meal lasted from 1.00 till 5.00. 70K
Day 10.
Slightly cooler today but went to the beach at about the right time just as the fog was lifting went to Tharros to see an ancient tower, Carthagenian,Roman, Bizantin buildings ruined by the Vandals!!!. Then a paddle. Strangely enough this didn't prompt Liz to take her cossie an act that dismayed us it would have been nice to swim. Mini tour after north into no mans land brought short due to shortage of fuel and petrol stations. So returned to Cabras for a beer and lunch went native in the afternoon riding bike in sandals and shorts oOh scary! BBQ in evening ready for 3.30 start in the morning!!!!!! About 85K
Day 11.
Day 11 started long before it had any right to. One thing I will admit is that I do not like doing without sleep and to have to do 140K before the sun even thinks about getting up is beyond the pail. Anyway we made it with only minor hallucinations and found Porto Torres easily in plenty time. Have to wait and see how many Controlata Electronica Di Veloccitta I woke up when we get home Pretty chilly trip mind and had some patches of fog that helped keep me awake about 10 other fairly chatty bikers there and the ferry was LUx in the extreme very swish, mind you only half of it was open till about 2 hours after we set sail. The Med dead calm like the duck pond.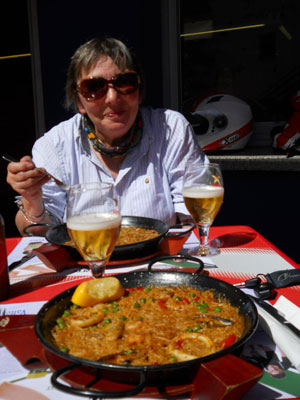 Due to dock at 615 tonight. Ahem eventually got there at 1900 much to mamas chagrin. After setting off on wrong direction on motorway again upsetting mama a trifle we turned around and made a B line for the hotel, directions were good and we got there in good time. Modern cheap hotel Aparthotels Valece in Sabadelle very good and clean £39.00 with excellent 3 course evening meal wine included for 15 euros each hotels good breakfast included. Fed up with ferry's and the longest yet to come. About 35K through Barcelona.
Day 12.
Slept in didn't wake up till 845!!! Comes with virtually no sleep night before. Set off after a good breakfast on rural highway for a 60k jaunt up the A7 before turning left on to ''B'' road for Some twistys, only the Spanish had in the 10 years since we bought map turned the first bit into a motorway and upgraded the second bit extending their overdraft somewhat. The motorway was predictable, boring and the twistys were great on lovely newish tarmac a taster for what was to come going to Andorra for our first visit there. I didn't think much to the area of Spain north of Barcelona either industrial or dusty scrub with semi derelict farms and a few quarries thrown in, least that was my opinion Liz quite out of character seemed to like it??? Even after 36 years she can surprise me or was it because I said yes, she said no?? Anyway it quickly improved after the turn at Berga to Solsona much improved countryside and grey sky parted lovely. Climbed up to Andorra amazing place basically seemed to be one valley filled with shops and petrol stations every 200yds selling petrol at 1.2 Euros /ltr I thought Spain was cheap at about 1.60E/LTR For anybody that doesn't know Andorra is the place to by expensive electronic goods Breitling watches and Prada. Very decent paella in roadside cafe.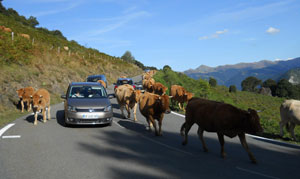 Quite a few British bikers in evidence. After we escaped the baking heat in town we were treated to beautiful countryside (basically one valley) 28 deg and sunny, a waft of a cloud spilling over from the next valley into ours looked beautiful. We decided to take the 'Pas de la Casa' out of Andorra rather than the tunnel. Passed through delightful little cloud back into sun and decided to take pic of beautiful cloud at next corner only to drive into the thing for the next 30 kilometers very wet and 7deg BRRR. Drove through a gorge of note for its gouged out half tunnels in the heart of the Corbier region and spent the night in a wonderfully converted farm house- grain store beautifully done and met a French couple on a car/pushbike tour but as it happens also bikers. The Chambre d hote owner was shocked to see our arrival as she seems to have forgotten our booking and considering they owned a vineyard were very mean with the wine!!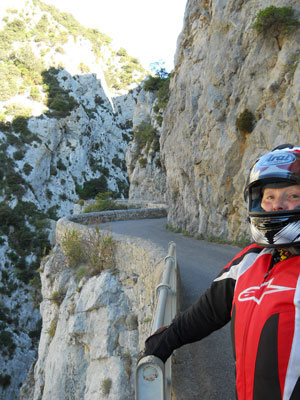 Day 13.
Set forth to look the local gorge it was short but magnificent sheer drop to one side with very low wall! Built in1890 no idea why but man likes a challenge! Then a tour of the cols fantastic hundreds of superb corners and great views. Spent the night in a great Chambres d' hote really nice people and a nutty woman from Nantes 371K
Day 14.
Another tour in the Cols going down to Roncal where we stayed before on way up from Morocco then back to stay with friends. Great days riding. Better roads in Spain than France 240k
Day15.
Getting. Ready to travel to Bilbao we found out that the ferries were on strike so changed plan and drove. Left at 1230hrs arrived Campanile Le Mans at 2015hrs 705k. Just the thing we were trying to avoid, never mind we will get home about 4hrs quicker and save about £200 over the ferry cost. Had to buy a return ticket on the chunnel as was cheapest option but doubt we will be back on the train tonight!
Day 16.
Dry but grey promising rain and wind welcoming us home! Got very wet getting to Calais discovered yet again our all in one waterproofs are not waterproof and riding in jodhpur boots are whilst much better in the dry 20deg plus are useless in the spray and 10 deg on the M25 got home suffering mild hypothermia 470mls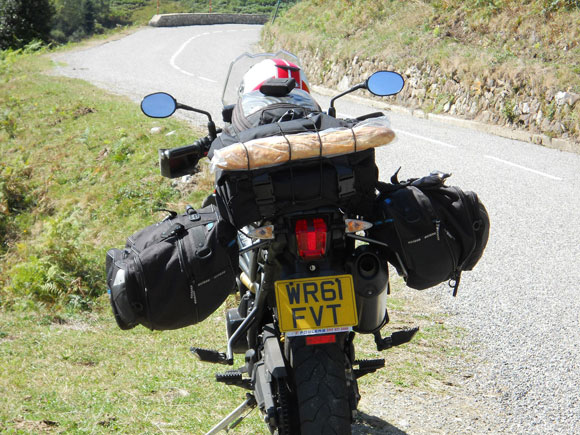 The bike was a Triumph 800XC total miles 3500 approx average full consumption 51MPG or approx 304lts fuel For a small bike in today's terms it worked perfectly with a good powerful torquey engine. A great light shifting gearbox I normally have a bruised toe after two weeks not this time. The front brake has been labeled as poor and while it does not have the same bite as a sports bike it was perfectly adequate two up with full luggage going over the Alps and the Pyrenees at what I would call a fair pace. The passenger suffered badly from a bruised coccyx's though and poor forward vision so it will have to go, probably back to a BMW. Heading back to Sardinia for a proper look soon.