Bill and Liz's Scandi Drama (Baltic Aug 2016)
Words and Photos By Bill and Liz Brown
Back to Articles
Day One
Dreaming
Woke to beautiful sunshine leaving tonight on Max our trusty R1100S Boxer Cup super tourer.
Planning a 4.5hr cross country trip to Harwich leaving at 16:00 hrs Actually left 16:45. Not bad 240 mi. very nice weather. Arrived Harwich 21:20 hrs to meet very snazzy boat populated entirely by Malaysian crew! Sea flat calm and boat as smooth and quiet as could be. Giant cabin window but alas too tired to pay much attention. Woke after a very short night to a beautiful morn and arrival in Holland.
---
Day Two - Hook of Holland to Bremen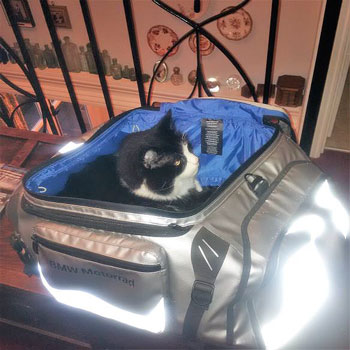 Reserve navigator?
After breakfast in room we disembarked and set off in the general direction of Bremen. Saw more greenhouses than are at a greenhouse factory and a town that was in really tidy condition perhaps even monied. Managed to get off motorway for a three hour tour of Dutch countryside which, without exception, was picture book beautiful. NOT just tidy but actually lovely. Lots of canals (odd that) of course and brick built houses were mostly largish with a lot of decent iron work at the gates. Some signs of Disney mind with plastic cows in garden but otherwise impressive. MIND you we now know why the Dutch take sandwiches everywhere with them it's cause there are no cafes any where and not many shops open to speak of. We eventually found a roadside snack bar and had great bratwurst and chips with excellent coffee. Anyway, time marched on and we went back to dual carriageways and Germany.
Having been previously impressed by German order and efficiency we were now a little disappointed the Dutch have them beat. Had to mind mirrors then as very fast Merc's overtook with no mercy. Saw results of three crashes and on smaller roads too.
Minor catastrophe when refuelling. When the side stand folded under bike and me. I just managed a rescue and lifted it up again phew, and we arrived in Bremen at 16:30. Lovely family run hotel and pleasant people.
Minor drama on route as several changes of instructions from Tommette ended with an unapproved direction change. Well unapproved by Liz anyway, minor fracas later, I decided a man cannot serve two mistresses and so killed Tommette, albeit temporarily. Unfortunately, I didn't tell Liz so there was another minor diversion followed by several doubtful words on Tommette's pedigree and an illegal U-turn. Oh, and must be Harley meet week again, there were thousands.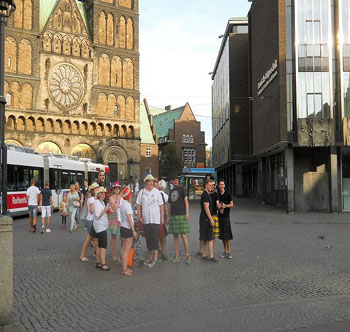 Scottish mercenaries
VERY HOT DAY 300 mi.
Hotel was great and walked down to Old Town Bremen and riverside massive party area Bremenites must all come here to party and it seems it must be the stag and hen do centre of Northern Germany they were all at it we saw around 20 separate parties and most had a trolley for their booze or a tray like ice cream sales ladies. Very loud and very jolly you could also eat all round Europe we chose German and were not disappointed. Lots of dodgy looking none locals about though, the world is changing and I am uncomfortable with it. One tourist obviously had a problem as he appeared to have been mugged:- a bit like old town Bremen which was mugged somewhat by the RAF a few years ago! And not a lot left!
Stayed in Hotel Residence Bremen .
---
Day Three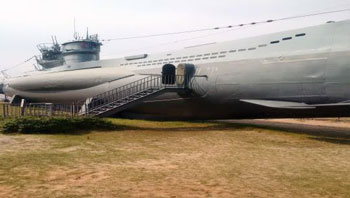 U Boat Museum
After a very hot and noisy night we awoke to a beautiful and hot day and a great Breakfast, full English! Not a great touring day as mostly motorway but pleasant enough heading for Laboe and a naval museum with a WW2 U boat in full working order (with the exception of a couple of pedestrian doors added out of necessity!) The sub tour was amazing we toured it in awe they are amazing things and so mechanically compact and complicated.
Also there was a general naval museum with models of Bismarck and many others but we were very hot in bike gear so had an abbreviated tour. Otherwise good, general area touristy with a lot of seaside type activities. Packed up and off to Puttgarten for the ferry to Denmark. Met Brexit approving Swede on way back from 20th trip to Croatia. After another lovers tiff between Liz and Tommette. Tommette was put in a dark corner for a while until we came across a blocked road and a major deviation where she was forgiven.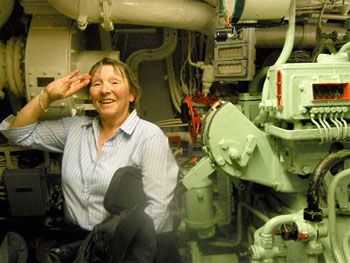 U boat führer Liz
Super slick ferry to Denmark shared with dozen bikers and a number of cars. Ducati owners warned of rain later and were proven right. Arrived at fantastic apartment by the sea, Wallander like, with super Dane house keeper, female of course! Really nice, no local resto's around but prudently stocked up before arrival. 282 mi. but a lot of motorway. We were treated to a great show of sheet lightning for quite a while and watched the planes take off from Malmö. Beginning to think that's why Thor was the local God hereabouts as we enjoyed an immense thunder and rain storm last time we were here. Great pad, watched Batman the movie and Catwoman, I think, with a few beers it was great, no idea what the story was but think Batman died. Anyway, would really recommend the place to stay.
B and B by the sea south of Koga (Brill) google it
---
Day Four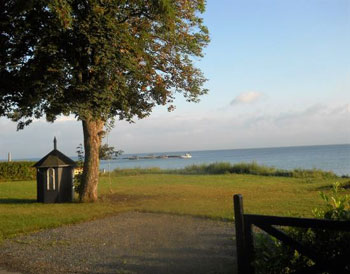 View from fab b&b in Denmark
Liz's birthday awoke to nice almost sunny morning went shopping for breakfast at local Netto. Managed lactose free milk rye bread strawberry jam and yeast! Strawberry jam and bread were great, milk serviceable hot in coffee. Bread yeast was abandoned! Must brush on my Danish! Then disaster, couldn't quite remember in which part of the chaos I left the bike key but I knew it was safe but alas all the woes of the world were unleashed and the end of the world was nigh. I found the key in a safe place but by then it was too late and dark clouds settled and to match the mood the real rain clouds closed in and it rained for the rest of the day. Nearly anyway.
Left for Stockholm and for the first hour or so had a fierce head wind to contend with which was very tiring keeping the speed down to about 70 then we turned eastwards out of the wind and much relief. Near disaster at rest fuel stop when we returned to the bike I found the sat nav was missing! I couldn't believe it, it had been stolen and had no idea how we would find our way about. After some flapping I eventually remembered what I had done with it, phew! Good job too Stockholm would have been impossible. Scenery was mostly flat farmland with hay fields or already cultivated and the typical red painted wooden farm buildings, later it was more hilly and covered in trees. There were also lots of lakes and sailing. the road was very wet in places with lots of spray arrived Stockholm around 18:30. 462 mi.
Great evening meal in pukka Italian resto where mama made great friends with the waiter, talking Italian certainly helped there, sadly she must have said something wrong as he let us go without nabbing her. Sat with Swedish couple of Gambian origin she a lawyer with the UN and He something to do with money in 40 nations? He works in Amsterdam and she in Vienna with their house in Stockholm, figures huh! Talked about Brexit I feel they said that the EU would be fine once the squawking kid had actually left the playground. Stayed in Boutique Hotel chain Helston which is a restored Mansion.
---
Day Five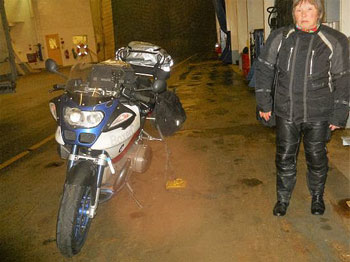 Very busy ferry
Awoke to brilliant sunshine and promise of a nice warm day we descended for a great breakfast and leisurely morning with an hour and a quarter drive to Kapellskär with an hour to spare. More pretty farms between swathes of tree covered hills and glimpses of open water. Great anticipation at every opening hoping to see an Elk sadly disappointed but rewarded with sights of large round rocky areas covered in Heather and moss. Re fuelled and arrived at port in loads of time to discover nobody there and a few lorries loading. Found DFDS ferry line ticket office as nobody at check in booths to be told we were late and that check in closed 15 minutes ago. Mild panic and disbelief with protestations of lack of information from mama were wafted aside but they would let us on if we were quick getting our boarding cards, and by God they meant it closing the door behind us as we went in and we were a mile offshore before we got up stairs. Skin of teeth job there then. It seems the boat was running on Estonian time (eastern European so plus one hour) not Swedish! We were treated to the amazing sight of a sunken coastline with several thousand islands and rocky out crops Shown to there best in brilliant sunshine. 63 leisurely miles so far.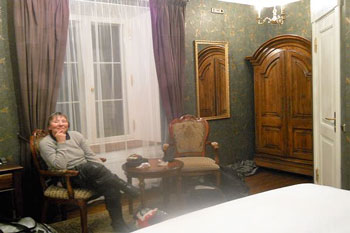 Very classy Padis Mois
9 hrs later of dead flat sea and sun bathing (yawn) we docked in Paldiski and set off in the dark. Gladly there were few cars or lorries as I had forgotten to adjust the headlight level for the extra weight on the rear. I was lighting up Pluto on dip! Anyway had a pleasant run of about 15 miles to Padise Manor house hotel it was absolutely fantastic beautifully restored and redecorated perhaps the best I have seen to very high quality and for €80 the night b and b for both of us amazing value.
---
Day Six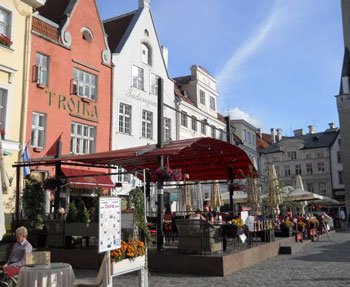 Tallinn Square
Breakfasted on Marinated herring smoked salmon and wheat-flour porridge very nice in separate plates! After a 20 mile jaunt to Tallinn to an apartment in the Old part of town. Excellent town centre with nearly all its ancient buildings still intact, with many tourist traps oops attractions. Medieval torture seems to have a strong theme, lots of medieval costume used so colourful people cheerful and as in Denmark and Sweden English is widely spoken by all. Bought replacement phone charger from ultra modern shopping centre, checked out opera to see what was on but sadly we were a month early, as usual timing is all. Went out for dinner to traditional Estonian restaurant for excellent meal of wild boar for me and blood sausage for Liz. Tommette still in trouble as word is we are getting a map tomorrow so sounds serious. Breakfast on excellent pastries from local Rimi market (think posh Lidl) Would not advise for anybody trying to slim! I guess that will wait till we get home. Stayed Old House Apartments in middle of old town excellent
---
Day Seven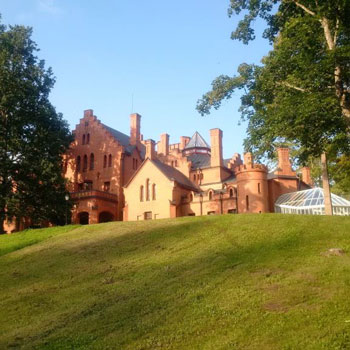 Sangaste Castle
Off to an old castle for the night south and east. Very good run down in cool weather sadly a little under dressed despite warnings of such from Liz. Of course I ignored her and so froze. Unusually and just at the right time we chanced upon a roadside restaurant which was as much a miracle as it was great really nice food, me a pike dish with a grated cheese crust and Liz with grilled mackerel both very nice. Restaurant new and obviously the prime spot for the rich and trendy Estonians round Tartu. We passed through Tartu but were not overly impressed being of poor architectural interest. I will say that the roads are in better condition than the UK's offerings. So far the country is largely flat farmland and mixed deciduous and coniferous forests as well as a lot of bog. Roads were therefore rather straight and uninvolving. Housing mostly timber and old with corrugated asbestos roofs though I suspect were all thatched until after the war, though there is a little new money being spent it is rare. Most towns and villages are hidden behind trees so a lot is hidden. Arrived at Sangaste Loss (castle) a brick built Victorian pile recently restored after lovingly being destroyed by Russian soldiers though the walls seemed to have been intact. Despite fears of no food there being little information on the internet there was a very acceptable restaurant with a very inventive menu with excellent food.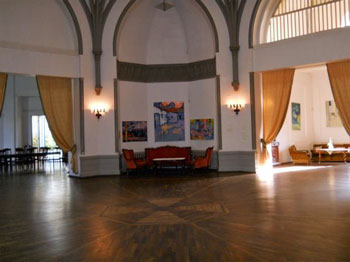 Restored Ballroom
The Count who built this place was an early inventor of GM wheat having created the hybrid Sangaste winter wheat variety amongst other agricultural inventions and the local beer using his wheat was great. We were warned though that the beer was live and not pasteurised!! Take care, apparently a lot of the Fins, who are the main holiday makers are so careful with their diets they have become intolerant of most things like yeast, glutton, unpasteurised milk etc. etc. We were entertained at length by the hotelier with tales of hunting wolves, bear and moose round here as well as his hunting trip to Australia, (whilst being eaten alive by mossies ourselves)and tales of Russian boys around Estonia, about 25 percent of those in Estonia are Russian and most do not trouble to speak Estonian far less English. Apparently there has been been at least one Irish and one Scottish wedding there! No TV, that's a novelty!
Stayed in Sangaste Castle magnificent 186 mi.
---
Day Eight - Riga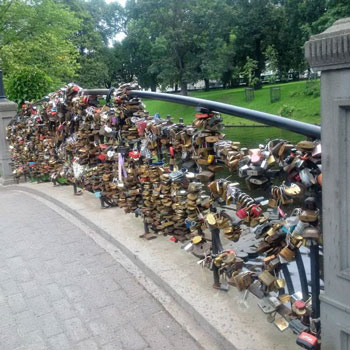 Lovers bridge Riga
Max developing a nervous twitch and tendency to tank flapping. Very helpful hotelier advised alternative route to Riga as main route was full of road works. So set off into slightly hillier countryside and into Valga the border town with Latvia. No border guards of course and then to Smiltene which was a very pleasant town. Took diversion to Cēsis with its excellent town centre castle gardens and took a tour of the castle, castle museum blacksmith and bone carvers shops (excellent both very skilled and helpful) €7 each. Ate in town square cafe much needed salads! And then into Riga which was huge 5 miles straight road into wherever we are might be 5 miles out the other side for all I know! A lot of new buildings but a lot of the original buildings alsom and looks like Soviet era trams mixed up with ultra modern trams a good number of electric buses around also. Arrived at sort of self catering hotel Janne perhaps next stage up from youth hostel with very helpful girly staff. Sticking in with beer microwave meals and euro sport tonight 137 mi.
Hotel Janne £40 per night Inc breakfast. Trolley bus to town centre €1.20'ish each way if tickets for €2 each way if bought in kiosk be bought on bus.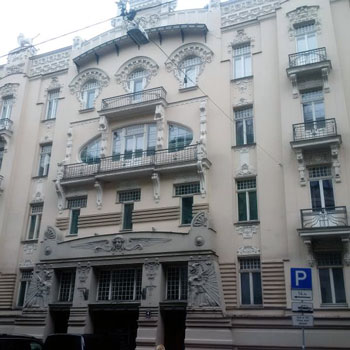 Had breakfast in cosy breakfast room then off to buy trolley bus tickets from kiosk unfortunately disturbed security guard when walked in to their offices by mistake and was grilled by none English speaking gorilla. Back to helpful girly for more instructions and a short (too short) walk with her to point out the correct kiosk where I bought tickets. Went for a very pleasant walk round the parks and the very extensive and amazing Art Deco quarter of Riga then back to hotel for umbrellas and more jackets! Back to old quarter but rained all afternoon walked around a lot looking at buildings and had lunch in one of the many (in these parts) Irish pubs fish soup for me with potato scones and potato dips for Liz very nice. It was noticeable that nobody gave way ever on the pavement we were the only ones. Local population are 45 percent Russian which probably explains that. If they were Russian they don't give way and if the locals think we are Russian they don't give way!! Tried to get tickets to much celebrated Opera but tickets all sold. After afternoon nap (we are on holiday) went out for evening meal to recommended Latvian pub (part of LIDO chain) it was self service traditional food really nice and very good value after a couple or three local beers which were also excellent home to bed. Riga done that move on.
---
Day Nine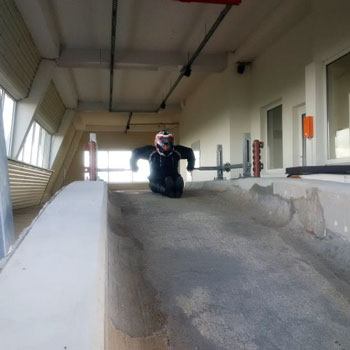 Mama practicing for 2020
Tour from hotel and back tonight.
Warmed up bike on starting off to the smell of candied pee pee from local Russian moggie!! Never mind biblical down pour sorted that out later! Set off for giant Russian monument but too many police in car park carrying out spot check so didn't chance my luck. Moved on to site of concentration camp at Salaspils 10mils from centre Riga. A sobering place with several monuments including one giant marble slab with the sound of a perpetual beating heart, that was eerie. The camp was used to house workers before transportation to the extermination camps mostly Latvian and Russian jews. Strangely there were three nationalities of people there that day. German Russian and us.
After this we set forth to Sigulda to see a recently secretly built and discovered Russian nuclear missile bunker which turned out to be 15 miles away and not possible to see in our time slot. Instead there was the annual Latvian bicycle race round town with 6000 entrants. This was great but blocked off half the town roads and stopped us visiting the castles etc. After the race we enjoyed a great lunch at very reasonable prices in a self service restaurant. Again excellent food. Managed to find our way to the local Olympic standard bob sleigh run, the first man made one in eastern europe. 1.5 km long with 16 corners. For €10 I got a ride in a free wheeling bob down 13 of those at a pretty respectable speed only 60 km/h (I understand the race bobs do about 90 km/h) but pretty fast for the first time and better than the self steering bobs on ice at La Plane ski resort though less bumpy. Great corner lean angles! And those berms were something else. Spotted some very nice houses that would not been out of place anywhere in Europe.
Then after a visit to the viewing platform on the 6the floor we were off to the sea side at Saulkrasti. Developed by the Russians as a seaside resort and probably prettied up a lot over the past 25 years since they left. In theory really nice sea side area with long sandy beaches volley ball courts etc Back to hotel for our picture for the hotel facebook page excellent dinner in courtesy of local supermarket and euro sport! (can't get at home) Tank flapping diagnosed as badly worn front tyre ok until I slow down. oil collecting in belly pan can't see from where?
---
Day Ten - Kaliningrad! Or very nearly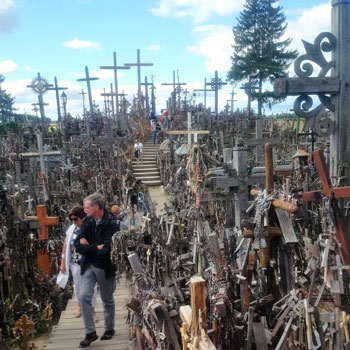 Quiet revolution
Amazingly Lithuania is flatter than Latvia which is flatter than Estonia and that was pretty flat. Some poorer grass lands in the north but richer and more arable in the south with some huge tractors and ploughs on one side and mobile milking parlours for a couple of cows on the other, one extreme to the other. Houses were the same some nice houses and some derelict some new and some old same but different.
Set off on a pilgrimage today to try and save our souls to a symbol of Lithuanian resistance to their occupation. This was a spontaneous action and it has to be said there were many such Passive rebellions in the three states of Estonia Latvia and Lithuania such as growing only flowers of national colours and not washing windows for the entire period (something Liz takes close to heart in her fight against oppression) .
This was Šiauliai where there is a hill, one of the very few round here, where the people planted crosses in defiance of the Russians. Over 300,000 were planted there and two popes have now visited and at least one Harley Davidson company planted a huge cross there celebrating 100years of bikers.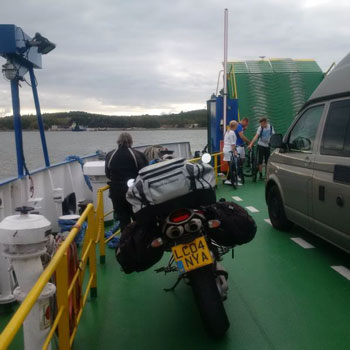 Then on to Klaipėda a short ferry and then Nida about 150 mi. of dead flat and straight motorway so pointed it in the right direction and gave it gas for the next 2 hrs. Wow 130 km/h seems fast after a week of 60 km/h 229 mi. Arrived Klaipėda following Tom did a U-turn in a petrol station as Tom decided we wanted the giant Baltic ferry and not the small local one to Nida Then to the ferry. A quick calculation then (old tech' dash told me that we were a little short of petrol, typically the warning light came on as we arrived at the ferry, not before we left the petrol station! Simple question to wife about the possibility of there being a petrol station on the island induced total hysteria, surprising! Anyway we struggled through to the petrol stop 40 km up the island no problem I wasn't worried at all! Oil building in belly pan worrying. Front tyre will last till we are home but that's it.
Stayed Nidos Rojus apartment ran by local family nice low key.
---
Day Twelve
Relaxing in Nida on the Curonian spit it is a wonderfully calm and very quiet place, at least after the holiday season! Explored the border with Russia 1 mile away and the wonderful Baltic beach, the lagoon was far too polluted! Also visited the Amber museum which was excellent and informative and the woman giving the talk had an amazing accent and very intense eyes, focused. Then 25 miles to Klaipėda for ferry to Kiel. Loaded with 4 Russians on Guzzies and two nice friendly Germans! there was no communication with the Russians! Nice boat recently shipped up from the Med, Self service resto hugely busy with long queues, food cheap and plentiful but of very poor standard think motorways in the UK in the 70,s but worse.
---
Day Thirteen
Spent nearly all on the boat Breakfast started with a 32 minute queue for breakfast I know it was 32 minutes because Liz kept on moaning about it! I had a range of new peculiar tastes in buck wheat porridge, egg foam similar to a gym mat and a herbal lasagne! Obviously I didn't want to queue again so ate too much then went for a lie down 6 hours before we dock. Might not risk lunch. Remind me never to go on a cruise.
The hour of departure came that is the hour after we docked, of necessity the lorries had to get off first but what was not announce was that car drivers had to be held for nearly an hour before we were released. Not knowing this and being used to Ro Ro,s these days it caused a deal of teeth gnashing especially for those daft enough to try to get down the stairs and wait it out ie. us!! Anyway, madei t out of the bowels of the ship in fine style feet up full lock turns in front of the pack, pleased to see the Russians wobbling all over the shop feet down and only one up! One for Britain there. Stopped for fuel and removed belly pan to see where the leak was coming from, some relief as only a slightly loose oil filter so tightened that. Topped up the oil and off.
Beautiful neat tidy villages and countryside if a little smelly occasionally but very pretty. Passed what could have been a new town? Called Sexbierrum!!! Not necessarily to be taken in that order! Anyway, set off for picturesque town of Glückstadt and a cosy little hotel with great food (been there before when Cuxhaven ferry still operated). Catastrophe, this was the first of two nights we had not booked and low and behold they were all fully booked and so moved the Hamburg where again they were all booked then Bremen where it appeared they were booked, we checked the Autohouse on the motorway where they were booked then to Oldenburg where they were booked!!!! Realised we had been suckered in to travelling at over 100 mph on pitch dark unlit motorways when we were still being passed by cars doing 150 plus!!! Slowed down to a more sensible 85'ish! Am I getting old? It was amazing to see every lay-by every services and every side road off the motorway stuffed with lorries, thousands of them, also every car park full to overflowing, Germany was busy! Some excuse about a festival as well!! Now midnight and pretty desperate, Liz pleaded with hotelier where he then rang round and bullied another to let us have a room as if he was going to sell it later! Anyway with much relief we got in and to bed. Approx 200 mi.
Stayed Hotel Antare clean tidy and very 60's.
---
Day Fourteen
Awoke rather groggily to a beautiful sunny day and some of the best bacon and sausages for some time. Had breakfast with a Burgermasters convention, I think, judging by the number of coloured sashes they were wearing. Then still smarting from yesterday's experience, bought some Internet access and booked a hotel in Hoorn courtesy of Booking.com, This was quickly confirmed and we were off, rather tired, but at least assured of a room at the end of the day. Countryside around this part of Germany was still neat tidy and beautifully kept a reversal of our away experience as Germany much better than the Holland to follow. Passed through a beautiful farmland area that eventually became an arborists wonderland as they specialise in growing trees here, lots of every type and size you can think of. Got stuck on motorways though so that was a drag and drove across the outer sea road on the Zuiderzee hoping to find a fairly special fish and chip shop, last used on our Bavarian trip, but alas did not, caused a minor tiff but moved on. Ignored Tom and went on to tiny roads and self navigated!! Tom was steaming!
Anyway, lovely country again. Holland saved another sea wall road and eventually to our Hotel Magneet very friendly owners and good rooms 208 mi. Strolled around the historic town centre and harbour lots of barges of note a couple of three mast'ers and millions of yachts of all shapes and sizes. All the old buildings are leaning over at very crazy angles, comes with building on mud I guess! Thoroughly recommend a visit.
Had a great ride down the coast of the Zuyder Zee along the sea wall through Edam and Marken nearly as far as Amsterdam then inevitably the motorway, which was almost as incredible as Stockholm, through Amsterdam, Rotterdam and Schiphol airport and had the incredible experience of riding under an A300 which was taxiing over the motorway!
Arrived to the Hook on back roads courtesy of Tommette now working on Eco route. Trouble with her is she doesn't think, trouble with Liz is she does, I need something between! digs tonight in Harwich 80 mi. today front tyre now a total flapper!!
Sadly we return home a great welcome back to a very wet trip 230 miles with a front tyre that feels more like an enduro with some knobbles missing, not great for confidence in the wet. I also had a running argument with Tommette all the way as she refused to use the only sensible way home, insisting on the M25 or the M42 probably both quicker but who wants them? 230 mi. today but 5hrs
A very good trip helped a lot by pre-booking nearly everything, essential now it seems after our German experience. Or at least portable Internet access. I also recommend an Airhawk seat it helps a lot and worth the sniffy remarks I get from the missus. Just keep it dry. Estonian Latvia and Lithuanians all speak very good English and on the whole are very friendly. Roads are good though a bit patched up but at least do not have pot hole,s low traffic density and decent driving standards, except for Dutch cyclists (fletzers) who own the road and who seem to have forgotten the main rule which is no matter who is wrong the biker or in this case cyclist is the one that gets hurt but you get the blame! 2835 mi.
Later discovered that the front tyre was not the problem it was the trunnion bearings in the swinging arm that were a tiny bit loose. Soon sorted. Where next?
Bill and Liz.