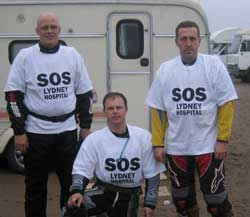 Three of our local Enduro Riders took on the tough task of completing the Annual Beach Race at Weston this year. In doing so they managed to raise a brilliant £1,267 which they handed over to representatives of Lydney Hospital and the Dilke Hospital at Lydney Tyre Services on Monday night 18th December 2006.
Melville Watts, from 'Friends of Lydney Hospital', said "It was a really good idea to raise money for both Hospital as it brought them together in their fight." So a big thank you to Steve Biddle, Wayne Hewitt and James Wilden.
You can read more about their task with James' report together with some photos and reports from some of our other local riders. You can find out more about this epic event which brings thousands of people from around the UK and beyond to Weston each year by clicking here for the organiser's site.
You may also read more about the fight for our Local Services.