September (Stony Green) Trial - 8 Sep 2019
Regs & Entry Form. If posting then you should be able to fill in the entry form on screen then print. Or you could use your credit/debit card and Enter OnLine.
---
See what happened in other Years: 2017,2016, 2015, 2014, 2013, 2012, 2011, 2010, 2009, 2008, 2007, 2006, 2005, 2004
---
Previous Winners
2018 Tom Moss
2017 Ben Bowkett
2016 Simon Welch
2015 Kurt Brain
2014 Simon Welch
2013 Cancelled
2012 Simon Welch
2011 Cancelled
2010 Henry Bendall
2009 Simon Welch
2008 Simon Welch
2007 Ben Bowkett
2006 Simon Welch
2005 Simon Welch
2004 Simon Welch
???? ?
I haven't delved into the archives for pre-04. But here is a Video of when the venue was used as the 1st round of the British Championship back in 1995. ed.
Info
Entries are now live.
Be a Hero! Bring, or persuade, a friend to come along and observe. We will have more sections if we know we they are coming, so contact our chief Marshal Ian Wixon using secretary@wgdfmcc.org.uk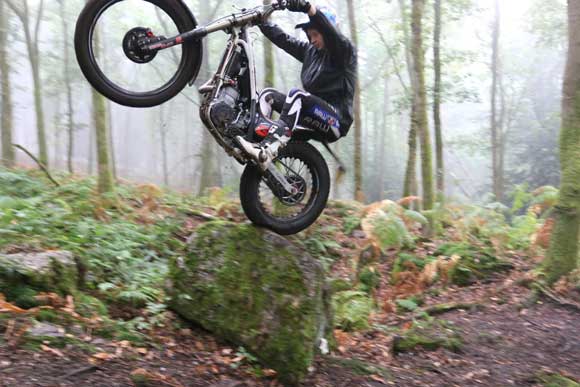 More of Jackie's photos in the Galleries in previous years linked on the right.
This event is a round of the ACU Western Trials Championship and includes classes and routes for all with 5 adult routes and 2 conducted routes suitable for the beginners from the age of 4 up, and yes, we usually have some pensioners riding too!
Forestry England (ex Forestry Commission) have given us the go ahead to use this great venue with only a few requirements about parking. You will all need to check back to this page for the latest information before venturing out to the trial on the day.
---
Snippets
We tried a change last year and switched venues for our Boxing Day Trial and the Sept Stony Green. The concensus of opinion appeared to be Stony is too tough in the winter. (Haha. As if Bixhead isn't tough too!) So we are back to 'normal'.
We initially feared for all future events on Forestry land as we were informed they would have to use a normal public Forestry car park and therefore be potentially parking miles away, crossing public roads and causing disruption to other car park users. Thanks to our organising team working with local Forestry officials a solution has been found to address the specific requirements of the venue for safety and minimising disruption.
Gaining permission to use the land is even more pleasing when you know there is a Police and Forestry operation underway in the Forest of Dean area to stop illegal and anti-social use of off-road bikes. The organising team appreciate that the Forestry and other Forest users all know there is a big difference between anti-social riding and an official ACU organised Trial, rather than the unfortunately held view that 'They are all illegal scramblers'! It is a shame that the Police name of the operation is 'Operation Endurance', which could be construed as a reference to Enduro bikes and tarring Enduro events with the same brush! Clearly, any type of bike can be used for illegal and anti-social riding and all the press reports from Operation Endurance when run in other parts of the county seem to show the expected stolen mopeds and scoooters (Don't let your genuine off-road bike be stolen and get trashed by the yob element!). Here is the official police report from the Cheltenham area.
---
---
Entry List
Surname Order or Route/Class Order
Last Updated: 25Aug2019 13:43 (13/100)
| No. | Name | Club | Route | Class | Bike |
| --- | --- | --- | --- | --- | --- |
| - | Geoffrey ALLEN | Z1 | Sportsman | >50 | Montesa RR 300 |
| - | Finley BELCHER | Z1 | Expert | Opn | BVM - TRS One RR 250 |
| - | Stuart BELCHER | Z1 | Clubman | >50 | TRS One RR 250 |
| - | Joe BENDALL | WG | Expert | Opn | Gas Gas 300 |
| - | Greg COLLINS | WG | Sportsman | Opn | Gas Gas TXT 300 |
| - | Thomas CULLIFORD | SV | Expert | Opn | BVM TRS UK - TRS One 300 |
| - | Nick DRAPER | GC | Sports Plus | >50 | Yamaha TY 250 |
| - | Amory FALCONER | CHG | Clubman/Expert | Y/A | Beta EVO 125 |
| - | Kevin MILLER | SDMCC | Clubman | >50 | TRS One RR 250 |
| - | Ray PEKALA | Z1 | Sports Plus | >50 | TRS One RR Gold 250 |
| - | Steven REECE | KW | Sportsman | >50 | TRS One RR 125 |
| - | Dan SANDERS | WV | Clubman/Expert | Opn | TRS One 250 |
| - | John SANDERS | WV | Sportsman | >50 | James 250 |
Route/Class Order or Surname Order
Last Updated: 25Aug2019 13:43 (13/100)
| No. | Name | Club | Route | Class | Bike |
| --- | --- | --- | --- | --- | --- |
| - | Finley BELCHER | Z1 | Expert | Opn | BVM - TRS One RR 250 |
| - | Joe BENDALL | WG | Expert | Opn | Gas Gas 300 |
| - | Thomas CULLIFORD | SV | Expert | Opn | BVM TRS UK - TRS One 300 |
| - | Dan SANDERS | WV | Clubman/Expert | Opn | TRS One 250 |
| - | Amory FALCONER | CHG | Clubman/Expert | Y/A | Beta EVO 125 |
| - | Stuart BELCHER | Z1 | Clubman | >50 | TRS One RR 250 |
| - | Kevin MILLER | SDMCC | Clubman | >50 | TRS One RR 250 |
| - | Nick DRAPER | GC | Sports Plus | >50 | Yamaha TY 250 |
| - | Ray PEKALA | Z1 | Sports Plus | >50 | TRS One RR Gold 250 |
| - | Geoffrey ALLEN | Z1 | Sportsman | >50 | Montesa RR 300 |
| - | Steven REECE | KW | Sportsman | >50 | TRS One RR 125 |
| - | John SANDERS | WV | Sportsman | >50 | James 250 |
| - | Greg COLLINS | WG | Sportsman | Opn | Gas Gas TXT 300 |
---