Stony Green Trial - 12 Oct 2014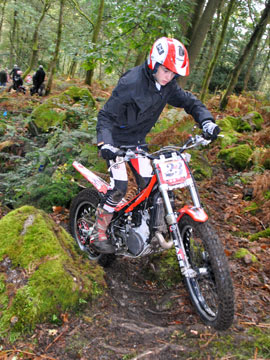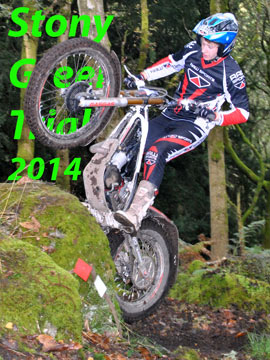 Info
Latest: Final Results now up. There were only a few minor changes none of which changed any order so these are now final.
Snippets
Thanks to feedback we've spotted a couple of my typos and answered some queries. Here is what some of you had to say: Really good trial great venue. - Thanks for a super trial yesterday, First time at that venue, Liked it a lot. - Just wanted to thank you for a great trial, really enjoyed it.
Not specifically about our trial but the Western Centre Board meeting held the next day had a discussion about how we can help our Observer situation, Quantity/Quality/Training support/Rider's expectation etc. There will be a bigger discussion at the November Centre meeting. To get your views across talk to your club's delegates or attend yourself!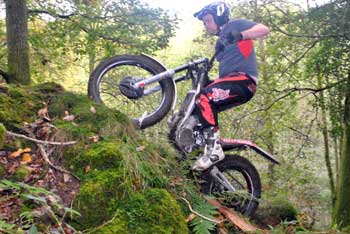 Don't know about you but I'm already forgetting which sections were S+ and C/E. I've not identified them on the results yet. I think Sports+ were 1, 4 and 9, and Merv reckons 1, 2 and 7 were the Clubman/Experts sections.
Harvey Bennion was our first puncture of the day as he limped back to the start with the tyre off the rim. Not the last either as Simon had to go and flash some tyre levers and had to rush his last lap before the markers got pulled down. He kept his cool enough to fend off pressure from an on form, despite being rusty, Ben Bowkett though.
Western Centre Championship is run over 7 rounds. Here are the results links so far. (16Mar GCSmith Trial, 18May Z1 Tim Fry Trial, 13Jul Malv Bodenham Trial, 31Aug CHG John Draper Trial, 14 Sep WV Trial, 5Oct SV Jack Wooldridge Trial, and, of course, ours linked over on the right - once they are made final.)
The scoring system now takes into account the age classes and the routes they ride on. So Matt Welch has to sort who gets what points over the various routes. Rather him than me!
---
Jackie's Video
Click HD or the Vimeo word to watch it in best quality HD.
---
CofC Merv's Mutterings
How did we manage that? Booking a dry'ish weekend in between monsoon October weather. Anyway, it made all the hard work worthwhile. A big thank you to all who gave up their valuable time to help out.
Top honours went to on-form centre champ Simon Welch continuing in his status of never losing at Stony Green. Rusty Benzo Bowkett was his nearest rival some 13 marks adrift, having last ridden in our Wyegate long distance trial on a tiger cub in March. Joe won the battle of the Bendall brothers after dusting off their bikes along with Dad Alf for this event.
Richard Knott (apologies for misreading his name as Mott. ed.) edged out Keith Wooster to win c/e honours, all finding sections 1, 2, & 7 tough. Richard and Oliver Pekala making light work of section 2 however.
Brendan Kedward must be cursing the late entry of fellow Welshman Ashley Reed who resigned him to second place on the clubman course after a close battle with Alex Muirhead.
Sam Wilson edged out our own Colin Jones on the sports plus route while talented all rounder Owen Chiswell cleaned up on the sportsman route. Hope Chairman Vess's knee is better after his spectacular tumble on section 8!!!
While on Ben's conducted route Oliver Goode edged out Oakley Haines on the junior expert route with Arron Kear winning the junior route by some margin.
---
Section Statistics
Section
0
1
2
3
5
Tot
Expert
1
10
3
2
1
2
20
2
9
3
1
4
1
22
3
4
2
0
8
4
46
4
0
3
4
10
2
51
5
18
0
0
0
0
0
6
0
6
0
10
2
46
7
1
4
0
2
11
65
8
18
0
0
0
0
0
9
17
0
0
0
1
5
10
8
1
1
6
2
31
11
5
6
3
3
1
26
Rte Tot:
90
28
11
44
26
312
Clubman/Expert
1
1
2
2
4
18
108
2
1
5
6
13
2
66
3
9
8
5
4
1
35
4
18
3
4
2
0
17
5
25
2
0
0
0
2
6
17
5
3
2
0
17
7
1
5
11
9
1
59
8
15
4
1
0
7
41
9
11
12
1
0
3
29
10
20
5
1
0
1
12
11
8
10
3
2
4
42
Rte Tot:
126
61
37
36
37
428
Clubman
1
33
10
1
1
3
30
2
1
5
10
26
6
133
3
8
8
5
21
6
111
4
22
12
3
10
1
53
5
49
2
0
0
0
2
6
14
19
6
8
1
60
7
4
4
6
28
6
130
8
42
1
1
0
4
23
9
32
10
2
0
4
34
10
33
7
3
2
3
34
11
9
11
5
7
16
122
Rte Tot:
247
89
42
103
50
732
Sports Plus
1
1
4
4
3
0
21
2
0
1
2
9
0
32
3
3
5
1
2
1
18
4
0
0
2
9
1
36
5
10
2
0
0
0
2
6
0
0
1
10
1
37
7
1
1
3
7
0
28
8
9
1
1
0
1
8
9
5
1
3
2
1
18
10
11
1
0
0
0
1
11
4
5
2
1
0
12
Rte Tot:
44
21
19
43
5
213
Sportsman
1
6
6
2
4
3
37
2
0
3
0
16
2
61
3
8
4
3
2
4
36
4
9
2
4
1
5
38
5
14
4
2
0
1
13
6
0
4
2
15
0
53
7
1
2
5
9
4
59
8
5
4
2
4
6
50
9
7
6
1
4
3
35
10
17
3
1
0
0
5
11
6
9
1
5
0
26
Rte Tot:
73
47
23
60
28
413
Junior Expert
1
12
3
1
0
0
5
2
3
3
1
7
2
36
3
8
1
1
3
3
27
4
7
1
0
4
4
33
5
9
2
2
0
3
21
6
11
1
0
2
2
17
7
0
0
0
0
0
0
8
0
0
0
0
0
0
9
0
0
0
0
0
0
10
0
0
0
0
0
0
11
0
0
0
0
0
0
Rte Tot:
50
11
5
16
14
139
Junior
1
3
0
2
6
1
27
2
4
0
2
6
0
22
3
1
1
2
8
0
29
4
3
1
0
8
0
25
5
3
0
1
7
1
28
6
5
1
0
6
0
19
7
0
0
0
0
0
0
8
0
0
0
0
0
0
9
0
0
0
0
0
0
10
0
0
0
0
0
0
11
0
0
0
0
0
0
Rte Tot:
19
3
7
41
2
150