Stoney Green Open Trial - 15 September 2007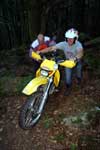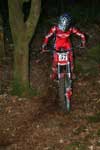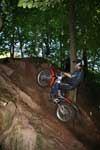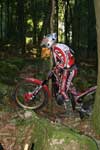 Have a look through the results and let us know if you spot a problem. email: admin@wgdfmcc.org.uk
Cinderford's Ben Bowkett Wins after dropping mostly 1's and 2's most of the day with no maximums for 15 with second placed Barry Husband on over twice that many. Despite the perfect weather conditions giving lots of grip, all the route options managed to put the winners into double figures yet keep the struggling tailenders out of the 3 figures.
With a few of our Welsh riders over for the day, Steve Watson took the convincing 50/50 route win, nearly halving his nearest rival Joe Bishop's 49 and he was hard pushed by elder brother Ben 2 marks behind. Dai Clothier came a closer 2nd to Blakeney's Shane Gunn on the Alternative route. Emily Williams had a long drive up from Neath only to retire, but gained a days ride when her own club had had to cancel (F&M) the following day's Fred Rist Trial that a number of our members had been looking forward to all year.
Good to see Coleford' s young Alex Smailes having a good ride on his 80, being the best youth on the easy route.
Ben Newby was a surprise retirement thanks to coming to an abrupt stop in front of Clare Bishop on section 9. He'd hurt his hand pretty badly but hoped it will only be a sprain. A more spectacular dismount was performed by Andy Ridley which gave Glenn Thomas a scare on the roots of section 4.
Ben's Press report
Youth triumphed over experience on the giant rocks of the Stoney Green trial in the Forest of Dean.
Not long out of the schoolboy classes, Ben Bowkett took his little 125cc Gas Gas round three laps of 12 sections for a miserly 15 marks lost.
That he left former centre champions Barry Husband and Steve Workman trailing in his wake was proof of his speedy rise through the ranks.
His score included no maximum five mark losses, something no other rider in the premier, Standard class could manage. The event appeared to hinge on sections two and four, observed by Rod and Angela Jones, and Glenn Thomas. They were negotiated by Bowkett for a total of six marks lost, and sealed victory.
Never-the-less, Husband's 36 mark total and Workman's 49 were well "under par" in a fairly challenging event.
Another youngster, Henry Bendall, finished on 53, just outside the top three.
In the Clubman/Expert class which mixes sections from the Standard route and easier, Alternative route, Steve Watson was peerless, finishing on 26, with only one five mark maximum to his name.
Brothers Joe and Ben Bishop finished on 49 and 51 respectively. Their approaches differed, as although Joe carded twice as many fives as Ben, he also managed almost twice as many cleans and his all or nothing tactic just paid off.
They headed Darren Walters (52), Ben Toms (53), Stefan Walters (53) and Mark Talbot (57).
And on a rare competitive outing, Shane Gunn took his Yamaha TYZ250 round for 31 to win the alternative route, ahead of Dai Clothier on 36. Ray Pekala beat Nathan Pekala by five marks to place third, on 40.
Easy route winner was Ron Walters on 11, ahead of Richard Holland on 18, Ian Beard on 24 and Alex Smailes, who took his 80cc Beta round for 28.
Section:
0:
1:
2:
3:
4:
5:
Tot:
Alternative
1
7
16
9
8
0
3
73
2
1
1
1
23
0
17
157
3
34
6
1
1
0
1
16
4
0
4
3
25
0
11
140
5
29
7
2
2
0
3
32
6
21
14
6
1
0
0
29
7
31
9
0
2
0
0
15
8
40
0
0
1
0
1
8
9
15
13
10
3
0
1
47
10
13
9
6
9
0
5
73
11
5
13
5
17
0
2
84
12
4
8
10
15
0
5
98
200
100
53
107
0
49
772
Clubman/Expert
1
5
5
2
11
0
12
102
2
3
5
1
20
0
6
97
3
32
3
0
0
0
0
3
4
4
5
9
12
0
5
84
5
2
14
9
3
0
7
76
6
2
4
2
17
0
10
109
7
10
8
3
6
0
8
72
8
31
4
0
0
0
0
4
9
4
5
5
18
0
4
89
10
20
9
3
3
0
0
24
11
13
17
3
1
0
1
31
12
17
10
3
2
0
3
37
143
89
40
93
0
56
728
Easy
1
10
5
2
8
0
7
68
2
22
6
1
0
0
2
18
3
22
9
0
0
0
0
9
4
5
5
5
11
0
5
73
5
28
2
0
0
0
1
7
6
17
10
3
1
0
0
19
7
24
3
0
1
0
3
21
8
19
8
1
1
0
2
23
9
30
1
0
0
0
0
1
10
1
3
0
19
0
8
100
11
26
4
0
1
0
0
7
12
18
5
1
6
0
1
30
222
61
13
48
0
29
376
Standard
1
16
0
0
1
0
1
8
2
2
2
1
4
0
9
61
3
4
9
2
3
0
0
22
4
2
2
2
7
0
5
52
5
10
4
2
1
0
1
16
6
3
8
3
2
0
2
30
7
15
1
1
1
0
0
6
8
5
7
3
0
0
3
28
9
9
6
1
1
0
1
16
10
15
3
0
0
0
0
3
11
2
6
2
5
0
3
40
12
11
5
2
0
0
0
9
94
53
19
25
0
25
291
659
303
125
273
0
159
2167