Stony Green Trial - 3 Sep 2017

Final Results
---
See what happened in other Years: 2016, 2015, 2014, 2013, 2012, 2011, 2010, 2009, 2008, 2007, 2006, 2005, 2004
---
Previous Winners
2017 Ben Bowkett
2016 Simon Welch
2015 Kurt Brain
2014 Simon Welch
2013 Cancelled
2012 Simon Welch
2011 Cancelled
2010 Henry Bendall
2009 Simon Welch
2008 Simon Welch
2007 Ben Bowkett
2006 Simon Welch
2005 Simon Welch
2004 Simon Welch
???? ?
I haven't delved into the archives for pre-04. But here is a Video of when it was used as the 1st round of the British Championship back in 1995. ed.
Info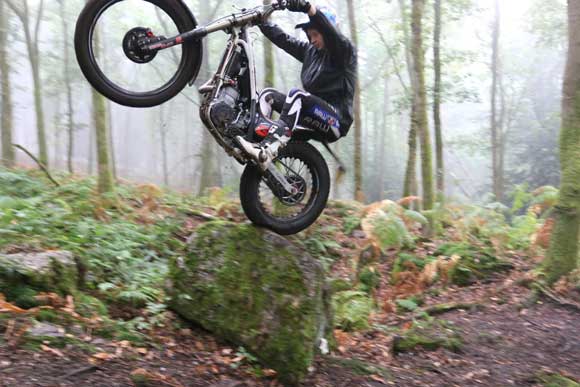 More of Jackie's photos in the Gallery.
Final Results are now linked over to the right. Thanks to those of you who did spot some of my typo's. A whole column was entered wrong initially.
The event was a round of the ACU Western Trials Championship and included classes and routes for all with 5 adult routes and 3 conducted routes suitable for the beginners from the age of 4 up. Electric bikes didn't have quite such big hills to climb but still had a few looking for extra sparks!
The normal course had 5 routes starting at Sports then Sports Plus, Clubman, Clubman/Expert and the hardest Expert.
---
Clerk of the Course says...
Well I suppose it had to happen after 14yrs of organising the Stoney Green trial we finally had a wet one. However, it didn't spoil the event and only seemed to affect matters towards the latter stages, and what a result for WG members.
Our own Benzo Bowkett comfortably taking top honours proving that riding a few extra trials makes all the difference and begs the question "what could he achieve if he could spend more time riding", plus Colin getting a superb 4th on the Sports Plus route and Darren edging out stalwart John Bliss to win the Sportsman route with Richard a fine 3rd.
On the expert route Tom Culliford surprised everyone gaining second spot edging out Simon, Kurt and Rob, will Simon ever get his 10th Stoney Green title?
On C/E route James Saunders had little trouble with the tough course closely monitored by multi-British champ and dad Steve back on a Bulto I hear. With Ollie edging out Ryan in the battle of the Pekalas.
Rob Faulkner cruised to victory on the Clubman route, but what a ride by Nick on his TY175 who cursed his luck after accidentally stamping on his rear brake in Section 10.
Stalwart Dai Clothier edged out Steve Venn by a single dab on the S+ route with the entire entry struggling with sec. 4 ( maybe not a S+ deviation next year) and we must give Brendon a mention wrestling his KTM350 round the tight course with some gusto and achieving a very respectable score.
Fred Bishop was literally in a class of his own on the conducted expert course (maybe senior course next year) and on the conducted clubman route Aaron Watson was a clear winner from Edwyn James with Bishops Harry and Henry 3rd and 4th respectively.
Just to sign off I would like to offer a massive thank you to all the people who have helped me organise Stoney Green over the last 14yrs as I am handing over the baton to young Darren who I know will strive to find even more exiting new sections next year!!!
Clerk of the Course - Merv Morgan.
---
Snippets
It has been 10 years for Ben Bowkett to claim another win, with a few close calls in between but he can still do it. In theory he could grab enough points in the next 2 rounds to win the championship but he'd need some bad performances from the opposition and they don't always come when you need them and both Simon and Kurt are determined. (Actually, if things go in a 10 yr sequence then Henry Bendall is due for a win in 2020!)
Laurence (at BVM - Our Championship Points compiler) is on the ball and has the Championship update out now.
There were a few riders nursing injuries and claiming they were going to take it easy. I'm not sure the scores back that up. Plus there was a very low retirement rate.
Weather: turned out... not so nice again! As a rider I barely noticed the rain under the trees until I stopped, then realised what the observers had had to deal with. It got cool real quick when standing around. Thanks to a long dry spell the slippery wet bits weren't impossible - nothing like in the winter when that 1995 video was shot. So a very big thanks to our Volunteer (Not press-ganged) observers for fantastic support. Book in now for our Boxing Day trial and you get a mini-Xmas hamper, or some such!
Did you spot that we have split the conducted route up into 3 routes to help get a suitable route for the varying abilities. For now we thought we'd use the adult route names. What do you think?
What a range of riders in the 50/50 route, Youth B's through to Over 60's - Welcome to old age John.
What about our WG Club members: Win for Benzo. Joe Bendall in 10th and Rich Knott 13th in a big Expert route. Viv was our only entrant on the 50/50 route but came out smiling with more cleans than 5's. Ollie Goode was our top man on the Clubman route coming in as 2nd Youth B. Phill Gardner dropped 10 more than Ollie but was still mid-pack. Colin (me) surprisingly 4th on Sports+, lead a pack of Alf Bendall, Steve Wallwin, Brendon Kedward, Amory and THEN Ben Falconer. But BenK was on his Enduro bike, so is the moral victor by a mile with BenF dragging his back brake and Trailbike around with no ignominy in losing 90. Another Route winner with Darren Thomas on Sportsman and Rich Gwinnutt 8 behind in 3rd. Once a year man Owen Chiswell pipped Pete Hughes by the narrowest of ties, and Glyn Fletcher was 3 places further back. Will Skuse had to retire after lap 2 but had enough cleans to show promise, so worth leaving his MTB at home for a change. The Toughened-up (by popular request) Conducted route certainly took some marks and gave the riders a work-out, in fact they finished after most of us so they would have slept well on the way home I expect! Fred rode the new classification route on his own dropping 46 but came first and last. Harry, Henry and George Bishop came 3,4 and 7th in Conducted Clubman and Zac Ellway won the new Conducted Sportsman class.
Did you hear the one about the P'd off observer blowing his whistle frantically and the riders totally ignoring him. Apparently riders don't have the same hearing as dogs. The partner was blamed for swapping the dog whistle - but how do you know it wasn't one of us asked her to do it?
Of course loads of you know this venue has a great history. It occurred to me that our younger enthusiasts may not know what Jules Bishop used to organise back in the day. Spot some of our Stony sections in the hands of the country's best at the 1995 British championship round when it was the Cotswold Cup. We started on the opposite side of the road that year. Just watch where Woody Hole dumps it and compare it with how far you get up that bank this year. (No disrespect to Woody of course, he is still talented as he is now battling Enduro MTB's at World class level, currently 10th - Our Dan Bish is 25th!)
Video courtesy of Bennett Trialsport Video - Have a look at some of their other work in this link.
---
Gallery
All shots by Jackie Jones. Light was a bit dim so apologies for the quality.
If any riders/parents would like shots emailed to them for free then please ask (Jackie took loads more than shown). admin@wgdfmcc.org.uk
| | |
| --- | --- |
| John Jones Best over 60 riding Clubman/Expert route. | Mike sure knows how to set up his office - clever blighter! |
| Darren Thomas - be nice to him he could be next year's CofC! | Ray Pekala enjoying someone else's work for a change. |
| Lee Sullivan 4th in Clubman. | Viv Jones Trying C/E for first time. |
| Laurence In Control | Kurt Brain. Who needs control Laurence! |
| Martin Podesta grabs 6th | George was one of 4 Yth B's riding 50/50 |
| Yes, I can do control - just not today. Says Chissy | Control? The doctor can give you some pills for that. Says Results man Colin. |
| Nathan had only one bogey section all day. | James shows Rob Warner how to avoid face planting it! |
| The conducted youth contingent certainly had it hard with marks lost | But they stuck with it until their batteries ran out. |
Brendon Pushing Extreme Enduro to the Extreme - certainly had a few jaws dropping. And that was on the Sports Plus route!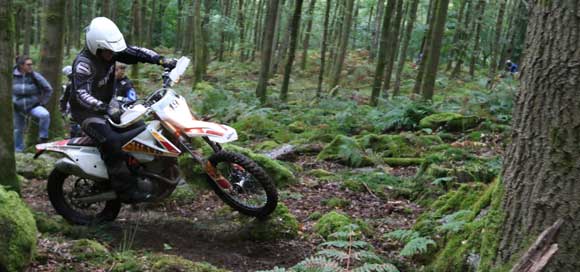 Rob races off to get his OnLine entry in for the Boxing Day Trial - Not so fast Rob, they are coming soon though.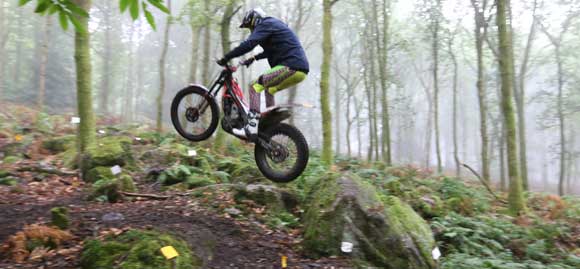 ---
Section Statistics
Section
Score Incidence
Tot
No.
0
1
2
3
5
10
Marks
Expert
1
48
0
0
0
0
0
0
2
17
19
5
6
1
0
52
3
6
5
6
12
19
0
148
4
25
9
7
5
2
0
48
5
13
10
6
16
3
0
85
6
20
15
2
4
7
0
66
7
45
1
2
0
0
0
5
8
33
7
6
2
0
0
25
9
17
14
2
5
10
0
83
10
7
4
2
9
26
0
165
11
22
7
7
8
4
0
65
12
48
0
0
0
0
0
0
Rte Tot:
301
91
45
67
72
0
742
Clubman/Expert (Bolds are Exp Route)
1
40
2
0
1
0
0
5
2
1
3
3
19
17
0
151
3
5
9
11
13
5
0
95
4
3
5
5
16
14
0
133
5
20
9
3
9
2
0
52
6
36
2
5
0
0
0
12
7
38
5
0
0
0
0
5
8
5
4
1
11
21
0
144
9
16
10
4
9
3
0
60
10
0
2
4
33
3
0
124
11
1
5
3
24
9
0
128
12
37
0
2
0
3
0
19
Rte Tot:
202
56
41
135
77
0
928
Clubman
1
48
6
3
0
1
0
17
2
15
22
10
2
9
0
93
3
8
10
8
26
6
0
134
4
21
14
6
9
8
0
93
5
25
9
3
18
4
0
89
6
41
10
3
1
5
0
44
7
49
9
1
0
0
0
11
8
32
12
5
7
3
0
58
9
14
13
10
17
5
0
109
10
0
3
4
38
14
0
195
11
5
22
8
14
10
0
130
12
48
2
1
2
6
0
40
Rte Tot:
306
132
62
134
71
0
1013
Sports Plus (Bolds are Clubman Route)
1
12
7
5
0
7
0
52
2
2
11
4
11
2
0
62
3
10
9
8
1
2
0
38
4
0
1
3
7
19
0
123
5
3
3
4
17
4
0
82
6
24
5
3
0
1
0
16
7
26
4
1
0
0
0
6
8
9
6
4
11
1
0
52
9
25
5
1
0
0
0
7
10
23
4
0
1
3
0
22
11
12
9
2
2
5
0
44
12
31
0
0
0
2
0
10
Rte Tot:
177
64
35
50
46
0
514
Sportsman
1
24
9
0
3
4
0
38
2
20
10
4
4
0
0
30
3
7
5
5
15
6
0
90
4
17
4
6
9
1
0
48
5
29
5
1
3
1
0
21
6
22
9
2
4
1
0
30
7
18
12
6
0
0
0
24
8
5
20
5
8
2
0
64
9
24
10
3
2
1
0
27
10
17
6
3
6
7
0
65
11
5
10
9
9
7
0
90
12
30
3
2
0
8
0
47
Rte Tot:
218
103
46
63
38
0
574
Conducted Expert
1
3
1
0
0
0
0
1
2
0
1
2
0
1
0
10
3
3
1
0
0
0
0
1
4
3
0
1
0
0
0
2
5
0
0
0
3
1
0
14
6
0
0
0
1
3
0
18
Rte Tot:
9
3
3
4
5
0
46
Conducted Clubman
1
15
3
2
4
4
0
39
2
3
1
0
9
15
0
103
3
10
1
1
12
4
0
59
4
5
1
2
19
1
0
67
5
5
0
0
4
19
0
107
6
3
1
1
14
9
0
90
Rte Tot:
41
7
6
62
52
0
465
Conducted Sportsman
1
0
0
0
4
0
0
12
2
0
0
0
2
2
0
16
3
0
0
0
4
0
0
12
4
0
0
0
4
0
0
12
5
0
0
0
2
2
0
16
6
0
1
1
2
0
0
9
Rte Tot:
0
1
1
18
4
0
77
---