Stony Green Trial - 2015

Final Results.
Centre Championship coded version here.
---
See what happened in other Years: 2014, 2013, 2012, 2011, 2010, 2009, 2008, 2007, 2006, 2005, 2004
---
If you would like to see the full half-hour long HD Video, then we may show it at club on a Monday as soon as Colin has worked out how to use a computer. More info later, until then, The edited 8 minute version is now down below this.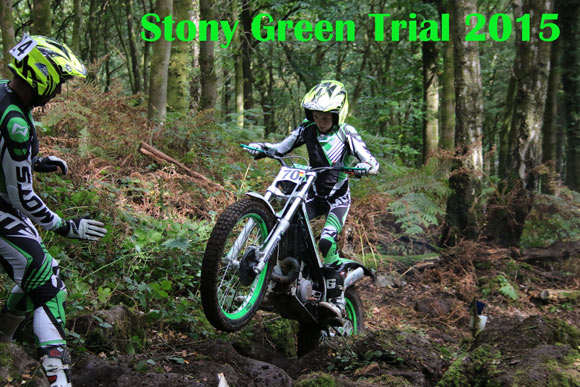 George Clarke buzzes over the wheelbase length holes on section 3.
---
Info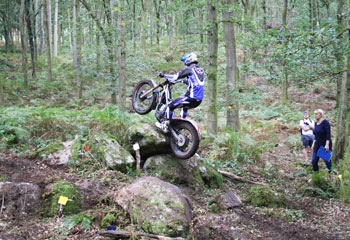 Nature makes the best section: a natural kicker for Ben, a smooth 2ft step for Clubmen and even a 1 foot step for the Sports.
Final Results are now linked on the right. Amy Clarke is now winner of the Conducted Standard route as Will and Fred both rode the Conducted Expert and a close competition that was! Brendon is now on the correct route. Conducted Route results are now showing though section order may have varied on the cards, the totals are correct. Apologies to John Roberts who was entered twice and seemed to have double marks, now pleasantly heading the Clubman, well done. Please let me know if you spot an obvious error admin@wgdfmcc.org.uk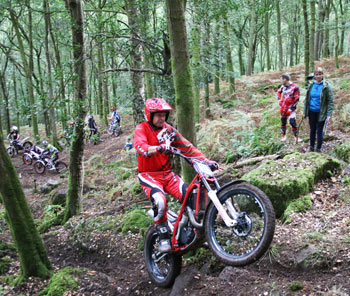 Phill Gardner is grateful for a non c/e route at Georgina's super tough section 5.
As this was our club's round of the Western Centre's Trials Championship we created some testing sections for all the classes where points can be scored. The results seem to reflect that! A version showing the Championship class codes is also available here for those monitoring their progress.
More info to come later together with some photos and a bit later again, some video.
This event is only allowed on Forestry Commission land by following an extensive authorisation process (P-000628-15 is the reference code for this event.) and our future use of the venue will be harmed if conditions are abused. All our local riders and members are aware there is no right to ride on FC land without permission at specified events like this so don't even think of doing so. Our club has an extremely long history of working with the Forestry Commission, from the club's inception in fact, and we would wish this to continue for our children's children.
---
Clerk of Course Merv's Mutterings
Previous Winners
2015 Kurt Brain
2014 Simon Welch
2013 Cancelled
2012 Simon Welch
2011 Cancelled
2010 Henry Bendall
2009 Simon Welch
2008 Simon Welch
2007 Ben Bowkett
2006 Simon Welch
2005 Simon Welch
2004 Simon Welch
???? ?
I haven't delved into the archives for pre-04. ed.
Well I've said it before and I'll say it again, 'someone up there likes us' as we somehow plucked a near perfect day for our Stoney Green trial again amongst the heavy rain and stormy weather of late. With all the sections manned 65 riders set off to do battle with the unforgiving rocks and steep banks of Stoney Green's finest, somewhat less so on the separate junior course.
The healthy entry of 15 experts seemed to cope with the hazards quite well except Darren's dastardly new twist on section 5 which defeated everyone. Simon Welch almost did on lap 1 but needed a dab, shame! It was nip and tuck all the way between the top three contenders: our own centre champ Simon Welch, Wessex centre ace Kurt Brain, and local part timer Ben Bowkett. (His last ride was on a tiger Cub in our Wyegate long distance trial in March.) With Simon taking an uncharacteristic 5 on sec. 5 and a 3 on sec. 7 against Kurt and Ben's steady consistency, the writing was on the wall, eventually losing his 'King of Stoney Green' title after 2 straight wins (and a record 7 in the last 11 years, that will take some equalling) by 7 marks to Kurt and just edging Ben into 3rd by recording one more clean, the odd dab here and there costing Ben dearly.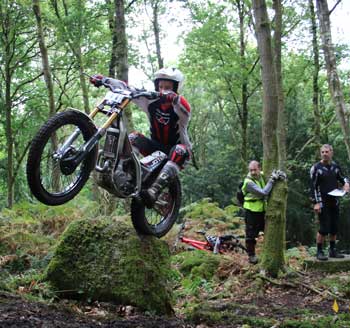 Deposed 'King of Stony Green' Simon Welch keeps the bike low. Is it like motocrossers scrubbing jumps?
Henry won the battle of the Bendall brothers 68-73. Whether Joe's rear tyre problems made a difference we don't know.
It was nice to see Steve Workman on a bike again, unsure if it was man or machine that caused his retirement, shame! (The hole in the clutch casing could be considered the machine's fault, yet I think it was the rock that didn't get out of the way! ed.)
Welsh boys filled the first 3 places on the C/E route, Julian Collins only finding section 2 (expert deviation) difficult, winning quite comfortably from Andy Hayward on 54 and our own Brendan Kedward on 61.
Mike Hughes thought he had won the clubman route after version 1 of the results came out but version 2 proved, in fact, he was second by one mark to John Roberts from Bristol. A computer glitch giving him double his score on v1.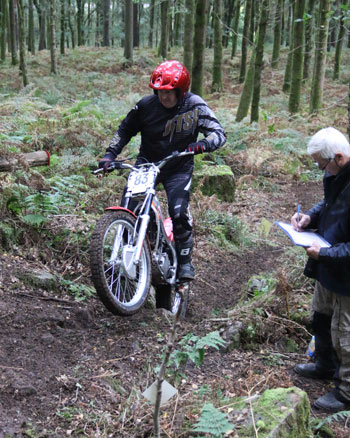 Rich Gwinnutt. Another convert to 4 stroke power, was learning how to get to grips with it. Here on club stalwart Julian Bishop's section 4.
Sportsman Plus veteran, Dai Clothier edged out local part timer Owen Chiswell by 4 marks, who wasn't competing against son Lee this year. Lee had a steady ride in 8th place on the clubman route.
Sportsman Bob Cobley took in a tour of the Dean before finding the venue, but made up for it by winning his class by some margin on his 4rt260. It was regretful to hear that sportsman Oliver Goode got crossed up between sections, took a face plant tumble and ended up in Glos Royal H with suspected concussion, however a phone call to dad later confirmed no lasting damage and we hope to see him riding again soon, esp. as he was doing so well up to that point. The incident clearly upset fellow graduate from conducted route Oakley Haines who retired at the same time.
Why the difference in spelling, you ask? Stony and Stoney are both correct. I use Stony as that is how the OS map shows it. ed.
Want some Stony background music?
On the separate Junior route plotted by Ben Bishop the Junior Expert route title was won by the narrowest of margins by Finley Kettle on 15 edging out Will Haines on 16 and Bishop junior Fred on 17.
On the standard Junior course Amy Clarke got the better of the lads dropping 47 from Jack Morman's 50 and yet another Bishop, Harry on 69.
All the post event comments I heard were very positive so I declare the day a success and would like to say a big thank you to all who contributed to it, notably: Colin, Darren, Brendon, Ben, Glyn, Steve, Benzo, Tom & Ieuan. Plus observing club members Jules, Mike and Josh, Vess, Anth, plus mate Carey and Chris Haines on separate course , the rest were volunteers so no arm twisting this year phew!
---
Snippets
Joe Bendall gets air time at Carey's section 8 while Clerk of Course Merv Morgan checks his handywork.
After his recent off, Ollie Goode is on his way back from a quick check up and hasn't been put off. Phew, great news!
We are glad to say the Defibrillator wasn't required yet again. But remember for future events that it can usually be found at section one at most Centre events.
Those in the know will be glad to see Merv back up on 2 legs. What better physio than being Clerk of Course! However, he's not been picked for the club's ballet team just yet for a reason, so thanks to all the helpers that stumped up some effort.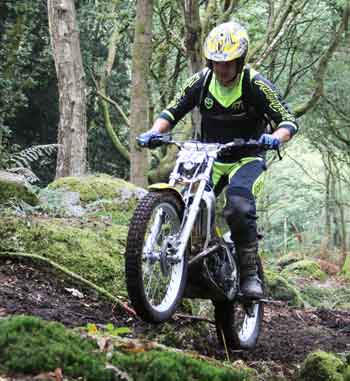 Local rider Ash Jones gets the power down.
This year's results are also available showing the championship class code numbering system so that the Trials coordinator can identify points scorers. We hope to be able to link to the current standings and changes to rankings from our round as soon as available.
Did you notice the preponderance of 4 strokes in the entry? I loved hearing the sound of Steve Workman's Beta rasping up the climbs in section 10, but glad I didn't hear the disappointing crunch that put him out later on - his facebook shows the damage. Ouch. Did you also spot the rare classic Honda having a rare outing with Shane Hillman - was that moth balls or Castrol R I smelt?
---
Section Map.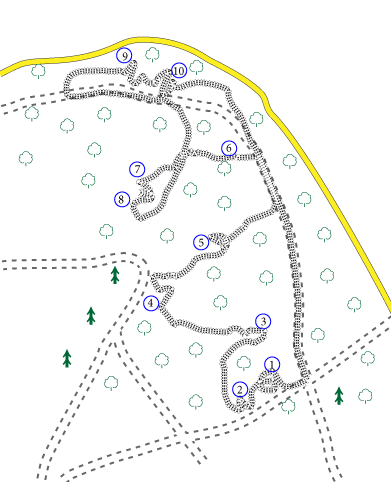 I'm not sure which section was which for the c/e and S+ routes but would like to hear from those of you with memories. We could then update the map. Are these correct? admin@wgdfmcc.org.uk
1 c/e S+
2 c/e S+
3 c/e S+
4 S+
5 S+
6 -
7 -
8 -
9 -
10 -
---
Videos.
The first one is here, one more to go. Mike had the GoPro set to watch the full section (9 - don't believe the title saying 10. He probably did that on purpose just to wind me up - damn, I bit.) Thanks Mike, for that you can have an advert.
This next one is best watched on HD on the Vimeo site or put up with standard quality that suits 'Vorest' broadband speeds.
West Glos'_Stony Green Trial 2015 from Colin Jones on Vimeo.
---
Jackie's Photo Gallery
Give this a go if you are on a PC type thing, or go to this photobox slideshow which might work better. Quality is low on the slideshow on purpose, if you want a top quality pic just contact us on admin@wgdfmcc.org.uk
---
Section Statistics
These surely read like a TMX report (Sorry, I didn't send one off.) No cleans in section 5 for the experts and the graded hill of section 6 was no problem. The Clubman/Expert route on Craig Fletcher's Sec 2 fairly slaughtered the contenders as did the next sec.
Section
0
1
2
3
5
Tot
Expert
1
16
8
1
6
24
148
2
17
6
6
12
13
119
3
39
7
0
3
5
41
4
6
8
7
24
8
134
5
0
1
2
13
37
229
6
52
1
0
0
0
1
7
15
6
3
22
7
113
8
15
13
2
6
16
115
9
37
11
1
4
2
35
10
23
20
4
4
4
60
Rte Tot:
220
81
26
94
116
995
Clubman/Expert
1
21
3
1
2
1
16
2
0
0
1
9
18
119
3
1
2
2
3
20
115
4
12
5
4
6
1
36
5
15
5
3
5
0
26
6
24
4
0
0
0
4
7
14
8
4
2
0
22
8
3
9
8
7
1
51
9
16
4
4
2
2
28
10
11
8
5
4
0
30
Rte Tot:
117
48
32
40
43
447
Clubman
1
30
10
5
4
11
87
2
32
16
6
1
5
56
3
49
9
1
0
1
16
4
12
11
2
34
3
132
5
21
6
7
21
6
113
6
54
6
1
0
0
8
7
7
9
11
27
7
147
8
0
10
9
37
5
164
9
13
11
10
11
16
144
10
10
14
9
11
16
145
Rte Tot:
228
102
61
146
70
1012
Sports Plus
1
7
8
6
5
17
120
2
24
11
3
2
3
38
3
23
12
3
2
3
39
4
0
3
1
28
10
139
5
35
4
0
2
2
20
6
32
6
4
0
0
14
7
12
13
10
7
0
54
8
25
7
4
5
1
35
9
31
2
1
5
2
29
10
24
6
3
4
5
49
Rte Tot:
213
72
35
60
43
537
Sportsman
1
4
14
9
5
1
52
2
7
14
6
2
4
52
3
20
6
2
2
1
21
4
7
5
3
13
3
65
5
25
4
1
1
0
9
6
21
4
2
4
0
20
7
4
2
5
16
3
75
8
7
10
5
5
3
50
9
20
4
0
3
3
28
10
18
2
0
4
6
44
Rte Tot:
133
65
33
55
24
416
Junior Expert
1
15
0
0
0
0
0
2
10
2
1
1
1
12
3
10
1
2
2
0
11
4
11
1
0
3
0
10
5
10
2
0
1
2
15
6
0
0
0
0
0
0
7
0
0
0
0
0
0
8
0
0
0
0
0
0
9
0
0
0
0
0
0
10
0
0
0
0
0
0
Rte Tot:
56
6
3
7
3
48
Junior
1
1
1
1
11
1
41
2
5
0
1
7
2
33
3
6
2
0
7
0
23
4
3
1
0
9
2
38
5
4
3
0
6
2
31
6
0
0
0
0
0
0
7
0
0
0
0
0
0
8
0
0
0
0
0
0
9
0
0
0
0
0
0
10
0
0
0
0
0
0
Rte Tot:
19
7
2
40
7
166