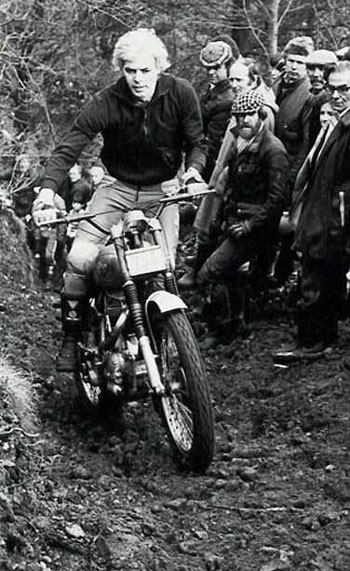 Jules at the Talmag Trial, Won it, Sammy Miller had to settle for 2nd! about 1983. Pic: ?
Julian Bishop - RIP - 20th Dec 2020
Page index: Cliff Hannam, Ben Bish, Dan Bish, Joe Bish, Rachel Collins, Ian Vessey, Darren Thomas, Anthony Moore, Ian Hannam, Simon Ellway, Merv Morgan, Chris Haines, Si & the Welches, Mike Allen.
Update 28May2021: The plans for an event to celebrate the life of our friend have now been fully formed into a resurrected Stumpwood Hill Climb followed by a social - if allowed by then - at Ellwood Football club in the evening. Keep the date in your diaries. 11th September 2021.
Entries are Open from 10:00pm this Sunday. More details on the Bishop's Bikes and Banter Hill Climb Event page.
This is a page for memories of our friend. A man we all looked up to and admired. He came into our club and enabled the club to grow. He fired enthusiasm into everyone he met with subtlety, not showy and loud, like our political showmen. We all wanted to ride as smooth and efficiently as he did and we all wanted to organise events that people enjoyed as well as he did. He brought such a lot to our two-wheeled world, yes, cycling included, even in his last few weeks with us he was e-MTBing out to Covid friendly garden-gate friends while he still could. Such a loss...
Not everyone reads Facebook so we will publish memories from his friends here and hope to add some photos too. (send to admin@wgdfmcc.org.uk) In this time when we just can't risk going out to meet-up and talk and pass on our sympathies this page seems logical (Post does still exist!). (ed.)
His long time friend Cliff Hannam opens the page...
More about when Jules joined our club in the 50th Club Do Review...
Links to just some of the events Bish instigated and organised:
The Border 100 with Len Ore 1980
The Stump Wood Hill Climb - always a summer favourite and social do.
There are tons of trials which we haven't built pages for yet like The Regional Restricted trials and National and British Championship Cotswold Cup Trials. And always unreported were a tremendous amount of Treasure hunts Clare and Jules organised. Also have a look in our Articles section for trips out - like Across Australia!.
---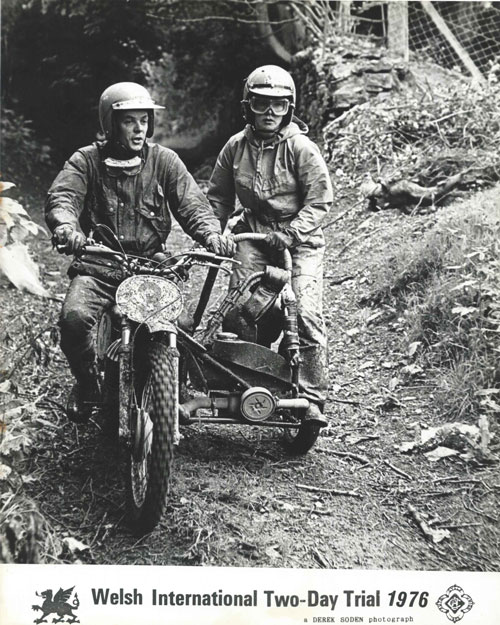 Julian and Clare on the first of many of their Enduro Sidecars, The Greeves 380. See Cliffs's memories. Pic: Derek Soden.
The ultimate motorcyclist (not biker!) is the best description of Julian. He never used four wheels if he could help it, no matter the distance of the trip or the weather conditions. We did many road miles together around Britain and abroad - but I never tried to keep up with him if he decided to get a move on! Always riding unbelievably smoothly and on the perfect line he was deceptively quick, which I learned to my cost when out greenlaning in the snow one winter. I first met Julian in the early seventies when he turned up at our house when I had a couple of bikes for sale. One was a 350 Burgess Triumph trials bike and the other a Greeves 380 scrambler. He wanted to build a sidecar outfit to do the Welsh two day, so I assumed he wanted the Triumph - but no, it was the Greeves 380. Strange chap I thought, but he seemed to know what he was talking about. Needless to say, after much lowering and modification of the frame geometry, he rode it very successfully that year and at many subsequent events with Clare in the chair.
We hit it off right from the word go, and became very close friends. Much to my surprise, when I later discovered that he did not suffer fools for long, and was not backward in coming forward to advise them of their short comings. So I took that as a compliment. Our children grew up together in the early years and we had many happy holidays together. Often having weekends away with our wives riding in west country sidecar trials.
Later we did several of Phil Gunn's Rally of Discovery events together in various parts of the World. Taking part in the pillion class with Marlene and Clare. He won all of them! Outright, beating the solo entries despite being in pillion class! (I came to the conclusion that he had an inbuilt satnav in his cranium - having said that it was not as good as Vessey's).
With a background in scrambling, grasstracking, road racing, enduros and trials, both solo and sidecar in all disciplines. He was extremely successful in all of them. His skill and successes on a bike or an outfit was only exceeded by his self deprecating modesty. As a result, many are not aware of his achievements throughout his motorcycling life right up until very recent times. Including racing on the Isle of Man in the Manx GP to being National vintage/classic sidecar champion on the Vincent for so many years, they had to change the rules to stop him! One thing that I teased him about was being the National Sidecar Enduro Champion during the year of the last foot and mouth epidemic. In the first round he was one of only two starters. The other crew broke down and of course Jules finished. The next round he was the only entry, then the foot and mouth hit, so there were no more comps that year. (But he'd 'won' them both, hadn't he!) After that, when meeting anyone new, I would introduce him as the current British Sidecar Enduro Champion. This was much to his chagrin, so being in fear of my life, I ceased the habit after a few months.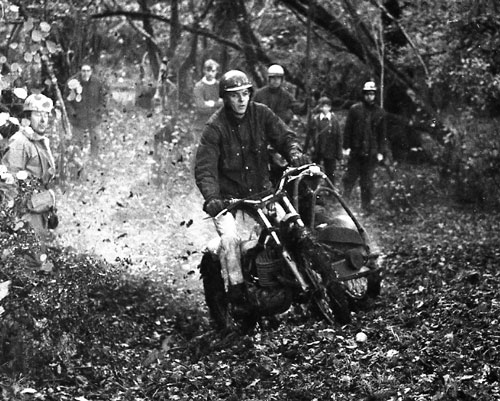 Jules training potential new converts and passengers how to find grip at Welsh-2-Day winner Jack Clarke's Xmas Sidecar bash at The Cwm mid 70s. On the Greeves 380. Pic: ed.
Another of his talents was that he was a very accomplished engineer. Of course he earned his living as a design engineer. However, he was an extremely qualified and accomplished practical engineer. He didn't crow or ever blow his own trumpet, not everybody knew that he built his own road racing frames to get the standard and characteristics of handling that he desired. Also machining engine parts to improve performance.
He was very quietly proud of his children and their successes in life, and also the grandchildren. I am proud and pleased to have been a friend to Julian and Clare for all these years. I have been honoured to have Jules' trust, friendship and company for so many years. I will miss him......
Cliff Hannam.
---
As the title suggests; I maintained the boyish belief that my dad was invincible and there was no question you could pose that he didn't know the answer to, well into my adult years. Well to be precise, it was last Sunday 20th December 2020. Unfortunately nothing can prepare you for the loss of your most loved ones. In my case, I believe I couldn't have been much closer to my dad. I pretty much saw him everyday. We had a deep love and respect for each other, although we'd never admit to that, because we're blokes, right?
Anyway, onto the nitty gritty; bikes! Bikes are the epicentre of our world. They have forged many unforgettable memories. Was it the tyres, brake and engines? No not really. It was the fine people you meet along the way. The ones that you manage to effortlessly talk to into the wee small hours about how you negotiated a rock/root or hit the apex of a corner, sweet as you like. It was this world that my dad introduced me to.
It's pretty difficult to pick a handful of memories to throw down on the page when you've got a lifetime to choose from. I'll have a go regardless. My earliest bike memories are my earliest memories!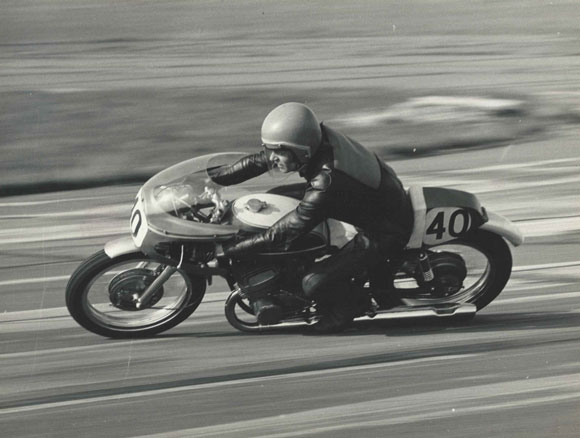 Jules on the Suzuki T500M, possibly Llandow. When Clare and Julian first moved to the FoD he'd commute back to Bristol on it through the winter then clean it up to go racing.
Dad was still road racing when I was really young. It's pretty vague, but I can just about remember going up to Staverton and paying absolutely no attention to the racing (sorry dad). We spent the whole day playing in the long grass. My memories really start to kick in with trials. Our direction of travel would be West to the rocks of East South Wales or East (ish) to the Western Centre mud. Initially, before I started riding I'd run the whole lap behind until I'd persuade dad to give me a lift between sections. I'd stand on his feet holding onto the bars (that'll stop him putting his feet down, I thought!). Not a helmet in sight, but there were usually quite a few disapproving looks. Dad didn't care, this was old school quality time with your kids and memories in the making.
When the van (usually a knackered transit) took us west, it seemed like it would always be the middle of winter, and as anyone my age or older will testify they were proper winters. Not the girly ones you get now. In fact I remember being at Aberdare and Dan decided to go swimming (he had to break the ice first), Dad responded in his usual fashion: "You'll be alright, crack on". Is that the kind of response I'd give to Fred and Harry now?
On to my glorious (not) trials debut at Northern Colliery, dad was nowhere to be seen! He was off riding himself because Dan had apparently said "it's alright Dad you don't need to stay with me" (I'm not sure that will hold up in court!). I never even got the option of parental supervision. He knew what he was doing, sink or swim time! One of the most vivid memories I have (probably because it seemed to happen on the way home from every trial) is; 'the cheese sandwich and coffee' routine. Dad would wait until we got onto the twistiest piece of road he could find and then ask me or Dan to get the cheese sandwich and coffee out. The cheese sandwich was drier than an arabs dap and pouring the coffee whilst screeching around corners demanded the utmost poise.
Is it my memory playing tricks on me or did quite a lot of trials end up in the pub? As you all know Dad loved a beer and a good old chat up the pub. Right up until very recently he cycled up/down/across to the pub to have a beer or watch a band.
Trials was also responsible for the epic Isle of Man trips of my youth. I think that may have been the first 'lads holiday' I went on (aged 9!). The banter between Cliff and Dad was priceless, especially when Cliff got out of the van on the mountain for a wee and didn't take the wind direction into account! Memories of trials wouldn't be complete without mentioning the Trials Camp at Longtown. Glorious summer days when all you had to worry about was riding all day! Dad would take us on his own, keep the bikes going, feed us and generally did what the best dads do for their kids; gave us absolutely nothing to worry about apart from enjoying ourselves. Mind you, I think there was quite a bit of 'relaxing' up at the pub in evenings by the parents!
I think Dad saw the writing on the wall with my trials career when my gear selection started at 3rd. It was then that a KDX200 appeared in the garage. Dad offered me and Dan a rip on the track outside our house one morning. The problem was, the school bus was due in about 10 minutes and we had our school uniforms on. Needless to say Dad was blind to these trivial matters and we cracked on. Off to school covered in mud but with huge smiles on faces and stories to tell our classmates.
It was around these early years that Dad bought a Norton Wasp Sidecar Enduro Outfit (why concentrate on one discipline when you can have a go at many?) During one of the particularly bad winters that I mentioned earlier, we had a good dump of snow. I'm not sure if phones hadn't been invented then? Apparently the only way to check and see if the school was open was for all of us (6) to get on the sidecar and go and have a look. As usual Dad didn't hold back. I think it may have stopped wheel spinning for a few fractions of a second!
A lot of the enduros at that time, seemed to be on Salisbury Plain. Dan and I were keen to tag along to get our bike fix. I guess I must've been about Harry's age when I decided I'd walk the lap. Dad and Steve (Dad's passenger) would wave every time they went around, not actually thinking to tell me to turn back because 25 miles was quite a long way for a 9 year old! Long story short, I got picked up by the Military Police and taken back to the start. Dad got a bollocking! The point of that little story is to highlight how dad would always give us the freedom to make our own decisions. Some decisions resulted in 'less than optimal' outcomes! However looking back now and being a parent myself I can see he wanted us to be the best people we could.
On the subject of life lessons; Dad's lessons were quite passive but none the less effective. I felt we'd always do things slightly differently. He taught us that you don't necessarily need to do things the same way as everyone else. For me this had paid dividends in my career as an engineer (following in Dad's footsteps). He was an original 'outside the box' thinker. He also taught us that at any event we'd entered, there was no point in just turning up. We were there to give it our all. I believe this commitment lesson has been one of the most valuable of all and has analogies in everything we do.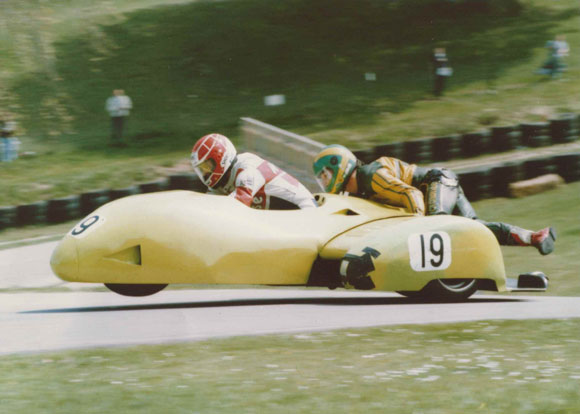 Jules and Simon Ansell on the TZ700 2 stroke powered LCR at Cadwell Park, circa 92. A bit peaky and kept blowing up!
As we got older and became more independent, Dad returned to road racing. 1st vintage on the Vincent and then later on Modern 'Worm' outfits. The modern outfit started out with a big 4 cylinder 4 stroke and then later on a TZ700 money swallowing Yam 2 stroke. They both sounded amazing. Dad would always round us up to help him push start them on the lane. As Dad warmed the bikes up and set car alarms off, Rob Hancock (neighbour) told me these noises inspired him to eventually start road racing himself!
I'll let Joe fill you in on the details of these years. He would go with mum and dad to every event, consuming the obligatory chocolate digestives and memorising all the facts and figures (which I found out the other day he can still remember!) As you all know Dad was instrumental in running events all through his adult life. From the herculean effort he put into running the Cotswold Cup in the 90's (with help from some of our other dedicated club members), right through to very recently observing at every possible opportunity. Dad instilled in us (again passively, not by barking orders) the right to ride trials and other events should be repaid with some input back into the sport. The Bishop's staple diet with respect to trials organisation was the Boxing Day Trial. Before we all had families of our own, marking out on Christmas Day was what we did. I still think of it as a nice way to spend Christmas Day. I'm happy to write that the club is still active and still running events. Fuelled by an excellent team spirit that is undoubtedly inspired by the work my dad did over the years. A suggestion from my good lady wife, Lisa; maybe we (West Glos) should consider naming one of our events after him?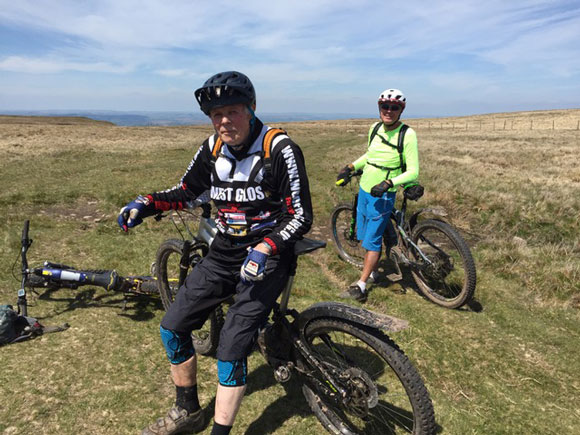 Jules with Rod and Kev I think, in 2019 up on the Black Mountains on the Specialized e-Bike. Flying the flag for West Glos. Pic: Rod Jones
In recent years dad has remained extremely active. The Vincent has seen a few trips up to the festival of a 1000 bikes at Mallory, usually resulting in one of us going to have to pick him up from Coventry hospital! He has been Fred and Harry's personal mechanic, keeping their bikes up together after I would present him a list of tasks that need doing. He pretty much cycled everywhere and everyday, and was an early adopter of e-mountain biking.
This is just a small snippet of my bike related memories and then on top of that I've got all the non bike related stuff which could fill a few thousand pages. If we can learn anything from a life well lived it must be to; make memories with your loved ones everyday.
We love you dad. Your ever loving middle son, Ben.
---
Firstly thank you all so much for your kind words and messages of support to all of us Bishops. It is truly overwhelming to be reminded that Dad was known as a friend to so many. Also a huge thank you to the other contributor's stories about Dad. We have all loved reading them and it really helps during this tough time. We would love to hear from more of you
Ben has already written a cracking piece on some of his experiences, many of which are shared, But I couldn't pass up the chance to tell you of some of the "Dad" experiences about my early biking days, his engineering skills and what a typical Bishop Christmas was like when I was a kid
It struck me early on that Dad was a pioneer of so many practises that we now take for granted, such as recycling. Back in the year dot he found an old bicycle frame in a farm whilst riding a trial. It was taken home as a "recycling" project! Cut and re welded into a three wheeler with triple clamp forks (thinking downhill mtb tech here) it was sprayed the same colour as his road race bikes which was a kind of lime green. Hey ho (ho ho ho) Santa delivered the Chopper Trike as a pressie to Rach and me when we were very young. We LOVED that thing! it was bomb proof and survived abuse from all us kids, friends, cousins and drunk adults, who would regularly pile on and charge down the garden. Critics of this green project may have highlighted the lack of brakes as a fault but it didn't seem to matter back then.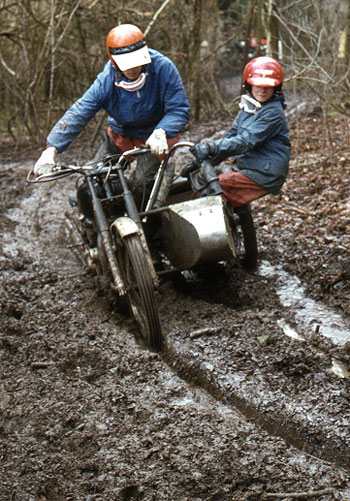 Jules with Dan climbing up through Henwood in one of Mossy's Trials in 1977. Mum wasn't far behind riding with Len Ore. Pic: Colin Jones (Observing)
We quickly progressed to being thrown in the sidecar when Dad was in charge of us kids, bombing around the Forest and Wye Valley green lanes on the Matchless. This led to the start of my sidecar passenger career in events such as the Greensleeves and Allen Millington long distance trials. I remember someone official having an issue with me competing and questioning my age. Dad was quick to hush me up when I corrected him "no Dad, I'm not that old yet!"
The lasting memory of these would be wet, muddy and very cold. However, fun, excitement and a Mars Bar seemed to conquer all.
Cliff Hannam touched on Dad's practical engineering skills and I feel like I need to expand on this. My first bikes were never standard production bikes but "prototype Factory" models, tuned in the Milkwall Race HQ.
These included an old Raleigh Runabout moped that was hastily heavily modified. Off with the pedals and saddle, that was replaced by a seat, and the petrol tank was taken from its position over the back wheel to the "normal" position. The tank's shape was just like Barry Sheene's RG 500 I was told by Dad! That thing got ragged up and down the old railway line and was passed on to become Owen Chiswell's first bike as well.
Next came an ex post office BSA Bantam converted to a trials bike. I wanted a Fantic at the time so this factory model was nicknamed the Bantic! It had an early form of traction control, basically not enough power to spin the back wheel! I had so much fun on that bike and it did me proud. It survived various trials tours of duty in VMCC, Golden Valley and the Isle of Man pre 65 two day trial. The first year on the Island included a random team event and I found myself on the winning team at about 12 years old. The prize for the whole team was a single bottle of champagne which they gave me to hold for the team photo. I duly walked off with it much to the dismay of one or two Yorkshire team mates and I remember Len Ore complimenting Dad on his parental coaching skills!
Through crashing our bikes, we presented Dad with many engineering challenges over the years. We quickly became accustomed to helping him straightening out our trials bikes with precision instruments such as a piece of 2x2 and a sledge hammer.
We were always made aware of the more favourable approach towards repairs, that prevention was better than cure. Often whilst lying upside down in a cold wet ditch, with the sound of levers and mudguards pinging off the bike, Dad would say "if you are going to crash, bloody well hang on to it". This was the start of us coining the phrase "it's not a crash if you still have hold of the bars"!
I remember virtually writing off a KX250 at a frozen Bromsberrow in the 90's. The bars were bent over the top yoke and what was left of the subframe, airbox and exhaust was touching the tank. When I came home from work the next day I couldn't believe that Dad had repaired the lot leaving me to buy only a mudguard, handlebars and a couple of side panels. I have no idea how Dad managed to sort out that tangled wreck of a bike in such a short space of time. I'm also really sorry if you bought that bike from me!!
The test track for Dad's race bikes was the lane outside the house. We always have a laugh about the time when the neighbours were selling up. At the exact time a prospective purchaser was being sold the tranquil neighbourhood vision, Dad fired up a CBR1000 outfit with straight through pipes. The neighbours are still there!!
Christmas is going to be tough to get through without Dad, but it's also the time of year when the biking memories are strongest. Like most ordinary families would have a Christmas shopping trip altogether, but we never went near a shopping Centre. Ours was a trip to the Bristol Dirt Bike show where "Santa" would bargain hard for a cash deal to get me a new Michelin X1 or Pirelli MT43 for Christmas. They were honestly the best pressies I ever got and were fitted Christmas Day ready for the big Boxing day trial. Dad always made us do our own maintenance so we could learn how to look after our own kit. After what seemed like hours, he would always pop back into the garage and help me out after I had skinned my knuckles on the sprocket whilst changing a tyre or pinged the chain split link across the garage, lost in some dark corner.
Back then we would ride as many trials as possible over Christmas, there seemed to be a trials club in every South Wales valley who would all have a Christmas or New Year trial and I think one year we rode 4 or 5 trials in the Christmas holidays. Dad would always be up for another trial as we scoured the TMX regs available columns for the next event. The boots and kit never dried out, we often froze washing the bikes in the dark and we would always have a few West Glos trials riders with us with an overladen trailer or bikes crammed in some tatty van.
If it was Roy Breakwell coming along we would have to dig out his bike and service it, find his boots and some petrol whilst he fed the animals. The best part of such a day out would be the return back to Cottage Farm, sitting around the kitchen table drinking gallons of tea, counting up lost marks and listening to Roy and Dad's amazing stories.
This is just a snippet of so many great memories and none of it would have been possible if it wasn't for our awesome parents. Thanks Mum and Dad for giving me not only a love of riding bikes but also the opportunity and encouragement to ride them.
Dan
---
Knowing where to start this is incredibly difficult. You only have to look at the many kind tributes on this page, his contributions to the West Glos club over the years, the numbers of tours and adventures he participated in, and the fact that he competed in every format of off-road motorcycling. And that doesn't even account for his tarmac based exploits. But as Ben has said, all the events and successes are meaningless unless they are shared experiences with outstanding friends, and I'd guarantee it's these that we remember. The trips in colourful old vans (green, yellow, purple…but mostly rusty brown), the falling in bushes on Wednesday nights, the getting lost on mountains in the freezing cold, the countless times being scared witless as a pillion or passenger but at the same time being eerily calm as he never ever seemed out of control.
By the time I came along, he'd perfected the parenting art of let us find our own way. For my first ever trial on a TY80 at Joseph's Farm in Stowe, he of course waved me off at the start and left me to my own devices. Never was there any questioning about my 'black sheep' decision to give up trials after only a year on the TY80 to get one of those new-fangled mountain bikes. I recall once he turned up to Crump Meadow in Cinderford where he had found some work experience for me at a Young Offenders trials bike project (best work experience ever – a whole week of riding bikes). At the exact moment he arrived, a few people had hold of my mountain bike with me on it at the top of a near vertical 10m drop with zero run out. Of course, never was there a single thought of stopping me. I needed to find my own way, in biking and of course in life.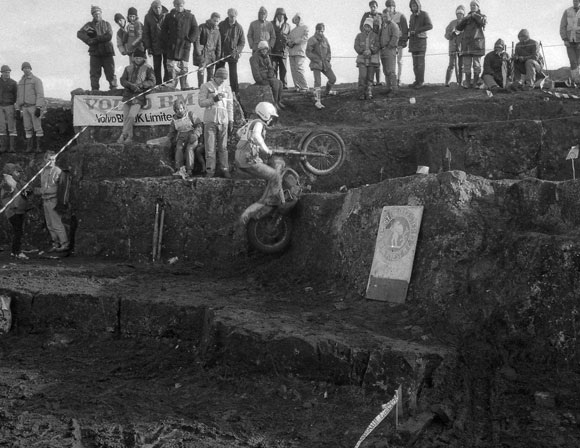 Jules and Clare Observing the World Trials Championship round in Wales at a West Glos manned section 9 in Morlais Quarry, (possibly 1985/7 with John Lewis, Shane Hillman and Malcolm Harvey +?). Notice the Original West Glos board, No expense spared by our PR dept. Painted in the club colours of Red and Green (suspiciously like the colours the Post Office used on their vans - thank you Hannam's.) Colours used to this day on our website. (Did anyone spot Tony Falconer?)
Very early (pre TY80) trials memories include a trip to Morlais Quarry near Merthyr in Ray Morse's Scimitar for a World Trials Round (SES wiped the floor with the World on 72, next best on 92), and a trip to watch Kickstart in Len Ore's Maxi which ran out of petrol at Gloucester. I have a few less memories than Ben and Dan (but plenty nonetheless) of heading West to the cold Welsh mountains and East (ish) to the Cotswold mud for trials due to the aforementioned black sheep decision. I also recall a few GSTC trials camps and Saturday morning rides up the mountain in the good olde days, and whilst unrelated to Dad, it does give me the excuse to mention the instance where one poor sod fell into the Portaloo cesspit. During my short trials career, he was happy to cart me around the country for National trials such as the Vic Brittain, Colmore, Knut and Manx. It must have been painful for him as trials and I never really clicked but it was still never too much effort.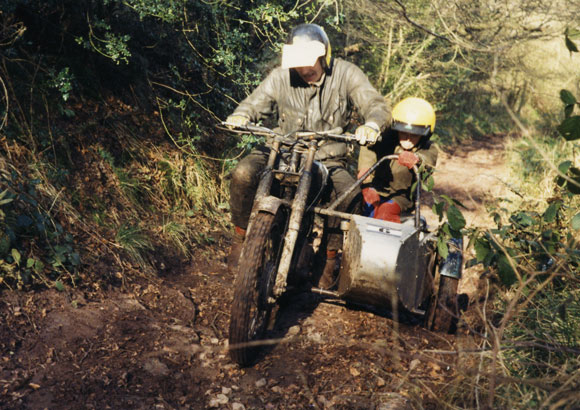 Jules and Joe about to get a 3 on Craig-Y-Master in the 1990 Wyegate, but still came 2nd. Look close at the sidecar wheel, it's about to hit a 6" step sending Joe vertical just before the rear wheel does, which could have been the reason for some dabs! Pic: ed.
My fondest memories that really captured and personified him were many road racing trips all over the country. His passion, 100% commitment to do well, and disappointment when things didn't go well shone through in my memories of racing the Vincent, Windle Honda and LCR Yamaha. Nights in the clubhouse where rivalries come to a physical confrontation (not Dad, that wasn't his way), sleeping under the stars in the Brands Hatch paddock (too hot and too many of us to sleep in the van), and working out who he rubbed fairings with by the colour of the paint marks left on his bike. Occasionally, there would be an incident resulting in a panicked run back from my vantage point, but very rarely was he at fault. I recall the immense sense of pride when he came rolling back in from another win. 'That's my Dad that is' I would think but never say. He even managed to get me in the chair on a few occasions. Once for the Wyegate when I was probably about 8 years old - unfortunately, there is photographic evidence so denial is futile but at least we've photos of Dan in the chair on the Wyegate and Ben in the Welsh. I hopped on the back of the Windle when he was doing a test on the Stepbridge Industrial Estate by Jewsons – whether this was a public road was a little debatable so that was enough excuse. Bearing in mind I had never been on anything faster than a trials bike or pillion on one of his many clackers at that point in my life, I expected him to take it easy. Wrong! A full-bore blast up and down again on the CBR1000 powered monster left me speechless. Perhaps it was out of that terrifying experience, my love for speed related disciplines was born. I also 'sat' in the chair for the Festival of 1000 Bikes at Mallory (remember Dad, it's a parade not a race) and suddenly got why mum loved it so much – leaning out of a front exit sidecar with your head inches above the ground was, I admit it, exhilarating.
His Castrol R blood (with 50:1 mix with cheap red wine and export lager) carried on flowing even when at home, as even when not riding bikes or talking about them or working on them ... he was watching them. Towards the end, I enjoyed watching the craziness of the 2020 MotoGP session with him and it took me back to when I first started watching motorcycle racing in his company. I would guess it was late 80s that I recall heading over to John 'Ratty' Price's (co-founder of Biker Dean with Dad I believe) as John had Sky (wow!). Our viewing pleasure would occasionally be interrupted by John shooting birds in his garden with his shotgun, right from the comfort of his armchair next to me. At least he opened the window first!
Dad's passion for two wheels has largely been passed on to his children and grandchildren – albeit in my instance with a slant more towards the unpowered formats. I'm afraid only 67% of his passion for 3 wheels has passed on but you never know, that might change down the road. Also passed on is the competiveness and 'don't bother just turning up, give it your all' attitude that drove him to multiple British Championships. This I hope is reflected in our own riding styles and successes. I think its fair to say you won't hear many people shout at a Bishop – 'I think you could have hit that harder'! I'm sure he'd have taken comfort that we were all out doing bike related activities when he passed, and we take comfort that he was riding bikes (mountain and motorcycle) right up to the end. I won't just remember his passion though. There is so much more. His engineering ability has been mentioned many times – for me it was my first bicycle which was a drop bar racer that Dad modified to put flat bars on (long before mtb days), and a home-made Bogey (go cart) which of course had handlebars on (there's a theme!). Also his breadth and depth of biking skills, his innovation and out of the box problem solving, his never-say-no helpfulness, his ability to inspire and touch the lives of so many others. There are so many examples of his legacy: individuals who took up racing sidecars, events he helped create, the WG club he helped re-invigorate in the 80s and continued to contribute to for many years, the influence in the direction of National trials through running the controvesial Cotswold Cup during a period of change in the sport, the extent of allowable modifications in vintage sidecar racing (or as Cliff put it, 'they changed the rules to stop him winning'). The list could go on.
So to me, my Dad was the perfect role model for living life to the full, balancing family life with his passion for motorcycling and throwing in ample contribution to the sport he loved. He was a great man, a great father and a great grandfather. He was always there to help Leona and I through the ordeal of having twins by offering his calming support and taking them for a walk. At some point, I will start to look forward and I hope I take inspiration from the way he lived his life and the person he was. Maybe I need to ask myself questions like:
• Its raining outside and I'm unsure if I can be bothered to go for a ride – I'll ask 'What would Dad do?'
• I'm a little unsure about committing some personal time to help someone develop or contribute to a cause – I'll ask 'What would Dad do?'
• I'm considering doing something different but I've a niggling doubt – I'll ask (you guessed it) 'What would Dad do?'
The answer I get will always be the right one. So Dad, I hope there are endless woodlands, open moorlands, beautiful mountain roads and road circuits wherever you are. Ride forever JCB.
Joe
---
All my childhood memories (and many of my adult ones) revolve around bikes and one of my favourite smells is 2-stroke mix and Dad is synonymous with that (as are Mum and my brothers and many of you in the motorcycling fraternity).
One of my earliest memories is a family holiday to the IOM – with me, Dan and Mum all in the sidecar (me and Dan would have been pre-school) – and watching from the churchyard at Braddon Bridge(?) In later years Dad would get us up early to go to early morning practice and then back to the 'digs' for breakfast (kippers in his case!). Then there was the time he took me and Dan 'on holiday' greenlaning on a Wasp – we could hardly see over the sidecar handhold - definitely some disapproving looks as we crossed the Severn Bridge – and after a day of getting me to pick up electric fences (he told me I'd be ok with gloves on and not to worry about the tingling) we slept on the side of a green lane somewhere in Wiltshire.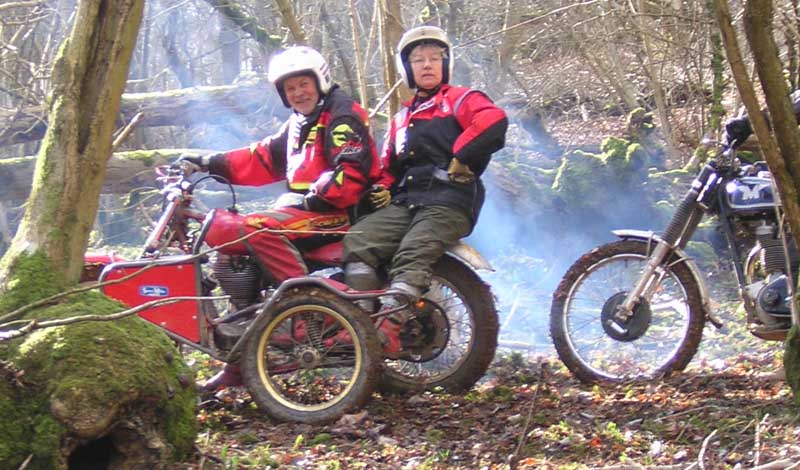 Jules with Clare on the Enfield at the CHG's Barrett Sammy Miller Championship Trial round of 2004. BenF's Report. Pic: Viv Jones (age 12)
In the 70's me and Dan spent a lot of time at racing circuits, as Dad and his mates would push their bikes up and down the paddock to get them started, and then we'd be lucky enough to be asked to twist the throttle (just enough) to keep them going while they got their leathers and helmets on. Not much parental supervision, but at the end of the day he always knew where to find us – sat in Dennis and Margaret Quick's car (the original owners of the Vincent sidecar).
I was lucky enough to experience the thrill of riding pillion with Dad over the years. As a kid I was always waiting for my turn to come round to go out with him for the day. I was never scared as I trusted his skills implicitly, but he taught me to be careful about who I got on the back of. In the IOM when I was about 17 a guy in the same 'digs' asked to take me around the TT Course for the day – think he got a pep talk from Dad before I was allowed to go! I might add this was about the same age that Dad said to me I should get myself a 'proper' boyfriend – one with a bike – after our next door neighbour's sister rocked up with her boyfriend on a brand new Fireblade (or similar).
My return to passengering was a track day at Mallory – on the yellow worm or the LCR(?) – on a very very wet day – on mum's licence (good job I look like her even if I had aged 20 years on that day). Dad always loved racing in the wet, so it's a good job I'd been trained from an early age and my passengering instinct kicked in, as despite the wet it was very quick and I wasn't quite sure if I would end up flying over the front on braking or out of the back on acceleration. Like Joe I also did the Festival of 1000 Bikes a few times – while he was trying to recruit me as his full time passenger after mum had retired (apparently I was the perfect size for a passenger!). Which brings me onto my many 'rescue' trips - living in Leicestershire being the closest at hand to Mallory, to do hospital/van pick-ups. Much closer than a trip to Pembrey from Northamptonshire to pick up the massive Yellow van (biggest before you have to have a HGV licence) – after Dad AND Mum had ended up in hospital. I'd never driven it before but I was the only one around old enough to be on the insurance.
Then there is the Bishop Health & Safety!!! There was one instance where Dad had about a dozen kids piled on a (Greeves ?) sidecar tearing around a field. I was shouting to stop but he thought it was to go faster. Because we were so squashed on, my heel had got jammed in the sidecar wheel. No A&E visit though – medical care and sympathy was a packet of crisps to go with the lemonade at the obligatory post event pub visit.
So onto the infamous Engineering skills ... There is a saying in the Collins Household "if you want something fixed get a Bishop to do it" – so with me being the only Bishop in the house – that means me ! So I employ all my Bishop Engineering skills learnt from Dad – Duct Tape, WD40 and a Hammer (Dad claimed it should also include zip ties but I haven't progressed to that level of expertise yet).
Even drinking lessons had a bike theme. It started with Cider Shandy, served in glasses with different bikes on them, and depending on your age whether it was filled up to the wheels, tank or over the handle bars (there was also a Bishop competition at this early age on who would get the best bike glass) then the Club nights at the Miners, and of course the hours sat outside a pub with a lemonade after events as a kid.
Dad also gave me a love of music. Whilst at Poly he used to send me 'tapes' of the latest music he discovered, which I'd listen to while taking the racing line - learnt on the back of his bike - over all the roundabouts to/from Brighton. Even in the last year he was raving about the likes of Fontaines DC, and in the last few weeks set me 'homework' to re-listen to Delroy Wilson 'Sarge' album (a Jamaican Dub Reggae import he's picked up in St Pauls in Bristol in the 70's).
Thank You for sharing all your memories of Dad, and I only hope that he knew how much people loved and admired him.
Rach x
---
Lining up for the Manx at the weigh in. The year before Joe was born - 1977 When he returned home, Clare told him she was pregnant. He sold the bike and paid off the mortgage.
Julian was an outstanding all-round motorcyclist and just a wonderful person to know. He was known by many, and each will have their own stories to tell, so here are just a few thoughts of mine.
I think I first met Julian after his return from the IoM, when his TZ was in the shop window of Biker Dean, more than 40 yrs ago I reckon. I remember seeing him race his Comet at Staverton, and even got roped into doing fuel for him and Steve Price at the Welsh - running around with a gallon of juice in each pannier on my old BSA!
Sometime in the 90s I met him at a Cider festival at Harrow Hill, where he persuaded me to come along to the West Glos meetings (it was good cider).
He taught me how to fall off an old XR250 while Wyegating! Then it was off to France with Chris Evans - over the years I think we managed to do all the available routes and many we went back to do again.
For a change, we went through Spain and France to trail ride in Andorra - not as good as Chris Evans, but the road bike trip via the Picos and over the Pyrenees made up for it.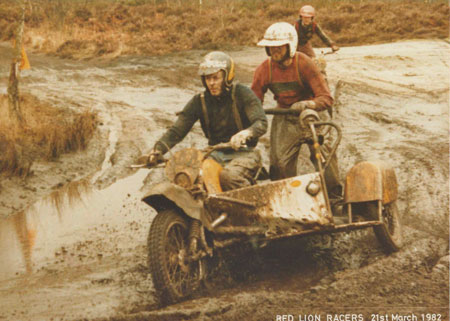 Red Lion Racers event at Salisbury plain Weaver's Down. Jules and Steve Price 50/50 owned Norton Wasp.
And then later went back through Spain again with Taff to Morocco, just to see the desert.
After that, it was back to Spain yet again for the Alto Turia, and a week of navigating through the mountains near Valencia. For a change, Julian organised a rain free road trip around Ireland with myself and Cliff, a most enjoyable and relaxing tour. In between all that, there were all the other enduros and trail rides and even a bit more Wyegating.
And after all that there was still time for mountain-biking around the Forest, and many a night chewing the cudd at the Tufty. Julian may be gone, but he will always be here in my memories, as I know he will be for all who knew him.
R.I.P., and thanks for suffering my foolishness!
Vess.
---
Royal Enfield Constellation - 700cc parallel twin. Still owned but in ISDT trim and regularly ridden (Pic.)
For me as a relative youngster Julian's achievements were always something to look up to. I can attest to Cliff's remarks on his smooth riding. On a trip home, after we had spectated at Church farm on the W2D, probably 10 years ago, he told me he had an interesting way home if I was game, which I was. I don't remember the exact route but it was off the A44 at Fforest Inn via Clyro then on to Monmouth. It remains the swiftest, smoothest and safest cross country ride of my life and I will never forget it or forget Jules. I cannot begin to tell you how much I admired him and the privilege it is to have known him as a friend. He is irreplaceable.
Darren Thomas.
---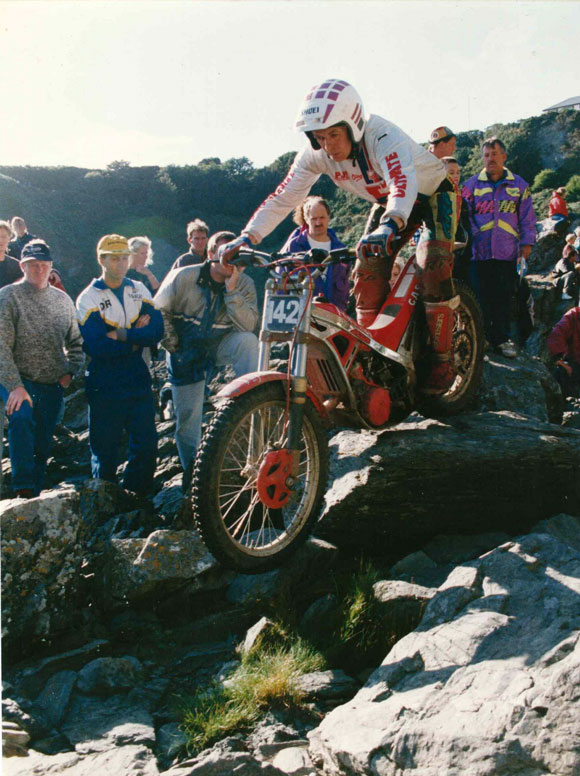 Jules on 94 Fortuna GasGas, ex Steve Saunders, now owned and ridden by Darren Thomas. Circa 1995 Isle of Man 2 Day Trial South Barrule Quarry.
My first memory of meeting Julian was when I was about 17 and went to a trial at the Royal Spring. I remember he had a big Citroen estate and one or more junior Bishops were riding the trial. I soon became a regular club member after that but didn't ride trials!
I too, like Darren, was involved in a swift ride back from Mid Wales. I was on a Blackbird and Jules was on his BM. He was one of the first to own a GS. He passed about 6 of us including me on the Blackbird through a set of bends and I didn't bother trying to keep up!
He guided us around many Wednesday night rides in the forest on mountain bikes and was always there for the "apres ski" debrief. There was always plenty of banter. Jules was always interesting and entertaining to chat with in the pub but always modest. I remember him telling us about a "junior" rider who was a bit too forward and greeted him with "alright Jules" and how he used to mutter back "Mr Bishop to you" since then it was always "Alright Jules" whenever we saw him which always raised a smile. I've learned a fair bit of his many achievements from Cliff and Vess above, which just goes to prove the sort of a guy he was. Bike club and evenings in the Tufthorn will never be the same.
Anthony Moore.
---
I was first introduced to Julian by Cliff as a drive by & Cup of tea. I was "A Watcher". To see race bikes, with numbers on, in this stone shed, a Suzuki "Kettle" and TZ350, this guy was a "do'er". One of the photos showing is at the Talmag cleaning Hungry Hill in, I think, 1980. I ran around behind him all day, cos I knew him & he won ( I think I had some influence!)
Making Lydney my base most weekends and becoming a Trials "do'er", I travelled to those "West" trials quite often in the Transit van and yes Ben, it was fun pouring the coffee and I am convinced he knew how dry those cheese sandwiches were, if they were DRY you also got one, Jules didn't give that much away. We were now regulars on a Sunday night in the Miners putting right what had gone wrong that day. I was learning to be self sufficient, bloody minded whatever, just as the boys were.
The Vincent outfit was ready for a test at Mallory Park but Clare was unavailable, "bring your leathers" and this was my first introduction to Road Racing. He admitted on the way home that he'd had "better passengers". I was honoured to be their "dogs body" for 3 seasons and seeing the best and worse that could be gotten from that bike that I lovingly polished.
As an engineer he gave me valuable help when I got my first outfit but one thing was off limits, welding on my handlebars, "NOPE, with your new brazing skills you can manage that".
After buying my own LCR my racing was on the up, Julian's had finished and although he was interested in exploits over a Sunday night pint it wasn't the same as duelling together.
Taking up Classic sidecar trials just as he was beginning to retire from this activity our paths didn't cross as much as they did (couldn't afford to drink as well) because there were two quotations of wisdom that he gave over those pints..... "Never get into debt over your sport" and "Always finish in the garage, ready for the scrutineer on a Thursday so you are free on Friday for a pint". I feel honoured to have been involved with a "do'er", a great engineer who quietly, was proud that he built his own and beat them with it.
I felt that I had been taken under his wing and through competing together I hope he saw that some of his wisdom had rubbed off.
I'm sure that although our contact had waivered our bond was still strong as he came to say "Goodbye" 2 weeks ago.
RIP someone that I classed as a FRIEND.
Ian Hannam.
---
Growing up with Ben (and the other B's) has given me the privilege of knowing Jules pretty much my whole life. Maybe my perspective is a little different from most as in the early days I knew Jules as "Ben's Dad". A giant of a man who always seemed to be playing with mysterious looking bikes in his workshop. (I now know these to be sidecars, still mysterious!) To a young lad it was an Aladdin's Cave of bikes, machinery and all sorts of weird and wonderful looking things. I always looked forward to seeing what would be in Aladdin's Cave on my next visit. Maybe a bright yellow sidecar that sounded like a jet fighter.
As time moved on and I began racing myself "Bens Dad" became Julian. Weekends would be spent loading up the purple van and trailer and heading off to Wales. In those days it was the only way I could get to races and I'll be forever grateful for the help. Eventually he left us to it and came to the events on the GS, probably wanted some peace.
Like everyone, I have so many memories ranging from childhood to more recent times. But probably one of my favourites was the Welsh 3 Day's in 2000. Somehow Julian had convinced Ben to be passenger that year. This was a source of great amusement (read p*ss taking) as Julian's love for sidecars hadn't passed down to Ben! Let's just say banter was flying, especially when the seat fell off during the motocross special test.
When I first started racing, Julian's advice was "buy the best bike you can, it will help your progress". Well, I've followed that advice. In fact, my last conversation with Jules was just a few weeks ago while showing him yet another new bike.
Thanks for the memories Mr B.
Simon Ellway
---
I felt I just had to say a few words of my own about our great friend Jules. I was first aware of him in the early eighties (I think) when I saw a full 2 page report in the MCN national publication recording the results of the famous Talmag Pre65 trial. I was immensely proud that a local rider had won this prestigious event beating 11 times British trials champion Sammy Miller into 2nd place, plus a picture of Jules on the 350 Enfield in full colour.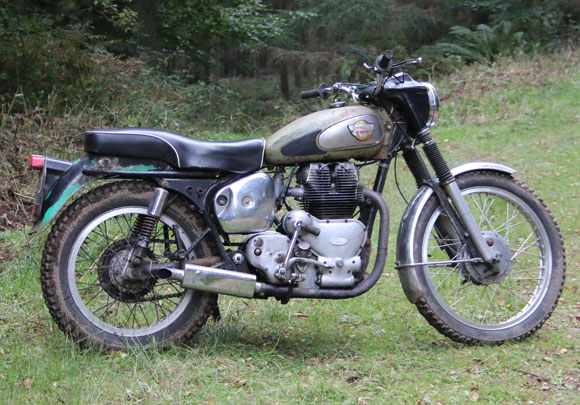 Jules has previously used this Enfield Constellation 700 for roadracing (Pic.) but enjoyed transforming it into its current ISDT Spec. It was used as a trail bike/run around, shown here at Stony Green 2015 on Observing duties. I'll have to check but suspect this could be the bike he used for the first WTRA Beacons Enduro when the event still went over the mountains, or was it on a single?
Many years later, at the ripe old age of 42, I finally had a crack at the off road game and joined West Glos, meeting the great man for the first time. I later asked him about this sporting milestone, and in true self depreciating tone reckoned that it was only because Sammy incurred a time penalty for yakking to his many followers on the way around. Let me tell you to beat Sammy Miller on GOV132 on a Home built Enfield was no mean feat, time penalty or not!
I soon learned of the Bishop dynasty with Jules at the helm ably assisted by Clare and all the talented offspring who were always involved in club events either organising them or supporting them and giving much assistance to any club member who wanted to do the same.
I too was privileged to a fast road ride behind the Bish at the end of a treasure hunt (remember those) I think he was on the Beemer, not sure, but I just about kept up on my CB750 F2 with son Andrew on pillion. Upon parting company at Jules' house, I mentioned that I had enjoyed the event but enjoyed the ride home even more so. I also had the privilege of watching him race the Vincent outfit at Mallory Park whereupon he blitzed all the opposition. I also got some special parts machined for the Vincent at SPP Pumps after he had left the company that he couldn't do in his garage.
Where I will miss him the most now is at our twice monthly club meetings where after the formality of club business and the entertainment of "who's been out riding?", glasses were refilled and we all shuffled off into our age group corners, I invariably ended up in "old farts corner" as I affectionately call it, with Jules, Tony, sometimes Stan and occasionally Alf. We recalled events and machinery of ages past and riders of that era. I remembered them, Jules was one. Many an engine was rebuilt, many a tale of past adventures retold during these times and it just won't be the same without him.
The word LEGEND is bandied about loosely these days, Julian Bishop truly was one, may you rest in peace JB.
Merv Morgan
---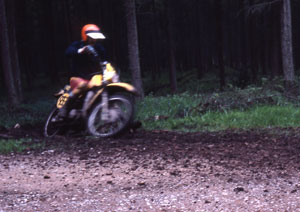 Jules rode the first Hare and Hounds Enduro in the Wentwood by our friends in WTRA. The 400 Suzuki may have been borrowed. He was soon to acquire a SWM for serious enduro's. Pic: BenF
I first met Jules when I was just about 19 starting out riding Trials. Ended up visiting the Manx 2 Day for many years with a large group and Jules would be on hand for some advice and help with any mechanicals! He took us along to watch IOM Grand Prix practise at Bray Hill, something you can never explain to anyone just how amazingly fast those riders are, it has to be seen to be believed. Julian had a real passion for the Island, he was not so keen on the Steam Packet rip off ferry service!
MTB rides on Saturday afternoon would be a good 2-3 hours but always ended with a post ride debrief in either the Tufty or Rising Sun in Ruspidge if we ended up over my neck of the woods. Clare would come and drag him away from the pub for his regular Saturday night pizza! One memorable ride where, as usual, Julian had planned a route and was guiding, he'd spotted an old tunnel that he was curious to try riding through. What we didn't know was all the local sheep had been using it as their toilet for the past god knows how many years. Once committed we had to keep pedaling as it was six inches deep in sheep 'stuff' and we couldn't stop, by the time we made it out the far end you can imagine how we looked and smelt, we have chuckled about that on a few occasions since!
Jules and I bought our first GS 1150 at the same time and as such would head off on superb trips around the likes of the Elan Valley etc… Often with Clare and Nic on the back. Jules knew most of the lanes and cut through's like the back of his hand and would always guide at a brisk pace!!! We'd always drop in to a pub when closer to home for a quick post ride debrief, Jules always knew the most out of the way pubs in the likes of Tintern, tucked away up a narrow out of the way lane. Great times.
After much persuading by Jules I bought an Enduro bike, KTM EXC250F. To start, I rode a few Hare and Hounds events with him down near Bristol & Bath. He then convinced me into doing some Rallye's down in Wales. So progressed onto an EXC450, best move ever. They were fantastic events. Julian had many good friends in the world of enduro and as such got me invited to help out with opening the Welsh-2-Day for a few years, what an absolute privilege. I have great memories also of the trips made with Jules and Vess to France on the Chris Evans rides. Again, fantastic events and memory's.
With the time pressures of running a business and family commitment's I've not seen anywhere near enough of Jules in recent years, that I now regret. I always looked up to Julian he was a very clever, modest and talented man with a superb sense of humour. Myself and Nic have always admired Julian and Clare for the way in which they have raised their family, and for the values they hold. If Nic and I can do just half as good a job as them raising our boys we'll be doing well.
Thanks for the friendship and great times Jules, ride on.
Chris Haines
---
Dropping off some trials boots and collecting a huge amount of 'pass on' clothes, shoes and trials kit from the Bishop residence was the last time we saw Julian. As the kids played in the garden on the adventure playground, Julian popped out between Moto 2 and MotoGP to say hello. I shared my recent hand injury and expressed sympathy for Ben's broken finger at the same time. Julian's response was 'it is only his little finger and you can move your hand' (all said with a little smile). No more whining about my hand to the physio then, best get back on that bike!
Julian took on the task of teaching our Mum how to observe at one of Dad's early trials, it's a shame he focused on Mum's observing rather than Dad's riding. My Dad has huge respect for Julian, he respected his engineering ability; the get on and do it approach to life on bikes and even more the fact that he had the same values that our Dad insists on in all Welch's. You have to put your fair share into events to enjoy the sport you love. Recently Dad spent some time with Julian as he took him through the photo album, I have heard at least 3 times about what Dad saw, it obviously left an impression.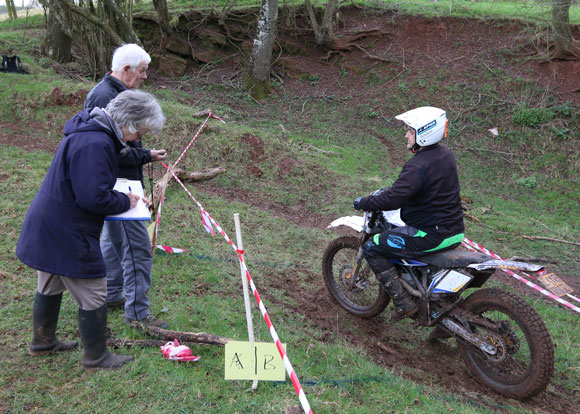 Jules and Clare running the timed special test at the 2017 Wyegate, clearly astonished at eventual winner Chris Koch's time. Jules has also won the Wyegate, The Sidecar cup, stabilised by Ben Bish back in 1983.
To me, Matt and James, Julian was the organiser in our neighbouring club. He was the man behind the table at the start of a WGDF event, the bloke holding an observer's board at most trials we rode, or the chap delivering the key message on the Clerk of the Course training. More recently we knew him as the proud grandad at the YDS events. Julian was instrumental in getting the YDS using the Longtown venue and giving other youngsters the opportunity to experience those fantastic slippery streams. He has also ensured that they experience what it is like to hear the same tales over and over again in the pub and watch your Mum or Dad try and get in a tent or van after a few too many pints in the pub (Ellyn, Millie and Lucy were very grateful Daddy sleeps on the bottom bunk in the van). It was walking back across the field at Longtown (wondering whether Harry would remember to pull the clutch in at the Van!) that I told Julian how grateful I was to have the help of Ben and Joe as they picked up the flags from the section, his response was 'good parenting'. He was joking, but also spot on.
Julian was always good for advice on a line on his section and equally happy to 'encourage' us experts along with a reminder of the finishing time of the boxing day trial. We all knew where we stood and the rules were in place, so best crack on. His advice to Matt when he commented on his poor form was to point out he was over 40, overweight and unfit, all delivered in straight talking good humour and factually correct.
Last year I was at the start of the Wyegate without my machine (preparation of the Enfield had not gone to plan) and Julian asked me and Dad why there was only one Welch out. On hearing that I was without a machine he expressed his disappointment that I hadn't told him as I 'should' (not could) have ridden his Enfield. I didn't tell him I probably couldn't start it.
We were out with Ben, Harry and Fred on Sunday in torrential rain looking at sections for Boxing day and when I told Matt later that day about Julian, he said how he had sat on his Mont looking at Ben and think how much he was like Julian. Little did he know at the time the news coming later in the day. The Welch's are very grateful for all that Julian did for our sport, having enjoyed many of Julian's events and more recently spending time with his sons and grandchildren who show that the true 'Bishop' grit will definitely continue on.
The Welch Gang.
---
As a relatively newcomer to the West Glos Dean Forest MCC family, only having 21 years active service under my belt, I became a close friend of Julian and whilst I didn't ride trials or even have enough nerve to sit in a sidecar next to him, I know that he excelled every time he swung his leg over a bike.
I too witnessed this on the exact same ride that Anthony Moore mentioned earlier ... it was decided we would have a gentle group ride to Cwmythig Hill for the evening's MX races. On the way up at one stage I was out in front and thought I am holding my own, only to have Julian pass me on the underside of a quick left hand corner on the BM at a lean angle that made me look at best average with his leg kicking out in a message that could only mean one thing, move aside youngster. The rest of the group following spent all evening and many years after reminding me about this! I will not bore you with the all the details on the return trip home, apart from we left Cwmythig at 9.45pm after the last race and it was decided a pint at our local HQ, the Tufthorn Inn, was in order. If you think this a tall order (65 miles) I can tell you we made it even with having to refuel the Blackbird in Hereford on the way back. Sadly Elaine, the landlady, had closed early...I sold my road bike a month later, wasn't for me, easier to say it don't hurt when you fall off in dirt.
Some of my best memories with Julian are from our Wednesday night Mountain Biking, known at the West Glos bike club as 'Digression', almost like an underground movement not talked about at club without frowns being raised. So for 20+ years these weekly rides took place and Julian, as the Senior member of the group, was the guide and we used to chase him round the woods and even though he had quite a few years on us he was alway at the top of the hill first with a big grin, as one by one the youngsters turned up out of breath and covered in sweat. It was particularly entertaining in the winter when he broke out his trusty purple MTB jacket, which at the rear had a tail which looked like a thong, and from behind smiles for miles every time we followed him! Of course these rides were first set up to help fitness for competing in events and as such we used to ride for 2-3 hours then return to the Tufty for a debrief pint. However, as the years progressed the percentages of riding and pub changed places. Occasionally we would have a treat and visit a different pub whilst out riding, including the Ostrich in Newland, and on one particular night ride we ended up there and they had one of Julians favourite tipples "Old Rosie Cider". Much merriment was had that night and at closing time the West Glos mountain bikers headed off in various different directions and as I lived near Julian we headed home together and we laughed and wobbled all the way up through Clearwell. Doing really well until we got to a really short piece of off road by Sling, the speed started to increase and the giggles got louder and then Julian disappeared into a large bush and went completely out of sight! Once we stopped laughing he realised he had snapped the chrome peak of his prized helmet, which was a hand me up from one of his sons!
These Digression rides still take place every week and Julian eventually retired as chief guide and formed a B group with a few others, however, the reins were now handed on to the younger Bishops, Dan, Ben and Joe. The only problem now is that instead of 20 miles of flowing single track with Bishop Senior we now find a hill that is steep enough to take the bubble off the spirit level, swallow hard and ride down with much encouragement from the Bishop Juniors.
I have had 20 years of laughter, to the point where tears roll down your face, with Julian and our Wednesday nights and Digression has been at the centre of this. I don't mind telling you I shed a tear when the devastating news came in of his passing.
Ride In Peace my friend I will miss you ...... Mike
---