Xmas Trail Ride 2014
We hope to add links to a vid here later. If you've got more then contact us please. admin@wgdfmcc.org.uk
Words: Rod Jones Pics: Vess
Ponterwyd Mid Wales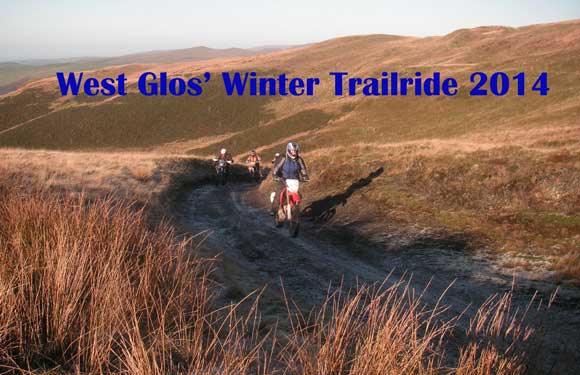 The two day Christmas trail ride is now a bit of a regular club outing and the latest ride was led by Marianne Walford of Trail Rides Wales from The George Borrow Hotel in Ponterwyd. Nine of us made the icy early morning start on the day after Boxing Day on a mixture of bikes, easiest just to list them:
Guy Calderwood TM 300 2T
Anthony Moore Gas Gas Cami 250
Mike Wells Husqvarna 450
Vess Gas Gas EC250F
Mike Allen KTM 350 EXC
Josh Allen KTM 125 EX 2T
Rod Jones Gas Gas 160
Ben Bishop KTM 350 EXC
Ian Wixon Honda XR400
and our guide Marianne on a Honda CRF 250L.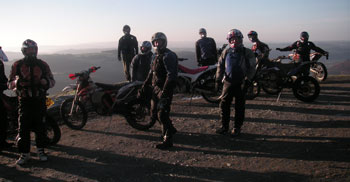 We got away just after 9.30 am after a little plug changing fun for Vess and straight into the trails behind Nant Yr Arian MTB centre. We rode most of the best lanes in the area and made our way to Machynlleth and on to Happy Valley, a fantastic rocky 3 mile lane which we all enjoyed although a brush with one rock cost one of our guys h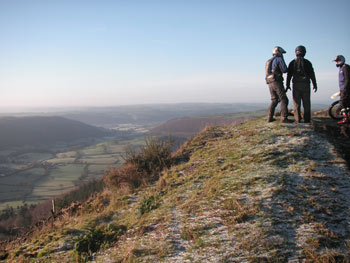 is light switch, more of that later. On to the Dysynni Valley and then climbing over the seaward end of Cader Idris with great views of Barmouth Bridge and the Mawddach Estuary. Interesting crossing of the Mawddach on a railway bridge with a wooden path along side the train track. The bridge was recently made toll free as part of the Wales Coastal Path. The road along the north bank of the river took us to one of the highlights of our ride, Pont Scethin on the southernmost peak of the Rhinog mountains, Diffwys. The mountain itself is 750 metres and our track crossed the ridge at 572 metres, and yes, it was snowing up there! A steep old climb and Rod found the limit of trials tyres on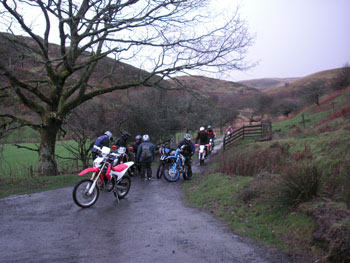 the grassy slope, but some assistance from Mike A, got the Gas Gas up there. The descent was across some very wet and marshy land with large slabs of stone making an ancient trading roadway leading to the very picturesque Pont Scethin pack horse bridge. Vess had arrived and got his camera out pretty smartly here, he got some good pics. Ian had by now grown to enjoy the benefits of his new electric start XR400 after getting an aching right leg starting the other XR. Our guide had chosen not to attempt this challenging section of our route but she was there as we joined the tarmac near Dyffryn Ardudwy. Coming into this village brought back happy childhood holiday memories for Ben who told us of regular Bishop fam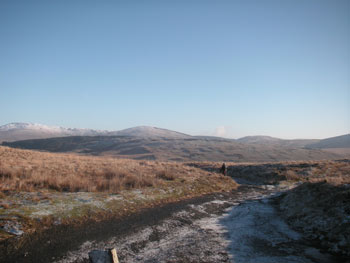 ily outings in summers long gone.
We were reminded again of guide Marianne's local knowledge when we found a cracking Barmouth seafront cafe for lunch, very welcome.
Now full of pizza, burgers, chips and tea, we started off heading south to our finish. A bit of video filming on the re-crossing of Barmouth Bridge by ace camera man Josh went almost without incident. Almost, the very slippery wooden bridge deck doesn't reward use of the front brake and a couple of hand guard shaped scrapes are now in the bridge deck as a reminder of our trip!
We were pretty much retracing our outward route so over Cader Idris again, maybe a bit quicker now with Mike A. doing his best to shift all the loose mud on the track up onto whoever got too close behind. Anthony couldn't resist a couple of passing chances and got filled in for his efforts! Neither could match the 450 power of Mike W's Husqvarna though, it certainly won't wear out the front tyre too quickly, it's up and wheelieing without much provocation and will be quite a useful tool in Mike's Big Bike Rally Championship.
It was now late in the afternoon and with temperatures around zero degrees there was plenty of ice on the tarmac lanes. Josh found a very slippy patch on a hairpin left junction and when he got up found it too slippy to stand up. He'd had a good ride though, must have been the calming influence of the rest of the West Glos crew!
Next up a return through Happy Valley and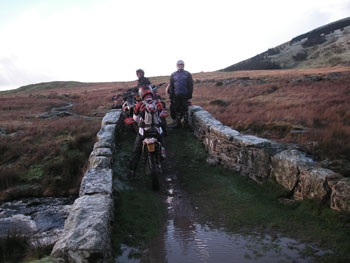 then quite a lot of road work before turning off in Bow Street towards Nant y Moch. It was dark now and our group split into two with Ian, Rod, Vess and no lights Guy (Happy Valley rock spill) opting to take the A road back to Ponterwyd with Ant, Mike A, Josh, Ben and Mike W following Marianne across the dark of a lane which she'd named 'Nice View'. It probably was in daylight! All those Wednesday night MTB rides in the dark must have given them the appetite for it. The day's final drama was back at the hotel when Marianne's ice covered truck didn't want to start. Lots of poking around under the bonnet and efforts at jumping it off a spare battery came to nothing and eventually Marianne's husband Colin was summoned and he got the thing going.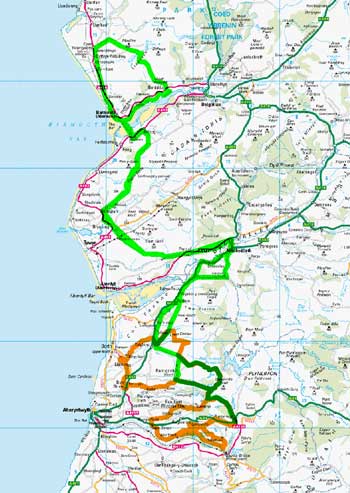 Day 1 Green Day 2 Orange
About 5.30pm now and we were all safely back, not too much fettling or cleaning, just get in the shower and then the bar. Carol Wixon and Angela Jones had driven up during the day and did their best to ensure orderly conduct during the evening. Surprisingly successful, with mostly everybody turned in before midnight.
Here we are, it's Sunday morning and very icy, going to be an interesting day! After fuelling and some minor maintenance we were ready for the ice. Up towards Nant y Moch again and it was fine on the gravel roads with bright sunshine and more fantastic views. A lot more trail riders out today, with a few seemingly unregistered bikes amongst them. A few more photo stops and we were heading back towards Ponterwyd for lunch. Marianne had requested that one of the guys took the lead and ice spotting duties on the tarmac but just for a couple of minutes she was leading. And it was only a couple of minutes, before passing Dinas Reservoir she hit black ice and went down like a sack of spuds! We all stopped and picked her and the bike up but it was so slippery that standing up straight was difficult. Luckily only a few bruises (don't ask where!) and the odd scrape on the bike was the outcome so it was back to ice spotting duties for us with our guide in the following pack.
Fuel and lunch today were in Ponterwyd and with temperatures still not more than a degree or two above freezing it was agreed that the afternoon would be an early finish. It was going to be over the ridge south of the A44 via Ystumtuen down a couple of very technical and interesting tracks into the Rheidol Valley. One very appealing track saw us all stop at the bottom and have a go up and down it again with a bit of enthusiastic and brisk riding! Ben may have claimed honours here but it was very close at the sharp end. Can't be a calm influence all the time!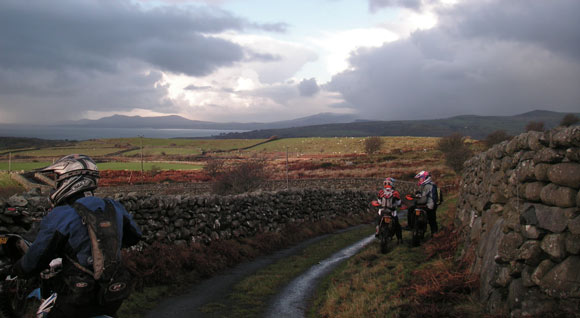 In the bottom of the valley the tarmac road was covered in ice but by now we were all 'Ice Meisters' and no incidents.
Last lane was a very interesting climb up towards Goginan with stream crossings, some mud and generally good uphill stuff. That was it, we were back at The George Borrow, we were all in one piece as were our bikes. We'd had no punctures, no mechanicals and no major get offs, apart from our guide that is!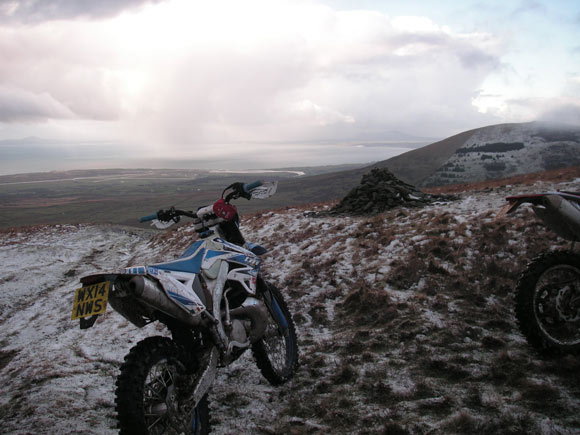 It was a bit of a chance getting a commercial guide but it was definitely worth it. Rod had a day out with Marianne eight weeks earlier to check out the terrain and her guiding and was convinced it was the way to go. It cost us a little over £20 a day each and there was no question of anyone's riding style being cramped or restrained, in fact never having to get a map out or retrace our steps for a wrong slot made for great progress.
Absolutely recommended, as was the George Borrow, where we were welcomed and looked after at very reasonable rates. A grand couple of days out!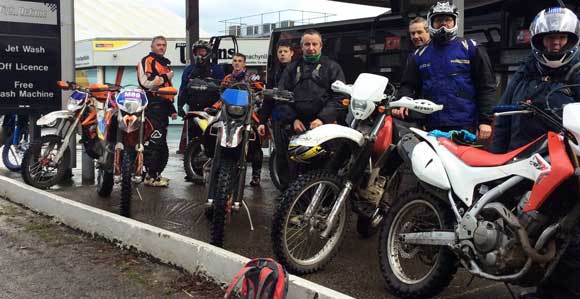 L-R: Mike W, Mike A, Josh, Ben, Vess, Anthony, Ian W, Marianne