Rally Events 2014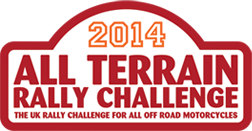 This is now our main Rally page where you may find links to previous Rally related stuff.
Latest:
Mike Wells pulled off a 2nd in Rally >450 Class. 10 points adrift of the overall win after an 8 round series where 2 rounds had to be dropped. His win at the Ryedale gave him a good points boost but only a ride at the Borders would have clinched a win from Ben Smith who has been riding like he's on a different planet. Being intact and 2nd is achievement enough.
Denver's only ride at Pikes Peak brought him 28th in RL>350, but Mike Allen held 7th in Rally Light <350 class. And Chris Haines, with his one-off ride, comes in 78th to show the entry was pretty popular through the year.
A quick look through the other classes show that Anth must be selling enough CCM parts as there were 3 CCMs in the top 4 of the Trailbike class
Previous updates:
After a few laps of the ATRC website we found the Pikes Peak results. MikeW comes in a safe second in Rally Class as winner Ben Smith was riding on a different planet! This matches Mike's results from the first round at the Brechfa Rall, so a 2nd in the championship with 6 to go.
Denver Rollings pulled off a 6th in 'Rally Lite 4 > 349' class and MikeA4 grabbed a 5th in 'Rally Lite 4 < 350'.
The All Terrain Rally Challenge has a web site – allterrainrallychallenge.co.uk/ Alternatively see Enduronews.com