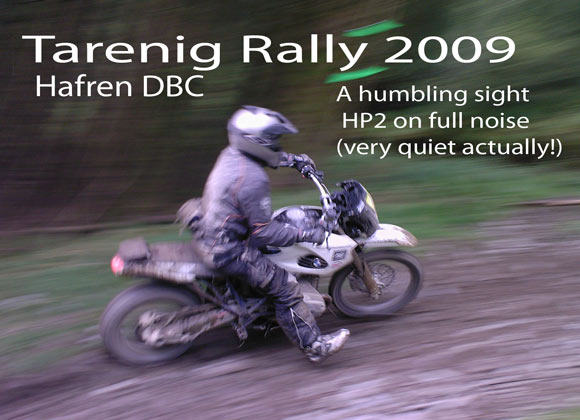 Final Results are here and our top riders in the Trail class were Owain Jones on the Haines & Co. Livery CCM coming in 7th and grabbing the best 450 award immediately followed by Jim Delahay and Peter Neale on those rapid Honda 230s. Jim also has the distinction of winning the 'Over 50' award, even more impressive for those of us who know how old Jim really is. And only 4 other 'mere' 50 year olds beat him fom the Sports bike class. (Now that is Cool!)
In the competitive Sportsbike class Anth Moore blasted the Haines & Co. Sherco SE250 round to 34th getting our members overall fastest time of 22mins 47secs, over a minute quicker than Owain. Next was Vess on the 525 in 40th then Mike Allen in 49th and Chris Haines in 53rd, All just that bit quicker than Owain then Jules Bishop in 78th with 25:35 which was just over a minute slower than Jim Delahay who also 'wasn't really trying', allegedly. Mercian's Phill Hodges had some problem on the last test but came 122nd then Rod Jones in 130th and Glenn Thomas brought up the rear thanks to 10 minutes piled onto his test 2 time which will take some explaining at the court of inquiry at next club night. Ian Beard got caught up in the hassle the Beginners class found at the killer hill as there was a large queue and the 2nd lap guys were needing to do their timed runs. They were somehow routed around the problem but Ian's bike would not start until he was last man away. Oh yes there is one other to mention, me.
Tales from a different Jones
The most important thing for me to remember (besides a key to the bike and bike lock) is my 'Observers pocket sized book of excuses.' so as I remembered that this time I've applied Excuse No. 745 to my story:-
I thoroughly enjoyed my ride of 15 miles. I'd ridden the technical downhill section which was brilliant and certainly going to be a challenge for the big traillies, then on down to the rutted section where I patiently waited for some stuck riders to get their backsides into gear Anth and Mike wriggled by, which was unfortunate as I then 'had to' nail it to catch them up along the mile long straight.
When I shut off there was a cough and a bang and a distinct nipping up feel followed by the sound of silence then a string of expletives. I rolled back down the hill to somewhere safe to work on it and got the plug out to see the gap closed up and a shiny bit underneath like something had impacted it! Nothing obvious was rattling around inside and there was a spark once I'd prized the plug open again and Jules came by and confirmed. Aware of my ability to miss the bleeding obvious, I thought I should run through all the other usual checks, So I stripped the carb down enough to prove juice was getting through and checked for a wet plug. Then slowly I realised I was either getting stronger in my old age, or compression was a bit lacking.
All of this took an incredible amount of time thanks to having such a great bunch of fellow riders who seemingly all wanted to check I was OK and could they help! thanks guys and gals.
Finally I gave in to wait for the next marshal to appear. Luckily Rowan Jones came by leading another retiree out of the woods and he gave me a lift to the next possibility of a ride out to get help, which was Dylan Jones' Van at test 2. Of course I was going to be stuck here until the end of the event. The downside was this was completely the other end of the course near devils bridge and where the bike was would mean driving against the course in a number of places to get to it, meaning it was safer to wait until the event was through. On a positive side the start of the test was causing no end of problems and proved to be the main problem for lesser lights. It was a steep shale climb after a corner. If you didn't rail the berm and keep it pointing straight you started to loose grip and restarting anywhere on the hill was impossible. This was consistently confirmed by Geraint, Rowan and Wyn Hughes when trying to help those struggling. It was easier to hold the next rider up before starting and let the problem rider come back for another go then if all else failed a good rider took the bike up the problem bit which by then had caused enough time delay to nullify any benefit but keep the course clear and flowing safely.
It was fantastic to see our top Welsh riders being able to just get on a bike that obviously need a training session to even start it then immediately ride down to level ground and fly it back up with loads of fellow Hafren club members with, I'm pleased to say, Mickey taking skills nearly up to West Glos standards, watching on. I will forever remember Wyn launching the 1200 Beemer up to find another bike stuck in the way and having to divert on a more difficult route. I thought once you'd filed a flight plan with one of those things there was no way to divert without a public enquiry and re-applying in triplicate! To be fair to the owner, he'd had 2 really good attempts at the hill and was so near each time, He really had some b.....Oh yes, Bottle is the word I'm looking for. And as one of the marshals said '...and bank Balance'; as it must cost 12k! Anyway, the next bit shows what it was like.
One thing remains to be said, thanks to the Hafren crew for putting the event on and specifically thanks to Rowan and Dylan for my rescue. If I enter the Hafren Rally this year do you think it might be third time lucky? and I'll get a finish? If I don't I can see me getting Rex Bendall's bloody award again!
Video clips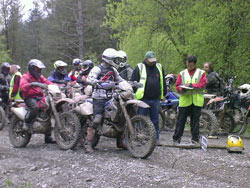 While I was waiting for recovery at the far side of the course I tried my Mobile phone to record one of the most difficult hills on the whole course. It doesn't look much with our superstars flying through it but this hill punished anyone making a slight mistake, veer off line by 8 inches around the corner and the majority failed to make it, returning to the bottom to try again. This was extremely entertaining watching the big bikes attempt it. Anyway have a look at some of our guys getting it right. Then scroll on down for the on-bike view from Vess, And his footage is not speeded up either!
Vess's Tales
It's nice to ride around with your mates all day. And of course, through the liason bits between the tests, everyone takes it nice and easy as it's not a race? Yeah right!
Excellent course with plenty of 'technical' bits. Perfect weather, and the only time we were hanging around waiting for any significant length of time was at the start of the 2nd test on the last lap. Many of the riders at the back of the field were struggling up the steep climb, so various members of the Jones family and their associates were having a great time riding their bikes up for them which was great entertainment.
Many thanks for a cracking event to the Hafren Dirt Bike Club. Vess.
Our illustrious Chairman Vess had his head cam going so if you want to see what the typical going was like then view his footage. Perhaps you'd better go to the toilet before viewing this first one as we don't want you wetting yourself when you see Mike Allen's antics. He later claimed he was just giving Anth a chance! But later on you'll see Mike repeating the tactics. Bless!
Test 1 Timed on Lap 2
Test 2 on Lap 1 (Not timed)
Test 2 on Lap 3 - You'll have to watch to find out who is lying on the ground this time!
Test 3 on Lap 2
Test 3 Lap 3