Wales GP World Enduro Championship 2008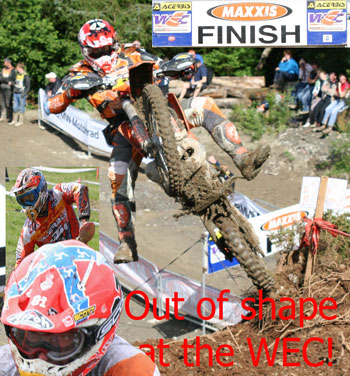 Hafren Dirt Bike Club certainly shaped up well for their first World class event. Slick organisation with a great venue.
Loads of our members were there, sadly none riding. However we certainly have some young talent in our patch and we should keep an eye on them and give them every encouragement.
The shot on the right says it all really - but only Lee Cuthbert was really out of shape, and even he landed it ok and carried on. Knighter was in great shape but not enough to tople Jonny Aubert in E2, also in great shape was Eddy who was right up Knighter's jacksy!. Tom Sagar (inset) had a brilliant ride to bring home a 5th in E1. That banner is there because the organisers were in great shape too. Well done Hafren!
Colin Says: What a stunning display of riding talent! I wish I'd watched both days. Roy, Matt, Viv and me trundled up in the truck to meet Mike and Josh plus a 'Clutch' of Bishops (Sorry that is an in-joke, unless you know about the CRF!) and an Italian full of Moores. We proceded to get ourselves split up around the Enduro Test and the Extreme tests most of the day. Thankfully we remembered the PMR radios which saved the day. If only Matt had one as well we'd have got back to the final test in time to see Knighter!


Viv and I had a wait up on the top of the Extreme Test where there were a few jumps, hoping the rain would hold off as everything started to go black. Sure enough it started to throw it down just as Jonny Aubert came along. But you can ignore the rain when you get a display like that! we didn't realise how good it was until superstars like Knighter came along a few minutes later and Jonny easily eclipsed him. If you don't believe me, these 2 photos will show the difference on the same jump. Jonny jumped between 10 and 15m and was smooth and controlled ready for the next jump, while Knighter was smooth and fast but on the ground and all in rain you struggled to see through (Those aren't grainy photos, that is torrential rain!). I'm sure that helps account for the 16.5 seconds Knighter was down on him.
Ben Falconer watched and filmed an excellent feetup display by Tom Sagar on the Extreme Test just before the end. Have a look below. Up now is Ahola on the same logs, which just shows how good Sagar was there. And Ahola at the top of the same test - and Albergone getting it almost wrong. Just look me up as bultac0boy and you'll see the links to the rest.
Ok Ben has now been topped for video work (see below), but those of us who digress into the MTB world know this brilliant videographer as the best there is. We are so glad he shares an interest in the powered world too. SO with no further blathering from me, let me introduce Alex Rankins view of the WEC and specifically Knighter.
World Enduro Championship - Wales, 2008 from alex rankin on Vimeo
.