Midwest Chickwell H&H 16th Oct 2011
The (A4) Allen Race Day Josh, my son, has been competing in the Midwest Enduro Club Youth Series Hare and Hounds for the last year and a half and his first race last year in the series was at Chickwell Farm, nr. Radstock. This course is a series of open fields and small woodland with man made obstacles including logs, rock gardens, tyres and fast and slow jumps.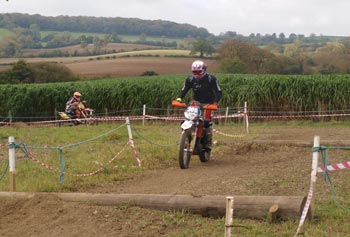 So when the entry form came through from Midwest for October's meeting and it was at Chickwell I decided that maybe instead of just him racing I should have a crack at the Adults race in the morning! Off went the entry forms and the scene was set for the first Allen family race weekend, albeit in separate races.
Sunday morning arrived and myself and Josh set off nice and early as my race started at 11am and he would race at 3pm. When we arrived (far too early) there was plenty of parking, however, the car park soon filled with an entry of 150 adults and 50 youth. Scrutineering was all ok and bike was parked on the line ready for the off, so only had an hour and half nervous energy to kill before my start and spotted a few familiar faces, Gavin Bailey, Arran Wells and Nathan Etheridge for the usual mickey taking banter! The highlight of the pre-race banter was watching Arran stood elevated on his trailer applying cream to his chest before putting his race kit on, me and Josh reckon it was Immac hair removal cream!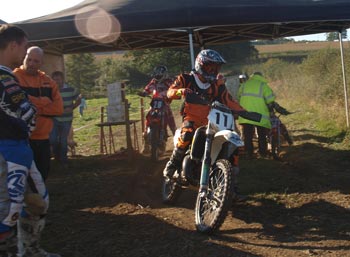 The start for me was a total disaster, my KTM had split a seal between the engine and gearbox and this was only discovered on the Wednesday before the race, so with a huge favour from my localish bike shop the new seal was installed. However, the clutch for some reason decided not to play ball on the start line resulting in me being sat on the line and the rest of the vets were half way up the first field! Once I did get away I worked hard to reel them in and by the time we left the first field I had passed half a dozen riders including Gavin who was also in the vets, from then on I just continued to push as hard as I could and by the third lap I decided to back off a bit as I was sweating so much that I couldn't see out of my goggles as they were steaming up! The best way to describe the rest of my race was to compare it to a Time Card Event special test (similar to Cymthic Hill on the Welsh two day) but this test lasted for 3 hours and you only got a 3 minute break for re-fuelling! Bloody good fun though, but I can tell you that for the last 30 minutes it was hard work to hold on to the 450 which just wanted more and more .........
The Eventual Winner was Jon Hinam (Another West Glos member. ed), who managed 21 laps of the 4.5 mile course; Arran Wells did 20 laps in expert and came 8th. I managed to get 17 laps and finished 9th in the Veterans and Gavin finished 13th so in total I managed to clock up 75 miles in 3 hours! I would be proud of that sort of mileage in that time in my T5 on the M6!!!!! One thing I did learn on the day is to keep the power full on over jumps otherwise you spend anxious seconds staring at the ground while your back wheel is somewhere higher than you arse!!!!
Race Two - Josh in the Youth Race.
Having climbed off my bike at 2 o'clock we then had an hour to get Josh scrutineered and ready for his race at 3 o'clock. Like me Josh didn't have a brilliant start and was left with a lot of work to do over the next hour and half but thankfully he didn't listen to any of my advice about the best lines and what to avoid and what not to avoid and despite a trip over the bars on the log section he rode a solid race and finished in 8th place in group one, which means that he finished joint 3rd in the Championship for the year, which is a fantastic result considering he has only been riding for 18 months on his KTM 144..... Well done Josh! The journey home was spent bragging about who jumped the furthest and highest! And as I sit here writing this report I can tell you my hands are still bloody sore and every muscle in my veteran body aches!
See you all soon Mike & Josh Team A4