Dragon Rally 2009
Words and Photos By Ian Vessey

Brrrrrrr! Camping on Anglesey in this weather? We nearly didn't make it. I met Ian Cooper up by Five Acres at about 9am on Saturday, having negotiated the 1/2 mile of ice covered roads through Berry Hill. We then had a common-sense attack and decided to wait for an hour of two before departing. At 10:30 I went out again in the van to survey the roads which were significantly improved. Phone calls were made, and at 11:30 myself, Ian and Kev were in Mitcheldean ready to go. Once past Ross-on-Wye, the roads were clear, so we made steady progress through Hereford and on over to the Crossgates Cafe for a spot of lunch.

After that we stuck to the main roads through Newtown, across to Dolgellau and up to Porthmadog for a refuel. The last 50 miles took us around to Caernarfon, over the Brittania Bridge and across Anglesey to the Race Circuit near Aberffraw. Total distance was 200 miles and we made it with enough time to set up camp before dark.

In the bar (where else?) we met Alex and Spike from Monmouth, John Hone and also Yoshi, Sarah and Nibbs Adams! Beer flowed and there was much jovial conversation, none of which I can remember!
The weather forcast for Sunday wasn't too clever, so we didn't waste too much time leaving in the morning. The return journey took us back through Caernarfon, Porthmadog, Dolgellau, Welshpool and to Craven Arms for a cup of tea. The last leg was straight down the A49, Kev went on to Ross, while Ian and I turned off for Symonds Yat. Going up the rock was thought to be a bit iffy, so after Kerne Bridge, Ian went up Lydbrook and on to Coleford while I went on to English Bicknor, where it started snowing. Good timing then.
The weather may have made the Forest roads lethal, but the views of snow covered mountains up through Wales were spectacular.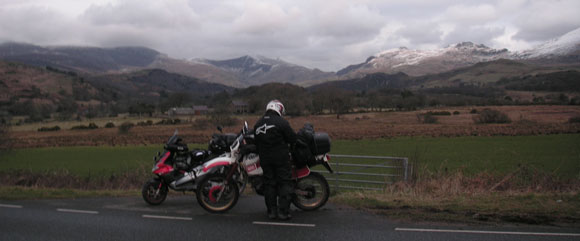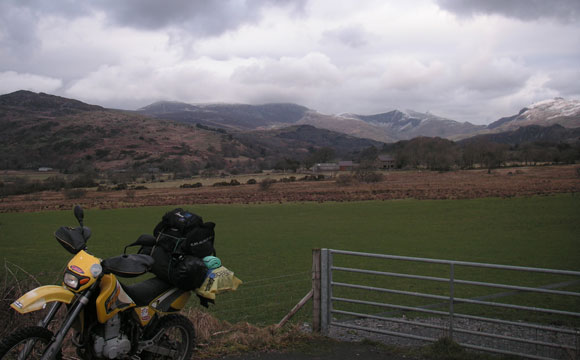 The CCM went well on this trip and the extra cycle shorts made the seat bearable, just. Ian's Gilera 200 scooter went brilliantly and used half the juice the CCM used. And a better seat. And weather protection. And he had heated clothing. Which got too hot! Bit twitchy on those little wheels though! And Kev's Tenere chugged along just fine, probably the best bike for this type of thing.