Bill and Liz Grand Voyage No 12 Or Sausages and Beer (2013)
Words and Photos By Bill and Liz Brown
Back to Articles
Itinerary.
Spa For a memorable meal.
Koln to lunch with old friend,
Dusseldorf to pick up train to Munich.
5 days in Bavaria self catering on a farm.
Then Coburg favourite of English monarchy and Harz mountains via Colditz.
Two nights in Berlin self catering culture stop.
Then an un-organised retreat through Germany and Holland,
sailing back from Hook of holland arriving Harwich 2000hrs Friday!
Home Sat.
Bike 2004 BMW R1100S Boxer Cup. AKA "Max".
Day 1. Spa
Mixed sun and rain after a summer of sun not a great start, also cooler than of late. Lots of bikers on the chunnel partly because we were held back to a later train despite being on time, our train was apparently full.
Uneventful trip 425 miles about 50 to the gallon though. Hotel Moulin Ligneuville, our adopted favourite, was up to spec. Great evening meal, still the best. Well worth the diversion. Not cheap, 275 Euros meal and bed but top notch nosh.
Day 2.
Awoke to rain. Yuk but then it is Spa! Gave our new Tom Tom its head and allowed it to choose our route using the windy option to Lohmar south of Koln to visit a friend. It worked very well we had a great ride even in the rain and no pot holes even on tiny forest and farm roads. Nothing bigger than a donkey path was used by our Tom. Not a popular option with 'Liz Liz' however, being a control freak she does not like leaving it to the machines! About 160 miles today.
After lunch on to Dusseldorf to pick up the overnight train AB Autozug to Munich, all went to plan except I bought non alcohol beer by mistake! Very popular with bikers, approx 100 bikes on board! Tall riders on tall bikes beware there is no head room when riding along the train and bikes always get the lower decks. Very plush train quiet and smooth. Sleep was almost possible but the curvy Angelina gestapo woke us up at 4.30 AM in order that we may be ready for a 6.00AM arrival in Munich where of course we arrived an hour late!
So we start Day 3. Bavaria
Groggy but in awe of the amount of bikers on not only our train but the other two that arrived in Munich at the same time. We set off into the grey day. Started raining soon after leaving Munich stopped for coffee and a minor tiff on the use of Tom and its choice of route I guess it took the hint and refused to do anything helpful. Eventually we managed an agreeable windy route to Garmish Partenkirchen which despite the rain was excellent, lovely views lakes and Alpine scenery. We then left for Fussen and the clouds parted, sun came out and the ride to Fussen was great. Stopped for lunch of veal sausages (white served in water) and beer ! Liz's lunch failed to arrive so I chewed off the waiter and impressed our neighbours a little! Much apologies and offer of free coffee and schnapps for Liz only! Lunch duly arrived. Left for Oy Mittleburg and our self catering apartment but Lo; Tom Tom has some human tendencies, it obviously now believes navigators are unstable and allowed to throw strops! It went mad and navigated me round the town in a totally erratic fashion, it had lost the plot. Worse still Liz Liz had buried our map and couldn't find it and of course, one of the problems of using Tom's assistance is you loose the sense of where you are. We had to buy a map and ask directions and once we were a mile out of the village Tom decided to work again! Anyway arrived on farm, flat great, views great and a super evening drinking beer in the sunset. Went to bed very tired. About 150 miles, a warning don't buy Ethanol 85 fuel the bike thought it was running on paraffin and sounded like a tractor.
Day 4. Raining
Rained all day waited till it stopped went out to visit Kempten and the heavens opened we were drowned, came home and had some beer.
Day 5.
Beautiful sunshine. Warm. Dry magnifique! Mais pas pour aujourd'hui mais pour quatre heurs. Sufficient for us to be lulled out on a trip to Lake Constance and the Zeppelin Museum, fantastic! Totally amazing machines and huge amount of work in every tiny piece. An absolute must to any trip to Bavaria. Came home in rain with a little help from a very confused Tom which at one point had us driving along the bottom of a lake! Constantly 50 to 100 metres South of our actual position which caused it to re-plan our route every few minutes, confusing! For the second year in a row bought a brolly must start a collection. Home to sausages and beer!
Day 6.
Raining but thunder promised later yeh! Set off in monsoon for Schloss Neuschwanstein one of King Ludwig's giant fairy tale castles. Never finished because he died, it is still magnificent, great to see a castle of that age in such good, that is to say as new condition. Word is that Ludwig bankrupted Bavaria building his castles so they drowned him and made it look like suicide. Things were so bad the castle was opened for public viewing 6 weeks after his death. Decent lunches in tourist areas here for pub prices at home no rip off. Liz's wet suit now so bad even after sticky tape repair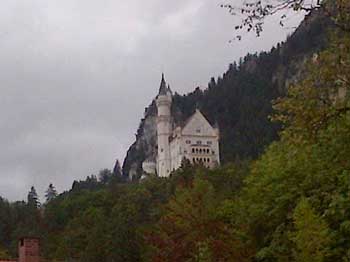 we were forced into buying emergency pair of waterproof trousers. Need to find a proper bike shop somewhere. Thoughts of abandoning Germany and heading south next week but rest of Europe looks the same. About 50 very wet miles mostly under water, bikers not waving so much today. Spotted Russian mafia on a snake skin painted BMW K 1600 GT outstanding paintwork but no taste! Tom behaved on direct route even in Fussen. Abandoned sausages for steak and chips,yeh!
Day 7.
Raining hard but we had to do a couple of mountain passes despite the fresh snow on the tops. The gods were with us as after half and hour or so the rain began easing and eventually stopped and on entering Austria somewhere the sun came out! Yeh! Still about 8 degrees max. Fantastic views and scenery the houses in some of the villages were beautifully decorated around the windows and gables.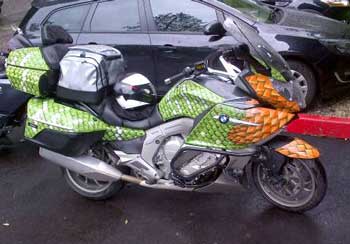 There appears to be plenty money about this area generally, lot of new build houses and roads in perfect condition Bavaria and Austria. Really swoopy roads some lovely warm tunnels, too warm really as instantly on entering my glasses visor and mirrors fogged up. Lots of bikes today mostly German of course and Dutch, ours the only Boxer cup about though did see a R1100S only really interesting alternative to GS's were a pair of KTM tourers not sure of model bit worried they were police as their kit was very official looking but after several cars passed us at 90 plus and they didn't react we were off. Good day 166 chilly miles. Home to sausages and beer. Despite weather Bavaria brill. Zotler beer brill blut wurst brill, no wet knickers today brill! Have to say, though we were cruising and there were hundreds of bikes about, no bikes passed us so conclusion is they must be fairly speed conscious round here. Or we were going the wrong way round! Tom worked perfectly, despite being bounced off the patio!
Day 8.
Off to Coburg and a 1323 Converted mill, Hotel Hahnmuhle.
Grey and dull but drizzle and rain on and off all the way flat straight and boring 267 miles. Only interesting episode was Tom who decided a 5 mile detour off the motorway to carry out a trip round the perimeter road of a provincial airport was needed to brighten our day. Only problem was we did eventually spot what he was up to and didn't go round the roundabout at the end of this pleasant detour, this did not please Tom, nothing we did could persuade him to accept this bit of individual thought and for the next 10 miles he insisted we turn around and complete the detour, despite clearly showing on his screen we were on the pre-described route! I gave up and calculated a new route to the same destination. Things of note are no food or fuel stops on the dual carriageway routes though there were some rest areas with toilets. So plan ahead. Watch your derriere if you feel like overtaking they overtake at mach 5 round here! Coburg Centre very interesting with lots of ancient buildings and nice shoe and clothes shops. Flea market starts 1800hrs Sat night. If eating out take sandwiches service is not fast food! Hotel not actually finished yet but real olde wolde charm.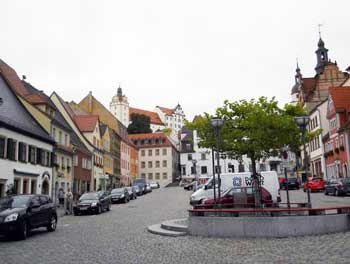 Day 9.
Colditz and the Harz mountains and pre16th century Quedlinburg. Hotel Goldenen Sonne Very wet and horrible drive to Colditz for about 2hrs. Exciting start to day, made slightly too exaggerated leg swing on to bike overcooked it and a little Laurel and Hardy like was thrown straight over other side bike waving tyres in the air. Liz and several onlookers amused made hasty and embarrassing exit from Coburg necessary. On to Colditz once off motorway we found some interesting villages and countryside. We squelched around the castle. Some fantastic exhibits of prisoners' handiwork and ingenuity. Well worth going to see this incredible piece of history. Set off in the dry, eventually the sun came out as we arrived at Quedlinburg, yeh! Fantastic old town with over 1300 pre 16th century buildings most lived in and in excellent condition, superb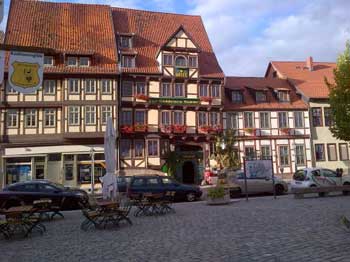 . Hotel excellent Tom learning, it was spot on. Met some BMW riding Finns they were smiley and happy! 259 miles
Day 10.
Iron Curtain relics and then Berlin but first as our friendly Finns said 'give it some gas!'
Set off for Sorge in Harz mountains but turned very wet and as in Belgium everything shut on a Monday spotted a derelict border guard barracks that's all, maybe we were in the wrong place. So set off for Berlin in rain again unremarkable trip predictably busy toward Berlin and the rain did let off about half way. Rode into centre of city Max got very hot and worryingly oil light came on below 1100 rpm will watch need new brake pads as half worn fronts one week ago have disappeared!!! Oooh! Must have gone soggy and scraped off! Weather forecast very bad for trip home might leave Berlin a day early i.e. tomorrow and get some dry miles in. 198 not awfully interesting miles. Tom behaved.
Day 11. Stuck pin in map and headed for Cloppenburg.
Leaving our super little flat or city apartment at 85€ per night in the centre of Berlin it was a bargain. Regrettably we never saw the city sights forgoing them to escape at least some of the forecast heavy rain. Found BMW garage with a little help from internet, receptionist at apartment and Tom, bought pads at posh BMW prices in very posh BMW garage couldn't fit them as two allen keys missing so had to find Berlin version of Halfords. It was huge, old school type place as Liz says it looked like you might find enough bikes about to build a space station or two! This done we fitted the pads and ran before the storm. We did have a very pleasant motorway blast or at least by comparison. 289miles in the dry; nearly yeah! Clop was a new town neat and tidy as always in Germany and amazingly we had to try three Hotels as they were all full. Ate at a Greek restaurant for a change but we did have sausages and beer for lunch.
Day 12.
Persuaded Tom to use his no major road option and it worked very well. If you add in the first dry (nearly) and sunny day it was great. My first trip off the motorway in Holland on country roads and found it a very pleasant experience where we enjoyed looking at some beautiful scenery houses and gardens. We crossed the Zider Zee on the old causeway, amazing 16miles of causeway, don't fancy it on a windy day. Mind you there was a terrific squall approaching so we decided to wait it out and have some fish and chips just as well as it was horrendous and we had prudently parked the bike under a motorway bridge for shelter only to find that it was under a road drain!!! Just like a waterfall right on top of my luggage!. Anyway there were two fish and chip vans ready to serve or so we thought' turns out one sold fish and the other sold chips!! Different companies gentleman's agreement.
Great fish in one hand and great chips in the other. Tom good. I always find overtaking on long straight single carriageways challenging inevitably you have about 6 lorries all nose to tail to pass and there is a juggernaut coming the other way with a closing speed of about 130MPH its a bit like playing chicken! Hotel suitably quirky and nice 189 miles
Bergen lovely place with really nice houses, shops have fantastic clothes and the like but all pretty expensive must be some money about selling cheese!
Day 13.
Train to Amsterdam went to see some old masters, they were awfully good. Also impressed with grow your own marihuana starter kits for sale in the flower market.
Day 14.
Starting home via Bergen on sea, much like everything else on sea but some amazing houses on the way. Set a course for Hoek of Holland via Volendam but road works got in the way and cost us about 45min so had to abandon that and go direct to port. Tom seemed to think Max a little portly and directed us directly to the freight port instead of the car end so only just made it on time. Must have passed about 30 speed cameras today thanks to Tom I knew they were there but I know I missed one at least I will watch the post! 123 miles. We had a calm crossing on swanky Stena Line ship watching a huge TV. Had to take control of lashing down Max the guy had no real idea. Having done that the crossing was so smooth I need not have bothered with tying at all! We stopped off at Premier Inn in Harwich good value but no character. Big discussion on the merits and intelligence of Tom, Liz cited the fact that, he chose a very contorted route today. Probably looking for an airfield somewhere!
Day 15.
215 or so miles home via Ipswich Cambridge Milton Keynes and Burford. Not in the dry still boil-in-bags suits and home. 2629 miles 54.43hrs in the saddle. Europe 1 pot hole, UK return only, thousands!! Tom in disgrace absolutely refused to plot any route that did not involve M42/M40. or M4!!! He is useless!
Trip Facts.
Character Hotels. Averaged 80€ night from Booking.Com.
Self catering Bavaria booked through.
HomeliDays.Com (French) 40€ per day
Apartment in Berlin. Booking.com 85€ per day Total Mileage 2629 Fuel 54.5 gal 48MPG
Oil 1 Ltr
AB Autozug train 230€
Ferry. Stena Line £47.00 Hook of Holland to Harwich
Chunnel booked with Tesco points so "free"
Tom Rider Europe bought new for the trip at huge expense after last few years arguments, works well on the whole but has bad and good points. GPS tells you exactly where you are but unless you are careful you follow it like sheep and you have little idea where you are. It also has an odd effect on your road reading skills giving advanced warning of the type of corner ahead but taking your eyes off the road! Great for the last few miles we will keep it and try to control it!
House and animals looked after by Tickety Boo price depends on animals
Sent from my BlackBerry® smartphone on O2