A40 Race - Two wheels and a motor got Drew there on time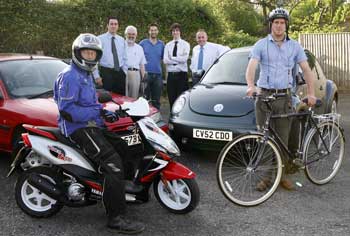 Two wheels conquered four in the Great A40 Challenge to beat the roadworks. Six modes of transport were tested to see which would be the quickest to travel between the Citizen's offices in Cinderford and the Oxebode in Gloucester.
The experiment was done to mark the start of a six-month project to renew the road surface and create a new bus lane on the A40 approaching Gloucester which is expected to create major delays for motorists. A moped, on loan from Haines & Co in Cinderford, proved the quickest way to commute, arriving at the Oxebode 38 minutes after it left Cinderford. Going by boat was the next quickest at 45min, with The Citizen reporter Dan Charles arriving 10 minutes later having come by train from Lydney. Bringing up the rear on his first day was Forester new boy Luke Sellers on a bike, clocking in at 1hr 47min. The slip road between the Over Causeway and the A40 has now been closed in preparation for the work to begin.
Motorists are unlikely to face any major disruption over the next two weeks but after that both one eastbound and westbound carriageway will be closed after 10am every day until June 29. Crossover points will also be open during this time. After June 30 a contraflow system will be introduced, with a permanent closure of one lane both east and west bound. All cross-over points will be closed so people wanting to access sites on the opposite side of the road will have to go to the next roundabout and come back in the opposite direction.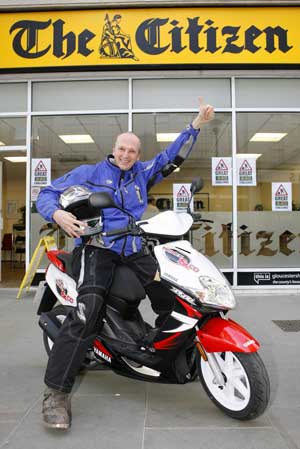 Andrew Moore, engineering director and father of two from Christchurch, Coleford, was on a Yamaha 50cc Jog borrowed from Haines Motorcycles of Cinderford.
"I WAS not looking forward to going in on the little Yamaha moped, having been a biker since I was 16. But in fact it was a very easy and enjoyable trip and I'm seriously thinking of buying a road bike again so that I can get to work more easily every day. I went down through Littledean and onto the A48 and at first, I thought it might be quite dangerous because the Yamaha is limited to about 30 miles an hour like all mopeds. But in fact I was travelling only slightly slower than the other traffic so it was fine. I came up to the first tailback before the Highnam roundabout and the cars were slow-moving from then on. I trickled through all the holdups quite easily and made it to the Oxebode in a winning 38 minutes.
If you want to follow my example, car drivers who got their licence before February 1 2001 can ride a moped without any further training. Anyone who passed their car test after this date must complete the basic CBT training course."