Andalucia - The Easy Way
Pics by Rod.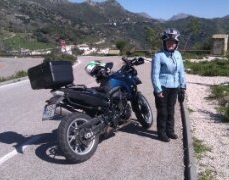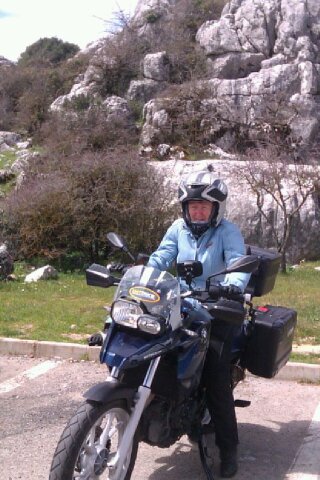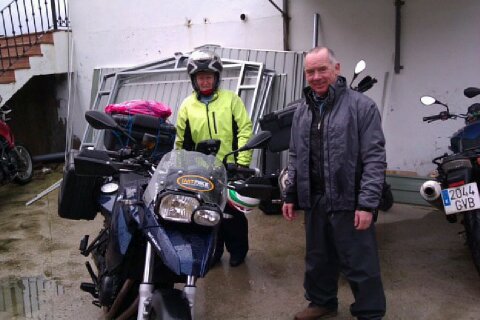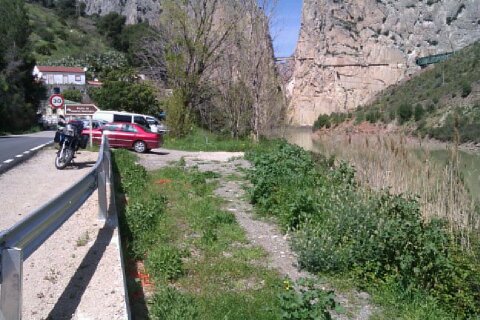 For the last two years I have had a biking holiday in The Pyrenees with my son Owain but he is now working on a yacht in the Mediterranaen so a new plan was needed. It's a couple of days to get to Spain on a bike however you do it and maybe three days to Andalucia so how about a fly-ride combination with Angela on the back. She came round to thinking it was a fun idea.......eventually !.
A Ryan Air flight Bristol-Malaga for £230 for two with hold baggage together with a rental bike from IMT Bike in Malaga. Not really as good as having your own bike but so much easier. IMT Bike had an F650GS with sat nav, BMW panniers and lowered ride height, we also took the extra insurance. It's not cheap at £695 for six days but we couldn't have got six days in Southern Spain in our weeks holiday from the usual ferry to Santender and ride down route.
So all plans and bookings made and we left Bristol at 8pm on a Wednesday night and got into The Holiday Inn at Malaga Airport in time for our first 'cervesa' and bed about midnight. We got to IMT Bike at 10am on Thursday morning and Tomas gave me a quick run down on the bike and sat nav, as it was all similar to my own F800GS that was pretty straight forward. Our practice packing into my own bikes panniers before leaving home paid off and we got all our stuff in ok.
We're off,weather forecast was for a rainy first two days but we just got to our first stop in Teba before the heavens opened. We'd booked to stay in a place called La Calera which is run by a Brit, Mark Comer and his wife Lindsay. Mark also has a range of BMW rental bikes and runs trips around Spain and to Morocco. He just didn't have a bike or a trip which suited us in our short notice holiday but maybe next time. After lunch on a now sunny and drying terrace I went off on a solo ride around Teba local roads. The bike was a little better without all the boxes and a passenger but without the go or the braking of the F800GS I was used too. The smooth winding mountain roads and such light traffic really do make up for things though
First night out and all the usual ingredients of a few cervesas a tapas bar and too much rum in Rafa's bar meant no problem sleeping. More heavy rain as forecast on Friday morning so just sat around chatting to owner Mark and a Danish guy on a 1200GS. Got going just after midday on the scenic route to Ronda. What a fantastic place, an old Moorish fortified city built around two sides of a 50 metre deep gorge of the Rio Guadalevin. Parking in Ronda, even for a bike was difficult but the hotel manager let us put the bike on the hotel terrace amongst all the outdoor tables and chairs.
On Saturday morning we woke up to an endurance MTB and running race. Almost made me wish I'd got all my running and cycling kit with me, maybe the 101km around the mountains of The Serrania de Ronda would have been a bit more work than just riding the 'moto' though. It was our first day in bright sunshine so set off on a ride towards Cadiz province. Plenty of bikes out often in groups of 10 or more, less sports bikes than you see at home but all friendly and you soon get the left hand wave acknowledgement sorted out, I remembered the wave from last year, the lower, the cooler. Owain will be pleased he taught me that one !
We had views from the mountain ridge top road of The Rock of Gibraltar before descending via a National Park windy road into the steep sided Guadiaro valley and the tiny village of El Colmenar. The main railway line to Algerciras runs through this village and our mid morning coffee coincided with the train coming through, it looked like that was the busiest El Colmenar was going to be all day. The road out of the valley would've been great fun on a trail bike, broken tarmac, loose gravel and lots of hairpins, that's what you get on a minor mountain road and so our progress was a little cautious but still quite good fun. Back onto bigger smoother roads we came to a junction before the next big descent and waited for a group of road cyclists to turn in front of us. We went past about six of them and then followed at a safe distance, the leading group of three with a mixture of admiration and terror as they attacked the downhill hairpin bend road at speeds of up to 70 kph! We went past at the bottom and both had to give them the thumbs up for their race speed descent. More smooth mountain roads and through Villaluenga and our first traffic jam. As soon as we saw the name of the village we both remembered it was bullfight day there and the whole of Andalucia had come out to see it. If there are any doubts about it's popularity in this part of Spain the sheer number of people and carnival atmosphere told you it's going to be there for a good time yet and it is only politics that saw Catalunya ban it. We made for the pretty village of Grazalema and had a great lunch in a sunny square, big surprise to learn later that this place always has the first rain from the Atlantic weather. Still bright sunshine for our afternoon ride back to Ronda and more traffic. The mountain endurance race which we'd seen starting in the morning had returned and road closures caused a couple of detours. We parked up a couple of streets away from Ronda bridge and watched and cheered the finishers.
Sunday brought more bright sunshine for our journey to El Chorro, mecca for rock climbing and its fearsome Caminito del Rey. El Chorro is a narrow gorge through which the, now dam controlled, river flows leaving the gorge in a dramatic spurt. The Caminito del Rey, (the King's Footpath) is a vertigo inducing high up on the rock walkway. Unfortunately it has been partly dismantled to dissuade the likes of us and is now only a serious roped up climb. Another big cycle race going on here, MTBs and by the look of them some very muddy going was part ot the course. We'd been surprised by the number of sporting events and cycling we'd encountered,it must be the combination of mountains and sunshine,great ! We found a quiet and winding road down to Alora where I recognized landmarks and mountains I'd mountain biked in about 15 years ago. The question should surely be 'Do you go to the mountains to ride or do you ride to go to the mountains ?' Either way it was good to be there. Our stop that night was Antequera, another former Moorish citadel. We had enough time for the usual few cervesas before watching the Qatar MotoGP in a bar. Only Rossi stopped it from being a Spanish takeover and Moto2 and Moto3 to Spain as well. Good place to watch Spanish riders winning, we thought.
A day off the bike and tourist castles and churches on Monday and an evening spent planning our final day's ride.
First stop on Monday was El Torcal, a fantastic geological feature of weather eroded limestone known as Karstic moulding. It looks like piles of flat rocks balanced one on top of another. Great place. Back on the bike and more traffic free mountain roads heading towards Malaga. We had emailed Tomas at IMT Bike and he was there waiting for us to check the bike in at 4.30pm. No problems and we unpacked the panniers into our travel bags which he'd kept for us.
That was the end of our biking and we both agreed it had been a successful introduction to two up touring for both of us especially for Angela who did start off with a tummy full of butterflies ! Would we do it again ? Well, the rental bikes are top quality ranging from BMW 1200RTs to 1200GS and down to G650GS, they're quite expensive but if you add up the cost of ferry fuel and hotels to get to Andalucia it starts to make sense. The roads are wonderful and to ride in, high mountains on traffic free roads is an experience you don't get at home. I'm going to investigate having a bike 'trucked' back to Britain and maybe just ride and ferry one way. Plenty to think about then before the next time.
Last 24 hours of our holiday and we went out to eat in Malaga and watched Dortmund v, Malaga football in the European cup. Result was 3-2 to Dortmund. But second leg in Malaga still to come. 'An injustice' our fellow drinkers told us but a great atmosphere all the same.
So after a few days on the bike I was now going to be taken shopping, should've expected it really. Mango, Zara, more dresses, more shoes, oh, well. We finally escaped the shops and had a lunch of barbecued sardines and cervesa on the beach before getting the train from central Malaga right into the airport, very efficient and it took 12 minutes and cost 1.70 €.
Home now and my F800GS does seems quick !